It really is important to always celebrate love.
Holidays remind us to express our love in tangible ways.
Brayden loves to Celebrate
My grandson, Brayden, loves to help me bake, but he's never satisfied to just have an ordinary cake. He always wants to add stuff. Sometimes he suggests sprinkles, chocolate chips or marshmallows. I love his creativity. Folks like Brayden are the reason we have some descendant desserts! Still, I am thankful he doesn't like garlic!
Brayden's extra ingredients usually make his cake something special and that's what celebrations do for life. It is so easy to get caught up in the mundane.
The ordinary.
Go to work.
Make the beds.
Do the laundry.
Fight with the kids…don't pretend you don't!
Life can get pretty boring without celebrations-
those pauses that add a spark of fun or excitement to life. So add a little spark to your February by showing your mate you love them. I know it's tempting to skip the whole valentine deal, but don't do it! Keep your love fresh and exciting with precious celebrations.
The stores are filled with enticing offers of how to make your sweetheart feel special, but honestly, you should know how to do that better than anyone else in the world. If you don't, today is a great day to find out.
Ask those important questions:
What do I do that makes you feel loved?
What would you like for me to do to show you I love you?
What do I do that drains your love tank?
Discover their love language and speak it frequently!
Everybody has a love language, a language that communicates to them that they are loved. It's probably different than yours, so just giving love the way you want it to be given doesn't work very well. If you haven't read
 Inexpensive Ways to Say I Love You!
Play their favorite love song. Especially if you both share a common favorite love song.
Watch a romantic movie together. (And yes, keep it clean, folks!)
Give a single rose with a handmade love note attached.
Tell them specific things you love about them. Wayne is never satisfied with just one reason. He wants a list of reasons. And yes, after 41 years I have a loooooong list of reasons why I love that man.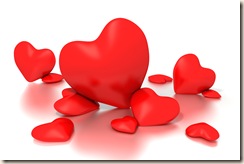 My favorites.
Take a romantic walk and hold hands. Go to someplace special, the beach, a lake or a quiet park. Don't take the dog. Just enjoy being together.
Cuddle.
Touch their face.
Squeeze their hand with three little squeezes. Wayne (and my kids) know that means, "I love you."
Tell them you love them in a unique way. I did a search online for ways to say "I love you" and found this link. This article has some really awesome ideas. I was surprised at how many of these things we both already do.
25 Sweet Ways to Say "I Love You"
Unique Ways to Say I Love You – Sweet I Love You Quotes – Redbook
I hope you have a great Valentine Day. But remember the greatest love story is not "Gone With the Wind"; "Love Story" or "Les Miserables".
The greatest love story is still "For God so loved the world".
And the best part of all is that the story is still being written in the lives of people that will receive His great love.