Jason and I saw it at the same time. I turned to look at Jason just about the same time that he looked at me to see if I saw what he saw! We just shook our heads.
Jason was still in college. If you have experienced a college town as an adult, you know there are many interesting sights and sounds that comes with youthful energy. Did I say that nice enough?
What we both spotted was a young man with huge muscles in his arms and upper body with the tiniest legs I've ever seen. It was sooooo obvious his avid body building was confined to upper body only.
His upper body was fabulous! Just an observation, nothing more! Are you forgetting I'm an old lady?  But his legs didn't look like they could hold up the rest of him.
I wanted to say, I didn't, but I sure wanted to say…"What were you thinking? Man, don't you know there's more to you than just arms and chest? You need to develop those legs." I wanted to take him to a full length mirror and watch his expression. But then he must have known…surely at some point he had passed a full length mirror. Then why? Surely he knew about leg exercises!
It seems to me that God was saying that very same thing in Luke 12:23 nlt "For life consists of far more than food and clothing." I get it! I know you gotta work. And don't get me started on the subject of work.
I believe it is critical that we have a strong work ethic. It's biblical and necessary! But life is more than work. Life is more than accumulating stuff! It's even more than play and yes, it's true we need both!
But somehow in the scramble to have it all, we've missed the most important part.
The part the mirror, even a full length mirror on the wall doesn't tell you, but the mirror of God's Word does.
There's more to life than what you can see, so let's take a look at the real you in God's mirror. You have a body, soul and spirit.
1 Thessalonians 5:23, "And the very God of peace sanctify you wholly; and I pray God your whole spirit and soul and body be preserved blameless unto the coming of our Lord Jesus Christ."
Your soul is your will, mind and emotions.
The real you is your spirit. When your body dies, your spirit will live on for eternity.
How does your spirit man look?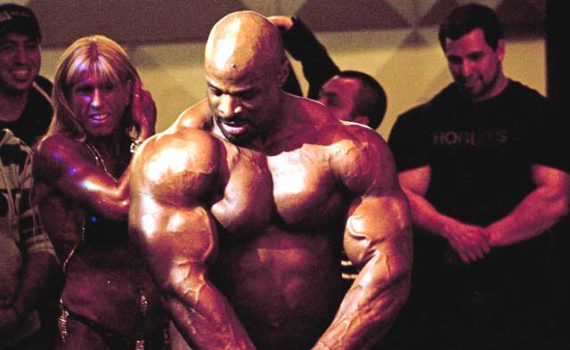 Ronnie Coleman Mr. Olympia 2009 www.localfitness.com.au
Is your spirit malnourished or healthy and robust?
Do you feed your spirit with God's Word or the feces of a godless culture?
Do you rejuvenate your spirit with praise and worship that takes you into God's presence?
Is repentance a regular part of your bathing ritual?
Do you build up your spirit by praying in tongues regularly?
We realize the importance of taking care of our bodies. We groom them, feed them, refresh them and exercise them. And we need to do the same thing for our spirit man.
And while it may be tempting to be like the young man that only built his upper body muscles, let's be careful to develop our spirit man with at the very least the same intensity as we do our bodies!