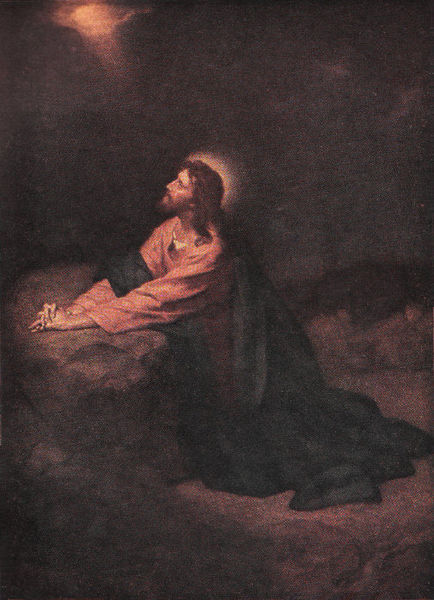 I've always loved stories. So it was a natural progression for me to love the narratives of the Bible. I must admit many of them have been a total mystery to me. Mysteries that I've pondered and studied to understand the truth cloaked inside.
The Garden Mystery
One mystery from the pages of Scripture that troubled me took place on a spring night in an olive grove. The olive flowers were fragrant and the night cool. The garden was private and tranquil. It was a perfect place to pray, so Jesus took His disciples there often. Not the typical place for a mystery, but it was definitely a huge mystery to me.
I'm sure you've read the story many times, but please reread it again. This time pay extra attention to the words I've highlighted. Matthew 26:36 Then Jesus brought them to an olive grove called Gethsemane, and he said, "Sit here while I go on ahead to pray." 37 He took Peter and Zebedee's two sons, James and John, and he began to be filled with anguish and deep distress. 38 He told them, "My soul is crushed with grief to the point of death. Stay here and watch with me." 39 He went on a little farther and fell face down on the ground, praying, "My Father! If it is possible, let this cup of suffering be taken away from me. Yet I want your will, not mine."
Then look at Luke 22:44  "He prayed more fervently, and he was in such agony of spirit that his sweat fell to the ground like great drops of blood."
Why the anguish?
Jesus is a precious, personal friend and my Lord and Savior, so my question is not demeaning in any way. I'm not trying to minimize the pain and suffering that He was about to experience. Still I didn't understand the depth of His agony. Look at the strong words that are used to describe His agony.
Anguish.
Deep Distress.
Crushed to the point of death.
Sweat drops of blood.
This picture is so heart breaking that I want to turn away. It doesn't even resemble the magnificent painting by Heinrich Hofmann, 1890. His picture is the one I want to embrace- no sweat; no blood; no agony! While Mr. Hofmann's painting is beautiful, and maybe Jesus began His prayer looking just that beautiful, that's not the picture I see in the Scripture. What do you see? Can you picture His agony?
I see Jesus laying prostrate on the ground, with dirt and tear tracks mixed with blood on His precious face. The pain, deep agony and the overwhelming grief is etched where I want to see a smile. Agony, not anger, not fear, but agony beyond anything I've ever approached.
Again, why the anguish?
Why? I've asked that question so many times. Was Jesus afraid to die? I don't believe He was.
Then why the anguish? Was He distraught over the suffering He was about to endure? I don't believe that brought the extreme distress that caused Him to sweat drops of blood. What do you think it was?
We have historical accounts of men and women that gave their lives, bravely and heroically for Christ without this kind of anguish. As I have prayed and asked God to help me understand I have come to believe that the root of His anguish was not death. nor suffering, but separation from God. Wow! He didn't want to be separated from God. Allow that to soak in!
Here's Jesus with the right perspective on everything, understanding how horrible it would be to be separated from God. That relationship was so precious that He didn't want to be separated from God for a single moment!
The only thing that can separate us from God is sin. Sin separates us from God. Jesus was going to take the sins of the world on the cross. That meant He the sinless son of God would be separated from God. That truth was excruciating to Him.
"Behold, the LORD'S hand is not shortened, that it cannot save; neither His ear heavy, that it cannot hear: But your iniquities have separated between you and your God, and your sins have hid His face from you, that He will not hear" (Isaiah 59:1-2)
Our sin separated Jesus from God.
Sin still separates.

Sin brings death.

Sin destroys.
As I look at this picture of Jesus, not wanting even for a short period of time to be separated from God, I think first of people that will be separated for eternity if they do not receive Christ. If you don't know Christ you can receive Him as you Savior right now.  Here's a powerful video to show you how: https://peacewithgod.jesus.net/god-so-loved-the-world/
If you are a believer, don't allow anything or anyone to separate you from fellowship with God. Stay close. Walk close. Live close. Don't let anything come between you and Him.
Some pointers to help keep you close.
Fall in love with Jesus.
Repent of any known sin.
Don't allow unforgiveness.
Walk in fellowship with Christ through prayer.
Obey God's voice and His Word.