Stories are an important part of who I am. I treasure them like some women treasure expensive jewelry. They have enriched my life. One of those stories is from Tommy Barnett. If you've heard me speak you know he is one of my heroes.
The story took place long ago when people purchased almost everything in a General Store. Barrels of sugar and nails and pickles lined the walls. Tins of crackers and bottles of tonics and pain relievers sat on wooden shelves on the wall. But the little boy was interested in only one thing, the canisters of candy that sat on the counter beside the gigantic cash register. He rested his chin on his folder arms and stared longingly at the red and white salt water taffy in the middle canister. They were his favorite. He noticed how some pieces were larger than others. And how that some pieces were wrapped tight at the ends and that a single piece had a little bit of taffy sticking out of the paper in one place. He sniffed, but couldn't smell the sweet goodness inside the sealed glass jar.
That is until the owner of the store, unscrewed the lid and ordered  the boy, "Reach your hand in that jar and get you out a hand full of candy."
Jerking straight up off the counter, he looked from the man's smiling face to the floor.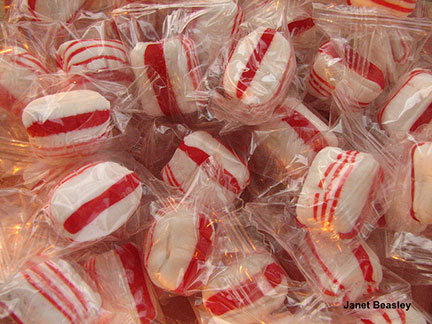 Again, the owner  insisted, "Go ahead, reach in there and get you a hand full of that candy."
This time  the boy shook his head politely and looked down again.
The pop of a paper bag made the little boy want to whirl and dance. He watched as the man jabbed his big ole hand into the candy jar, pull out a fist plum full of candy, then drop it into the paper bag. He rolled down the top of the bag, handing it to the boy as he explained, "Here you go, son. I want you to have this."
Outside the store, he untwisted a candy and shoved it into his mouth while his mother questioned, "Why wouldn't you reach in the jar and get that candy?"
He chewed on the delicious treat for a minute then confidently responded, "His hand is bigger than mine."
That understanding changed what he did and what he received.
Have you thought about the fact that God's hand is bigger than yours?
Why is that important? When I think about those hands, I realize that they are the hands that gave His son to die on the cross. God isn't stingy. God gives liberally.
Look with me at the extent of his generosity. Romans 8:32 "He that spared not his own Son, but delivered him up for us all, how shall he not with him also freely give us all things?"
When we understand God's hand is not only a bigger hand, but better it changes our hands.

Better in that His hand is a nail scared hand-
a blessing hand,
a giving hand,
a loving hand,
a reassuring hand.
Our hands relax. They give instead of clutch. They release instead of snatch. They surrender instead of horde. Our hands open to receive. Our hands open to give because we are not tormented with fear or lack.
2 Corinthians 9:8 "And God is able to make all grace abound toward you; that ye always having all sufficiency in all things, may abound to every good work.