I want to share a table scape with a Candy Cane Prayer Christmas message with you. A beautiful table with a beautiful message, a winning combination for sure.
I've been putting up Christmas decorations. Designing table scapes are my favorite thing to do in the whole world, well, except preaching and playing with my grandkids and kissing my husband…OK so it's not my favorite thing…but it's on my top one hundred list of great things to do.
I am a master at utilizing what I have on hand. And… I had this bolt of red striped fabric…I know…crazy huh!
I love, Love, LOVE the The Candy Maker's Gift Story.  So I decided to incorporate the story into part of my table scape by making candy cane napkins.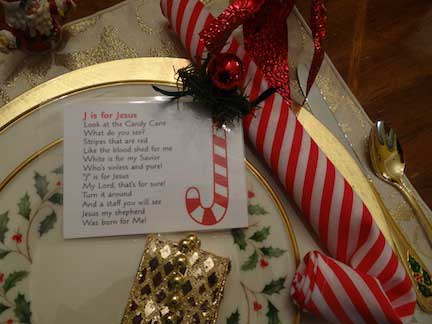 On Pinterest, I found someone that had already laid out the Candy Cane poem ready to print out. There are numerous ones to choose from so pick your favorite, if you don't do Pinterest…really?…then Google it.
I added a Candy Cane Prayer on the back of my card, laminated them and punched a hole in the corner of each card.
Here's the prayer.
Candy Cane Prayer- That You Will Receive God's Gift
Like the letter J, I pray that your Christmas will be filled with Jesus. His love will wrap you.  His peace will guide you. His joy will fill you and overflow. His strength will make your strong and gentle. His grace will make you forgiving and loving.
Like the shepherds staff, I pray that the Good Shepherd would draw you and those you  love to His heart, to experience the sweetest love of all.
Like the red, I pray that you will experience all the saving grace that He purchased for you on the cross. Peace. Joy. His presence. Eternal life.
Like the white, may you remember the cleansing power is greater than mankind's atrocities. His blood cleanses us from all sin.
Like the stripes, by His stripes you are healed. I pray that you will walk in healing and health.
Here's the link for the cards I used on the back of the Candy Cane Poem.
Using a napkin as a pattern, I lined the corners of the napkin (pattern) on a stripe. This makes the stripes go diagonally across the candy cane napkin. It doesn't make a huge difference, but I thought it was worth it. Our squares measured 15″ to make a 14″ napkin. It fit the fabric with a minimum waste is why I made them that size.
Don't forget that the one triangle that is on the fold can be used for a napkin too. We just trimmed it to the same 15″ as the other squares.
I folded the edge over, then over again and hemmed the edges all the way around the napkin. Locked the last few stitches by going back, then forward for a few stitches.
Then I started on one edge and rolled the napkin in a semi-tight roll.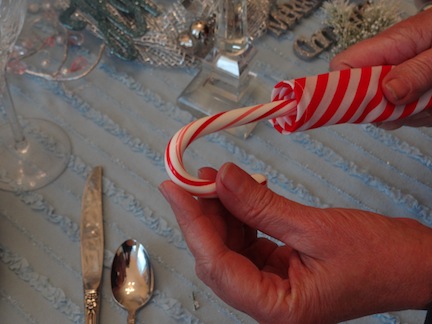 I inserted the candy cane into my napkin and threaded the napkin around the candy cane. I love it when a plan works. My friend and partner in crime, Karen helped me figure this out.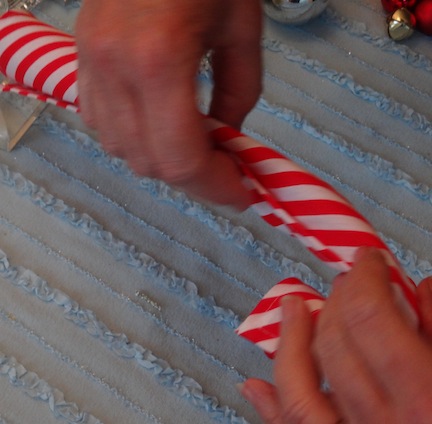 I didn't want the edge of the napkin to show so I twisted it around to rest against the plate. It makes it lay flatter too. Do I sound like I know what I'm doing? LOL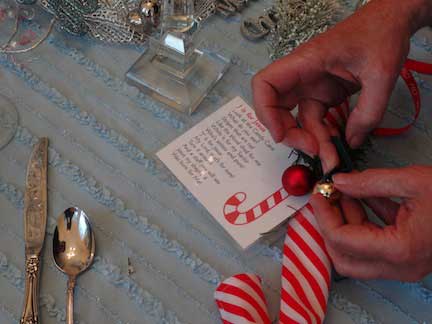 I tried lots of different napkin rings, fancy silver ones, wreath ones, but I didn't like any of them. I ended up tying a ribbon around my napkin.
Then I added a piece of pine, a tiny red ornament and a gold bell with the candy cane card.
Like I said, I am so excited.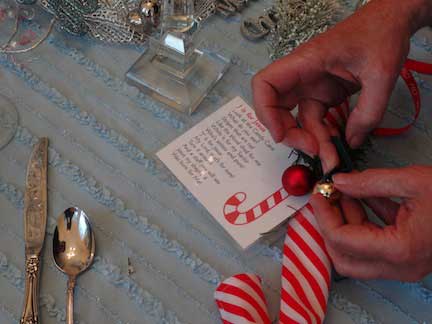 I love beautiful things and I think these turned out beautiful.
Instead of laying them out like a candy cane, I lay them out like the letter "J".
Now if Wayne could just get me to cook something!