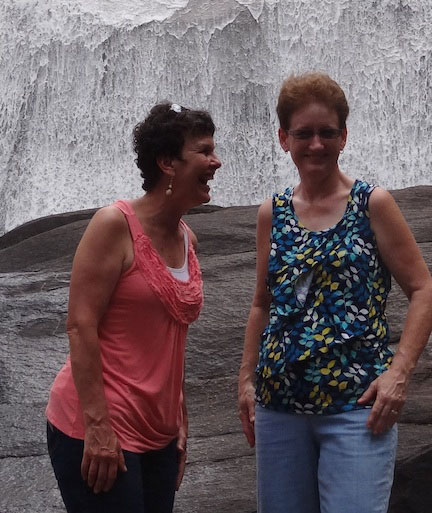 Don't be afraid- you CAN do it!
I am so excited to introduce you to my dear friend, Joy Hemler. She was a children's pastor  just outside of Washington DC for many years, but now she is in Belgium. I asked her to share her success story with my readers and she agreed. You'll be encouraged and I know I was.
Don't be afraid- you CAN do it!
May 9th, the day after my 52nd birthday, marks the day I was invited to join a friend on a frightening and difficult journey….weight loss.  Of course, I had been on this journey MANY times before…too many times to count.  On each of these prior journeys, long or short, I had met with minimal or no success.  In 2002, I lost 50 pounds then soared back up 60 pounds.  This type of history caused fear, trepidation and a sense of doom…doom to failure yet again.
We may not know it at the time, but reflecting back we can always see God's hand in everything, especially the "big things."  And the "big things" are always multi-faceted; reaching to much more than meets the eye, and reaching to the depth of our being.
In spring of 2011, I felt as if the Lord was saying, "Joy, enough with the excuses.  You're running out of time!  Your metabolism is slowing, your knees and ankles already hurt, your blood pressure is starting to fluctuate, your sugar levels are rising and your cholesterol has reached a dangerous level.  Joy it's now or never."
With much apprehension and a lot of doubt, I went "inwardly kicking and screaming" to my first Weight Watcher meeting on May 17, 2011, hoping it would "stick" this time.
As the journey at Weight Watchers began and the pounds began to slowly drop, God began to work in me in other more important ways.  It no longer was just a journey to look and feel better, to be physically healthy.
It became of journey of change.

The changes have come from the inside out.  The best changes have been inside my heart…who I am.  Weight loss is truly a battle of the mind.  For me the hardest battles have been, and still are, those in my inner being… my heart and mind.
One of the most important lessons I learned early in this journey was that I am an indulgent person by nature…indulgent with eating habits, my feelings, my emotional responses, my words,…indulgent in everything. With God's help I am winning one of the biggest battles of my life…INDULGENCE!
God has so faithfully surrounded me with wonderful family and friends who have supported me in this effort for change…not just weight loss and health.    At the end of January 2012, I achieved my weight loss goal and in March, 70 lb. lighter, I became a LifeTime Member of Weight Watchers.  To God be all the Glory!  But those are just the outer changes.  The inner changes of confidence and self-control have overcome many fears and indulgences, and I now continue on my journey to becoming a different Joy than I was one year ago.  Again.  To God be ALL the Glory!
 What kind of changes do you need to make?
Weight Loss?  Finance Management?  Overcoming Past Failures?  Habits?  Whatever your need of change….Don't be afraid.  God desires to help you become all you can be by the Power of His Holy Spirit.  YOU CAN DO THIS.  Don't be afraid.
Thank you, Joy. Great post!
I repeat her question, what kind of changes do you need to make? Take that first step.
A journey of a thousand miles begins with a single step. Lao-tzu
 I noticed three things that helped to make her successful:
1. She got a plan. (Joined Weight Watchers)
2. She worked the plan.
3. She got support. At first her friend. And throughout her journey, her family and God.
Success is sweet, but you have to endure the bitter to get there!
Philippians 4:13 NLT For I can do everything through Christ, who gives me strength
He wants to help you. Ask Him for strength, wisdom and guidance.