It's a beautiful ante-bellum style home.
Tall columns.
Gleaming white paint.
Long front porch.
I love that house and my head automatically turns for a glimpse whenever I pass. The lady of the house was decorating her front porch with golden leaves and happy orange pumpkins yesterday when I passed. I've wanted to bring mine out, but I thought it might still be a little early.
But it's not! It's almost October.
In Northern areas, farmers are gathering the last of the tomatoes, herbs, squash and even okra. And I thought okra was a Southern thing….
I saved the crown jewels of the harvest to mention last…fat, orange pumpkins!
We can't grow them very well in Florida, but Illinois holds bragging rights as the number one pumpkin grower in the United States.
Orange and…
Everybody knows pumpkins are orange, but they come in red, yellow, and blue as well (I think the person that called them blue might be exaggerating just a little).  The new rage is the lighter colored pumpkins that are showing up everywhere. I seen lots of white, tan and faded salmon color pumpkins.
The happy orange ones are still my favorite.
I love color! Color is something that I thank God for regularly. Of all things to be thankful for…color??? Now you know your suspicions about me are valid.
The sight of orange pumpkins piled in wooden bins or lined in rows at a farmer's market overwhelm my emotions.
I am wowed with…
the sense of accomplishment they must have felt bringing them to market.
their productivity.
the satisfaction they must feel from their achievement.
the sense of relief they must feel that another harvest is over for them.
the peace they must feel that now they have time to rest from the harvest.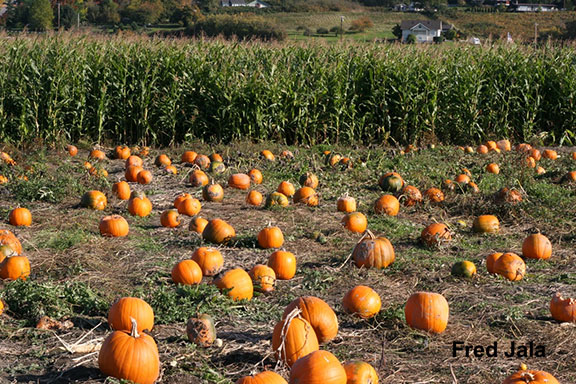 But with those emotions always comes the awareness there can be no harvest without planting.
without the sun.
without the water.
As believers, we are called to live purposefully.
Called…
To love God.
To know God.
To serve God.
And, out of that relationship we are to produce fruit.
(Do you ever wonder if a fruit tree experiences pain growing its fruit? Some of the fruit I'm growing is painful. Do you ever experience growing pains?)
You know the patient…long-suffering stuff.
It can be really painful sometimes.
I sidetracked.
No planting. No harvest.
Gal 6:7-9 You know what I'm saying; the whole law of sowing and reaping.
Every harvest, EVERY YEAR… I'm reminded…No plant…No reap.
I want fruit in my life…are you nodding your head in agreement with me?
Fruitfulness is God's plan for our lives.
Then I (we) must plant the Word of God, not just in our minds, but in a deeper place…our spirits. We have to wrap our seed, the Word of God, with faith that His power will produce fruit in our lives.
A farmer never accidentally grew anything but weeds.
A farmer is strategic.
Because I want to be fruitful, I am strategically planting God's Word in my heart.
I'm savoring Scripture like I savor the decadent Belgian chocolates my friend brought me.
I'm tasting each word and letting  it melt on my tongue.
I'm reading the phrases aloud.
I'm praying the words and the thoughts they generate.
I'm holding revealed Scripture like gifts…precious gifts…like priceless diamonds.
Not fearfully as if it might fall through my fingers…but lovingly, understanding what it cost the giver.
Here is one of those verses I'm lingering over…
I'm praying over…
I'm declaring over my heart and my life.
Hebrews 13:21 (NLT)

"may he equip you with all you need for doing his will.

May he produce in you,

through the power of Jesus Christ,

every good thing that is pleasing to him.

All glory to him forever and ever! Amen."
I'm celebrating the Harvest early this year.
Work well done.
Provision.
Blessings.
I'm celebrating because I am believing God to produce in me everything I need to do His will, through the power of Jesus Christ!
I pray that same prayer over you.  Father, I pray that you will equip my readers "… with all you need for doing his will. May he produce in you, through the power of Jesus Christ, every good thing that is pleasing to him. All glory to him forever and ever! Amen." Hebrews 13:21 (NLT)
If you enjoy my blog post, would you please share it with a friend. Will you partner with me and help me encourage more people? Thank you dear friend. God bless you!