What do you do when things don't happen the way you wanted them?
We can make some great plans, but sometimes they just don't work out…
Sometimes the plans change and you're forced to take a detour! Let me tell you about one of my detours.
Not another detour!
All three lanes on the interstate were totally stopped…TOTALLY! (We were pretty sure there was an accident ahead, so we prayed over the situation.)
It was almost the end of July so it hot! Wayne is always concerned about overheating the engine, so we didn't have the air conditioning while we parked on the parkway. Which forces me to ask the question, "Why do we park on driveways and drive on parkways?"
Wayne asked me to map an alternate route that we could take from the next exit so we wouldn't have to spend the day parked on the interstate.
The detour would add at least another 30 miles to our already long enough trip. Ahh! But by the time we finally inched our way to the next exit; 30 extra miles sounded wonderful.
Would you believe that it really was wonderful?
Wayne loves back roads.
   Old barns with rusty tin roofs.
    Old cars…with rusty tin roofs.
     Antique tractors, yap, with rusty fenders and raggedy seats.
     Rickety fences with peeling paint.
It was a typical two lane, twisting road through rural America.
Wayne was in hog heaven!
(In case you're not quite sure; that's a good thing.)
Then I saw them!
Coming out of a curve in the road, I spotted a huge field of brilliant sunflowers. As far as my eye could see stood large headed sunflowers. Golden heads, with brown faces drooping like shy children peeking from behind their mamas.
If you've been reading my blog every long, you know what Wayne did…that's right Wayne, always the loving kind man he is…turned and stopped on a side road for me to get a better look.
I stood there just drinking in the glorious beauty of the giant, golden gifts on tall green stalks.
What's the big deal?
Now let me explain why this was such a big deal. Kansas is known for their acres of sunflowers.
I've visited Kansas several times. I've…
flown into the airport.
driven on lots and lots of highways and back roads.
stayed with friends.
spoken in seminars and camps.
climbed all 296 steps to the top of the rotunda in the capitol building at Topeka.
but I've never personally seen the famous Kansas sunflower fields.
I've tried to imagine a whole field of the huge flowers on thick stalks towering above my head, stretching and reaching toward the sun. I'm not talking about just a flower or two, but a vast expanse of glorious sunflowers as far as my eye can see. I've seen pictures; but that's not the same as seeing it!
Somehow, I never went to Kansas at the right time.
I arrived either too early or too late in the growing season.
I've stood at the edge of beautiful fields of golden wheat, gleaming in the sunlight only days before harvest. I've seen them toss their heads in the wind as if their hair shaking their hair out of their faces. It was beautiful–a sight I'll never forget.

Yet, golden wheat is just not the same as the famous sunflower fields I pictured in my mind.
Here I was in the low country area of South Carolina, on a narrow country road enjoying a totally unexpected delight!
    They were beautiful. So beautiful.
They were a gift.
a golden gift on tall green stems from God
just cause…no reason,
except He wanted to remind me that He loves me
and that He knew how long I had dreamed of seeing a field of sunflowers.
I am so thankful for His little surprises.
Have you heard the jingle "Everything is better with bluebonnet on it"? Well, I can tell you first hand everything is better with thanksgiving on it! So I stood on the edge of that road and worshipped!

His gifts go far beyond the beauty of sunflowers or brilliant sunrises.
We see His fingerprints in creation, but we see His heart in the cross.
Our salvation cost God big time!
It's freely received, but it didn't come free. Jesus paid the price for our sins.
The gift of God's Son, Jesus, still thrills me even though I've walked with Him since I was a young child. Oh, how I love Jesus! I am so thankful, so thankful that I am a child of God.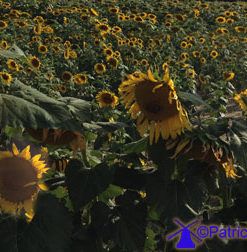 There are so many facets of his nature that awe me.
His goodness.
Kindness.
Grace.
Forgiveness.
Healing
Holiness.
Power.
Grace, I know I said that already, but it really amazes me.
So beautiful.
I've dreamed of seeing a big field of sunflowers, I wouldn't have seen the sunflowers if it hadn't been for the detour.
Was my frustration, my anxiety, my inconvenience actually His "DIVINE SETUP"?
Life is full of detours.
Even when you follow Jesus there will be times that things don't work out like you planned, so you are forced to take a different direction.
So what do we do when that happens?
Throw a fit? Yes, I've done that a few times, but it didn't help the situation any.
Pout…I don't even want to tell you how many times I've done that, but all pouting accomplished was to make me feel absolutely miserable. It's crazy to do that to yourself!
You can trust Jesus!
I've learned Jesus is trustworthy…I can trust Him even when life gives me a detour. I can trust Him; even when He leads me down a path I'd rather not take.
Ask God for directions.
Proverbs 3:5,6 NLT
5Trust in the LORD with all your heart;
do not depend on your own understanding.
6Seek his will in all you do,
and he will show you which path to take.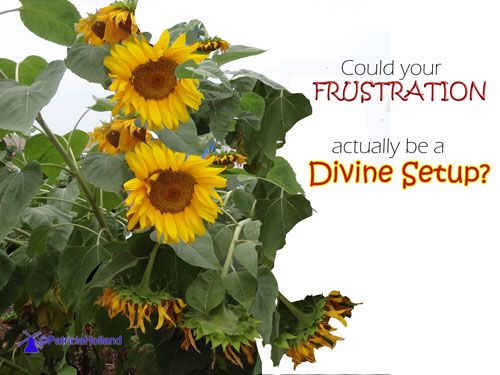 Next time you are feeling frustrated about something, ask yourself
Is this a detour or a Divine Setup?
I want to give you a cheat sheet that will help you get the most of this podcast. Click here to download the Cheat Sheet now.
Click here to download the Outline now.
While We're on the Subject More links to help you deal with frustration.
How do you keep the enemy from stealing your promise?
How do I take every thought captive?