He Sets a Table For Me
Those words alone are enough to grab my attention. I love, love beautiful table settings.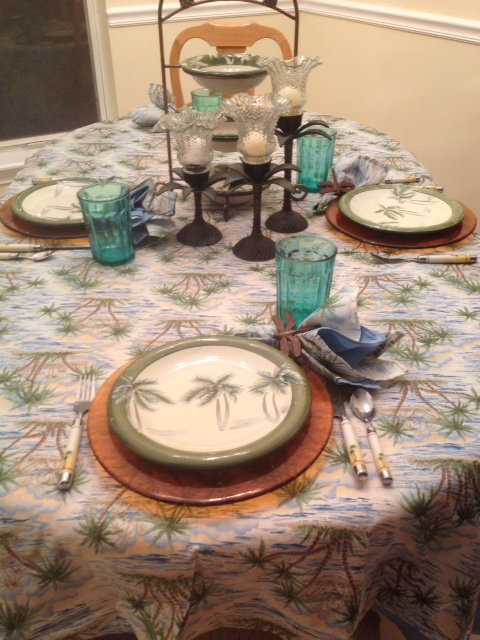 On numerous occasions I have stood on the back porch and envisioned turning the old stump at the edge of the clearing into a table.
I can see a wooden table top for the stump. Rustic, so it would match the location and pressure treated, so it would have longevity. Set with burlap place mats, and rustic dishes.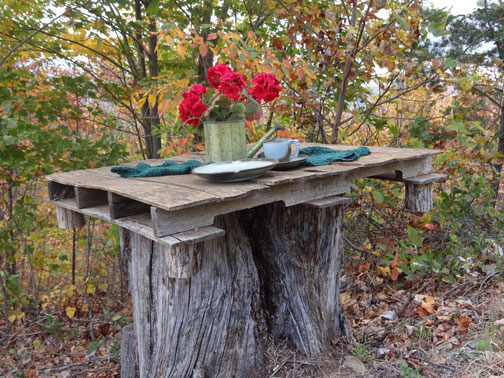 While my location for a table setting might be a little unusual, the one David paints for us– is shocking.
Definitely an unusual place for a table setting.
David in Psalms 23:5 says

You prepare a table before me

in the presence of my enemies.
You've got to admit that's stranger location than a tree stump. Of all places…now I can imagine God setting a table for me overlooking a mountain vista. Or beside a mountain stream. Perhaps, on a blanket under a shade tree or even beside the ocean.
But in presence of my enemies?
That's a real stretch! But David shares his experience vividly.
I can see His beautiful table setting of gleaming crystal. Shiny plates of fine china edged with gold trim. Steaming bowls and baskets of calorie free rolls…(It's my dream…my blog post…LOL)
But I can also see the enemies.
They are standing…rigid with arms folded…glaring. Their body language screams. An intimidating sight if you're an onlooker. Enemy is a title they earned, not something David imagined. They stand ready to back up their threats with muscles, weapons and manpower.
Maybe your enemy is called
Anxiety.
Debt.
Sickness.
Cancer.
Heart Disease.
Loneliness.
Joblessness.
Anger.
Shame.
Regret.
It's a long list…but maybe you still need to scribble the name of your enemy there.
I am convinced God stills sets a table for us right smack dab in midst of our enemies.
But you have to choose to sit down there.
He won't force you.
Yes, the enemies glare at us!
The threat is real. Their voices are loud!
And there is no doubt, their intentions are backed with muscle and resolve…
It's the unexpected absence of a guest that makes this meal even more unique…even more delightful!
Fear wasn't invited to this feast.
Enemies? Yes!
Fear? No way.
I know fear wasn't there, because the pace of the meal is unhurried. There is no sense of urgency. No looking over his shoulder.
SPA Massage Anyone?
Instead, the guest is lavishly prepared so he can relax enough to really enjoy the meal.
David expands his description, "You anoint my head with oil;"
Sounds like the ultimate SPA treatment with sweet aromatic oil . The picture David gave us here is, not of a distant God, but the picture of a tender shepherd personally caring for his sheep. I think David wanted us to see the hands that formed us in our mother's womb, massaging our head with fragrant oil…soothing, healing, calming.
Refreshing. Relaxing. Peaceful.
Not after the victory is won…
but in the presence of our enemies.
Don't wait until all your enemies are gone to sit down and enjoy the table God has set for you.
However, I don't. for even one minute believe the focus of the guest at this table was his enemies.
His focus had to be on the one that is lavishing such care. His focus was on the exquisite meal that was provided. David describes the extravagance of his meal simply with…
My cup overflows.
Abundant supply. Not wasteful, but more than enough to quench a thirsty, thirsty soul.
Won't you join me?
I'm tired of focusing on glaring enemies and my inadequacies. I'm tired of running through fast-food drive-ins. I want more. I want to become better acquainted with the Good Shepherd that David knew so well.
Way too often we live like God is a cattle-driver
instead of a Good Shepherd. Tweet this!

Thank you, Father, that I don't have to wait until all my enemies are gone to pull out the chair that you have reserved for me at Your table. Thank you! Thank you that you still anoint our frazzled minds with the oil of peace and joy! Today, I come to your table. I come expecting to be refreshed, loved and lavished with your peace. The real truth is…the battle is not mine. It is your battle and you've already won it! Wow! Help me to live it and not just know it in my head!