It's interesting, (that's a kind word for it) to take a walk with me, but will you walk with me. I have something important to share with you.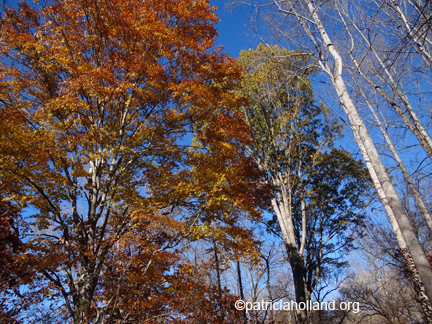 I'm  sorta like the little boy in Bil Keane's "Family Circus" comic strip. I have a hard time staying focused on one thing. Everything intrigues me! I'm child like, but not childish. That's a nice way to put it, but sometimes, I'm a little of both. Maybe it's because of all the years I spent in children's ministry.
I am telling you, Wayne never knows what to expect with me. In spite of that fact,  we took a change of clothes and a pair of comfortable shoes to change into after church so we could take one of our adventurous walks. We observe Sunday as a real day of rest and taking a walk is one of my favorite  ways to rest, especially in the Fall. 
What a beautiful day it was.
Sun shining. Cool breeze. Just cool enough that a long sleeve felt good. My honey at my side, well sorta. Sometimes I lagged behind looking at a bug or a stump. And sometimes, he lagged behind because I walk faster, except when he has something to prove…something like he thinks he's faster than me. He's not! And no, I'm not the least bit competitive.   
Like I said already, everything fascinates me. Look at the burl on this tree. It was huge. I had to get a closer look. It was sooooo beautiful. Thank you, God for beautiful gnarly knots on trees. It was crawling with bugs. I wanted to capture the bug. Then I noticed they where tons of them. It kinda gave me the hee-bee-gee-bees! 
Without the leaves, it's easier to see the beautiful snarls and twists of roots and vines. They form delightful works of art. I want to take them home with me.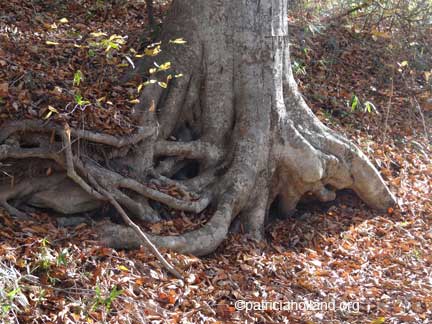 And the rocks with green algae growing on them. Have I told you how much I love rocks! Oh, I do! Little rocks. Big rocks. Sorry, I got lost there for a minute.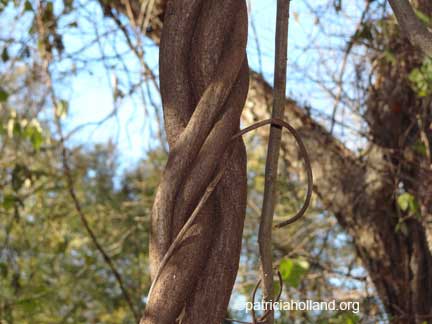 It is so beautiful the way a vine, twists and wraps and grows while climbing a tree. So beautiful. I am in awe of God's beautiful creation.  
The trail takes us along a river with boardwalks that lean out into the water. I had to linger drinking in the sounds, water cascading over slippery rocks, cardinals chirping and grows cawing. The smell of leaves burning nearby. 
I had the camera.
Wayne is a better photographer so he is the one that usually has it. I'm drinking in the beauty when I discover Wayne is gone. So I back track a little ways around a bend and there was Wayne. And I'm so glad that I was the one with the camera.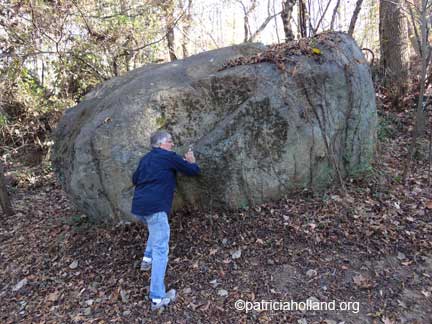 He's shoving on this huge boulder like he's gonna move it or something. I know he's setting me up for a joke, so I play along, "What are you doing?"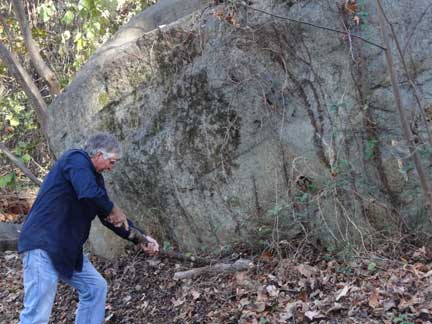 "You're always asking if we can bring home a rock, I thought you might like this one." And actually I did! It was gorgeous…gigantic ! 
His clownish antics continued. (That always happens when I laugh at his jokes. )"Are you sure this will fit in the truck?"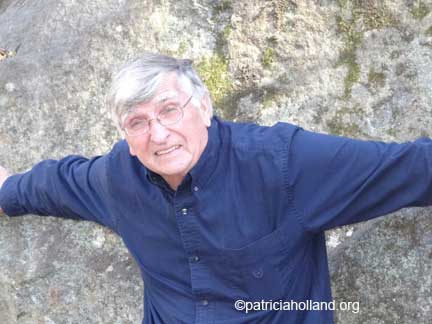 That man! He is so funny and I love him so much! I laughed again. So he continued posing for my camera. I guarantee you, he never dreamed you'd be seeing these pictures. 
But the truth is, if :
     Wayne could pick that rock up
     it would fit in the truck
     he could get it to our house…
           he would.
Wayne loves me that much.
But he's not strong enough!
He doesn't have muscles big enough.
And it's not even his rock to give to me.
But God says, "I am the LORD, the God of all mankind. Is anything too hard for me?"Jeremiah 32:27

 
 It's a rhetorical comment given to stop you like I did at the gnarly nodule on the tree and Wayne did at the huge boulder. A comment meant to pull you close enough to see, close enough to know that regardless of where you are… there is absolutely nothing too hard for God.
Nothing! Absolutely nothing!
Yes, He loves you that much!
  As I face some difficult circumstances this morning, I lean into His strength and whisper, "No, Father, there is nothing, nothing too hard for you!"   
Hit a rough spot?
Lean into His presence until you know, that you know… that Jesus is still the answer.