Pursue You Will Recover All
Go get 'em!
Are you God's child? Do you realize what that means? Do you realize that God wants you to walk in victory? Yet, it's not automatic. We have a role to play. We see that clearly in David's life when he faced a hopeless situation at Ziklag. Instead, of accepting defeat, he asked God what to do. God said, Pursue Them You Will Recover All! It's never as easy as it sounds…but David would tell you it's worth it.
It could be a line from a bank robbery scene in an old western or a mama's frustrated command when she hears the neighbor kid took her son's skates, but actually it's what I hear when I read 1 Samuel 30:8.
Let me set up the verse before I read it with you. God is talking to David, not the king David yet. He's still the vagabond David, hiding from King Saul, living in enemy territory. He is sitting crumbled in the dirt, holding his face in his hands. He thought he was coming home to his family after an embarrassing, did I say embarrassing, I should have said humiliating, confrontation with the Philistine commanders.
Maybe you prefer to listen to the post. Click below.
Or watch this teaching.
Lost everything!
Instead of being welcomed by family, he and his men were assaulted with the sights and stench of what remained of their homes. Everything was gone; their home, their belongings, their kids and their wives. At first the men cried, yes, they did. Strong, brave men need to cry sometimes too. This was long before anyone taught their boys such foolishness, they cried hot tears and sobbed the loud painful cries of brokenness. But those broken cries quickly turned angry and vengeful. Angry voices through clinched teeth debated and plotted of stoning David.
It looked hopeless.
No. I'm serious, it looked hopeless.
Ever felt like the enemy is trying to bring division in your marriage? Or that he has enslaved your kids with drugs, alcohol or rebellion? Somebody you love reeling under the weight of depression, unworthiness or shame? Sometimes it feels impossible for them to just be "normal" again.
There are no impossible situations for God.
I believe God is bringing home prodigals. I believe God is breaking lies, deception and bondages off our friends and family. He's delivering the broken and healing mental illnesses.
Then David asked God.
Should I chase them?
Will I catch them?
Have you asked God or have you searched Scripture to find what God says about the situation you are facing?
God answered David.
Here it is. Here's God's "Go get'em!" Well, God doesn't say it quite like that more like…
Pursue them. You will recover all.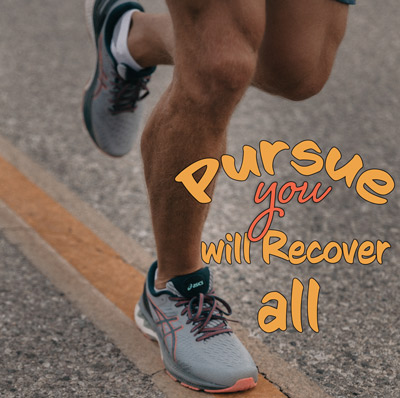 Let me read the verse 1 Samuel 30:8 so you see that I'm not exaggerating. "and David inquired of the LORD: "Should I pursue these raiders? Will I overtake them?" "Pursue them," the LORD replied, "for you will surely overtake them and rescue the captives."
Cliff Young was one of those "Go get'em!" kind of guys.
Not many folks had ever heard of him before he showed up in 1983 for his first Ultramarathon in Australia. This marathon goes a little beyond the 26.2 miles. Yap, just a little beyond, how 'bout all the to 544miles! That's beyond crazy…its insane.
150 world class athletes, most of which were under 30 years of age, sponsored and backed by the elite manufactures of running shoes and clothing, giants which included Nike, showed up to take on the challenge. The only words that describe Cliff in the preceeding sentence are "showed up."
Let me describe what folks saw when Cliff showed up at the registration table. A toothless, 61 year old man dressed in overalls and work boots. He left his dentures at home because they rattled in his mouth when he runs. Folks thought he was a joke or a publicity stunt, but it was no joke to Cliff.
The reporters were curious, so they bypassed the runners in their expensive runners ensemble to get answers from the old guy.
Who are you? Where are you from? You're not serious about running this race, are ya?
I'm Cliff Young, he introduced himself. I'm from a large sheep ranch near Melbourne. We got about 2,000 acres and 2,000 head of sheep. Up until 4 years ago, we didn't have horses or 4-wheelers to herd those sheep. When a storm would be blowing up I'd have to chase those sheep down to get 'em to safety. Sometimes it would take me two, three days to get 'em all home. This race is only about 2 days more. I think I can do it.
Go Get'em Cliff
The young folks left Cliff in the dust while Cliff just shuffled, you read/heard that right. Old Cliff just shuffled behind them.
The professional all knew how this race had always been run.
The runners ran for 18 hours each day, then sleep for 6 hours and repeat 6 more days. Cause everybody knew this race would take 7 days.
Everybody except Cliff Young. Go get'em Cliff!
While everyone slept Cliff just kept running, shuffling in those big old work boots. When the "real runners" took off the next morning, Cliff was still behind the pack. He didn't sleep the next night or the next or the next. He kept shuffling along.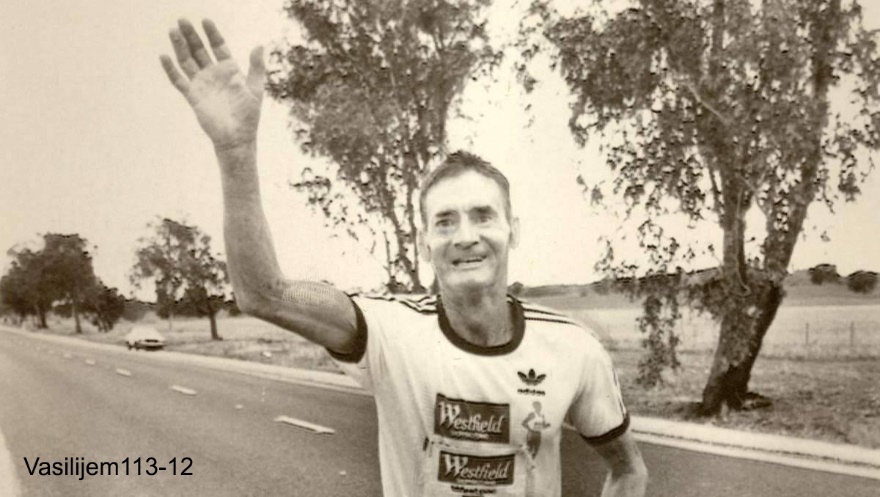 Go Get 'em, Cliff!
He was imagining that he was chasing sheep that needed protection from an incoming storm as he trudged along. On the last night, Cliff passed the professional runners.
On the last day, Cliff finished this ultramarathon from Sydney to Melbourne race at the age of 61, without dying!!! Hallelujah! Not only did he finish, he won the race breaking and setting a new race record that beat the race's best record by 9 hours.
Cliff did so much more than shuffle…he inspires us to Go Get'em!
David asked God, should I chase them. Will I catch up with them?
And God whispered, "Go Get'em!" I believe God is whispering to His children. It's time…it's time…go get'em!
The captives. Those held in slavery to rebellion, drugs and anger.
Go get'em!
It begins with a prayer, but it doesn't stop there…Believe. Declare the Bible over them. Go get'em!
A Door of Hope Encouragement – Patricia Holland