I'm not satisfied with my weight right now, so when my friend challenged me to lose 5 lbs with her this month I eagerly accepted. I'm working on it! I'm eating right and exercising everyday.
But, there's a major challenge to getting that weight off.
It's birthday month in the Holland house. Both of my kids and one grand child were born in April. Kimberly just celebrated her birthday, so I cooked all of her favorites: Chicken stuffed with Swiss cheese and Prosciutto then rolled in savory bread-crumbs. Cream style corn. Fettuccini Alfredo. Caprese Salad with balsamic glaze. Garlic bread. And, I finished it off with birthday cake. It was a wonderful meal and such a fun evening! But, I have to admit the whole meal was a dieter's nightmare. Even the salad had to be altered for me!
I cut my portion of chicken in half…ate my salad without balsamic glaze. But I wanted more. Argh! After I finished my piece of chicken, I knew exactly how delicious another bite would be. Looking at it sitting in front of me made me want more so bad! (Did I sound totally pitiful?) Please tell me you've done that too!
I hate bathroom scales!
Those bathroom scales measure every bite of everything I eat…even if I eat it secretly! So, I refused the ice cream cake; both the first and second serving. But, believe me I wanted more! (I didn't even lick the knife before I washed it!)
The bathroom scales kept me from being satisfied and reaching for more delicious food.
But, the question that I want to ask you…what is keeping you for reaching for more of God?
Have you got all you need?
Or perhaps all you want?
Are you satisfied?
Too weary?
Simply afraid?
Paul described his personal dissatisfaction with where he was in Philippians 3: 12-14
(NKJV) Not that I have already attained, or am already perfected; but I press on, that I may lay hold of that for which Christ Jesus has also laid hold of me. 13 Brethren, I do not count myself to have apprehended; but one thing I do, forgetting those things which are behind and reaching forward to those things which are ahead, 14 I press toward the goal for the prize of the upward call of God in Christ Jesus.
Oh, how that dear man of God, Bro. Paul, challenges me!
With all he had accomplished, written, preached, encouraged, impacted and yet he was not satisfied and continued to reach for more!
What kept him from getting satisfied?
What kept him reaching for more? He explained it in verses 7-10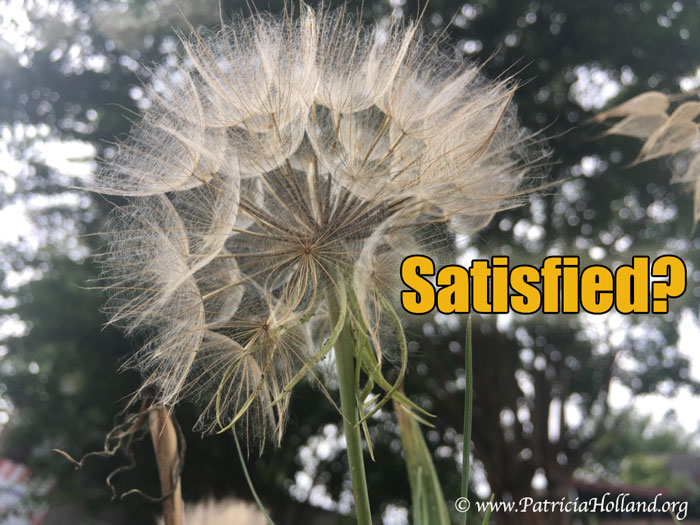 7 I once thought these things were valuable, (Let me interject. Paul is talking about his accomplishments and credentials here.) but now I consider them worthless because of what Christ has done. 8 Yes, everything else is worthless when compared with the infinite value of knowing Christ Jesus my Lord. For his sake I have discarded everything else, counting it all as garbage, so that I could gain Christ 9 and become one with him. I no longer count on my own righteousness through obeying the law; rather, I become righteous through faith in Christ.[c] For God's way of making us right with himself depends on faith. 10 I want to know Christ and experience the mighty power that raised him from the dead. I want to suffer with him, sharing in his death, 11 so that one way or another I will experience the resurrection from the dead! Philippians 3:7-10
Jesus became His # 1 priority. His values changed from his credentials to knowing Christ Jesus.
Lived out his values. Dumped everything else so he could have Christ.
Lived beyond his means by accessing God's ability. Trusted in God's righteousness.
Lived to win the prize.
When I look at Paul's list, I have to ask am I…
making Christ our # one priority?
practicing that priority in our everyday life?
living beyond our means to access the ability of God?
in it to win it?
What about you? Have you embraced Paul's why, so you stay focused to win your race!