I've been digging through Scripture recently to understand what God thinks about what we think. I'm been shocked by the many discoveries and treasures that I have seen. Not new stuff, more like sorting pieces of a puzzle into colors and then beginning to see where they fit and then as they fit seeing the whole picture come together.
What Do You Think?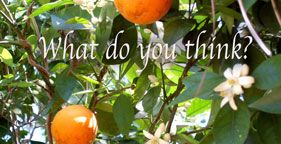 One of the things that surprised me was how many times Jesus asked the question, "What do you think?" And, then there were all the times when he told them what they thought and corrected their faulty thinking. I've observed that Jesus used questions as a captivating teaching method. The genius behind His masterful teaching and then understanding how successful it can be for any teacher that wants to do more than talk at students!
But after weeks of studying, I am convinced it was much more than a teaching method. Jesus wanted the people to think about their thoughts. He wanted them to bring their opinion into their conscious so He could expose it to the light of truth. He made us so He knows how our mind works and the power of thoughts to influence our beliefs and values; its power to build or weaken our faith.
Warning
The book of wisdom warns us, Proverbs 4:23 NIV "Above all else, guard your heart, for everything you do flows from it." Everything is an expansive word.
I've discovered that I don't have to plant weeds.
A month ago I pulled all the weeds from a natural area at the base of our patio, then sprayed it with weed control. The man that cuts our grass came a few weeks later and sprayed again because the weeds had taken over that area. No one had to plant them. They just popped up!!!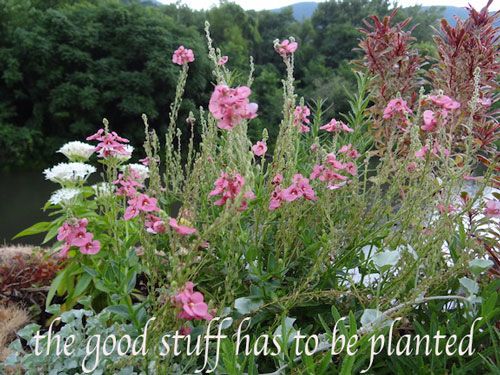 Yet, for some reason, the good stuff has to be planted.
Planted. Fertilized. Cultivated. It's work, but it's necessary work if you want more than weeds; if you're looking for beauty and fruitfulness!
And that is true when it comes to thoughts as well.
Thoughts influence our beliefs and values. So we must diligently plant God's Word in our heart. Like salt is stirred into a savory stew, His Word must flavor and influence everything we say and do.
It's work.
The Bible doesn't always say what I want it to say. It… challenges me. stretches me. corrects me. guides me. is NOT always easy to live out! It's especially hard, when I want to take the easy way out or when I want to massage my ego.
It's worthwhile work…because I want real answers.
I don't want to live hollow when I can live full of life giving truth. I don't want to be deceived or deceive myself and be robbed of the best of life…the very best can only be found in Christ. It's hard work to search for truth and line up my actions with that truth, until I realize that my direction has me headed down a wrong path…to an outcome that I would rather avoid. It's hard work to repent, change any thinking and believing that is contrary to God's Word and forge a trail of obedience to that truth.
It's worthwhile work…because I want treasures to come out of my heart.
Luke 6:45 NIV "A good man brings good things out of the good stored up in his heart, and an evil man brings evil things out of the evil stored up in his heart. For the mouth speaks what the heart is full of."
What do you think?
Is what you think shaped by weeds or truth? I hear people say…"I know what the Bible say…but I think…." To that I must respond like the robot in "Lost in Space," Danger, Will Robinson, Danger! That kind of thinking is weed thinking and it brings death.
Danger!!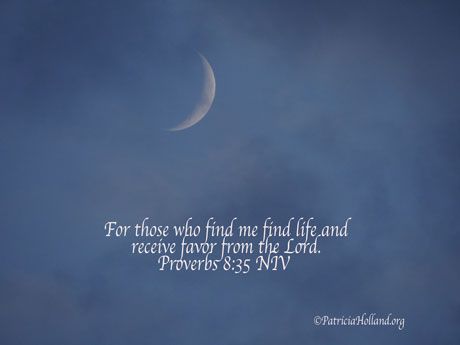 Let wisdom shape your thinking.
Proverbs 8: 35, 36 NIV 35 For those who find me find life and receive favor from the Lord. 36But those who fail to find me harm themselves; all who hate me love death."
Did you see that? If you find wisdom, you find life and receive favor. That's a great reason to allow wisdom to shape your thinking.
Wisdom isn't automatic…
                 but it is a process that produces real results!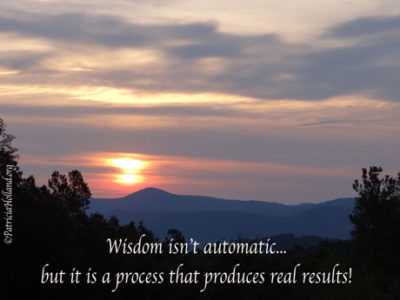 Look at the process in Proverbs 2. 1My child, "listen to what I say and treasuremy commands. 2 Tune your ears to wisdom, and concentrate on understanding. 3 Cry out for insight, and ask for understanding. 4 Search for them as you would for silver; seek them like hidden treasures. 5Then you will understand what it means to fear the LORD, and you will gain knowledge of God. 6For the LORD grants wisdom! From his mouth come knowledge and understanding.   Look at the process again.
Listen
Treasure
Tune In
Concentrate
Cry out
Ask
Search
Seek
Then you will understand Wisdom isn't automatic, but it is available to those that go after it! If you were blessed I hope you'll share it with a friend!