Pentecost
Pentecost is a special celebration to the Jewish people. It commemorates the supernatural giving of the law at Mt. Sinai complete by getting all dressed up and watching a spectacular fireworks display. Pretty spectacular stuff! It was one of three feast that every Jewish male was required to attend. Pentecost means fifty and comes 50 days after Easter.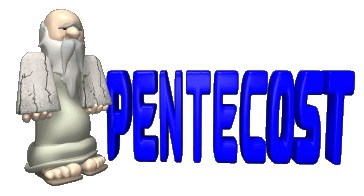 It's an important celebration for the Christian Church as well.
The descent of  Holy Spirit at Pentecost was a unique event in the history of the world. We see His activity and power throughout the Old Testament, beginning at Genesis, but only as a visitor and then only for specific people or situations. Although we see Him empowering individuals in the Old Testament, Pentecost was the date of His introduction to the world as "The Promise" and "The Gift" for every believer. St. Augustine clarifies it: "He was now to come no longer as a transient Visitor, but as an eternal inhabitant." –the book "Precious Holy Spirit"
But the church seems to have lost site of a reality that every bride understands, "After the wedding…you get to keep the man." I have lived everyday for 40 years thankful for that reality. OK, so there's been a few days I wasn't as thankful as I should have been. The church can and should celebrate Pentecost. But it we don't receive the person of the Holy Spirit our lives will lack the power we need to live as over comers.
The church needs to celebrate a relationship , not a date on the calendar. Often, believers refer to a time when they received Holy Spirit, but fail to live in relationship with Him. It's time to discover who He is. It's time to discover why Jesus would emphasis don't leave Jerusalem "until you are endued with power from on high." (Luke 24:49) Now, that's a good King James Version word for ya…endued…clothed with power.
This Sunday is Pentecost Sunday. I hope you'll celebrate—celebrate the relationship. If you don't really know who Holy Spirit is…Pentecost Sunday is a great day to begin your journey of discovery. The Bible has snapshots of Him to help you get a glimpse of what He is like. Of course it a lifelong journey, because He is so big and so wonderful our minds can only scratch the surface of who He is. So even if you're Spirit filled, ask Him to turn on the light of Scripture so you can see Him more clearly and enjoy the benefits of a relationship with Him at a deeper level.
The book "Precious Holy Spirit"  will help you on that journey. It uses 7 biblical pictures and lots of stories to help you discover the benefits of Spirit filled living.
Scott Berkey says, "Pat takes readers step by step through the Bible and paints an incredible picture of who the Holy Spirit is in the life of the believer."
Dr. Jim Garrett says, "I strongly recommend the book "Precious Holy Spirit" by Patricia Holland. I would recommend it especially for pastors, parents, children's leaders, anyone else who desires to communicate the truth of the Holy Spirit. I have read and enjoyed it. I have also been reminded of His magnitude and His simplicity.  I have also been equipped with more ammunition to use to communicate Holy Spirit and His truth."
I finished "reading" your book, but I'm not done with it. I still like to go back and read my notes and passages I highlighted. I wish every Christian in America, including Pentecostals, would read it! Nick Krake
It's a fabulous book! Esther Wilder
From cover to cover, Pat Holland combines the richness of biblical Pentecost with the availability of life-giving experiences for the modern believer.  Her down-to-earth, personal stories make truths about Holy Spirit easy to grasp for beginners. Her genuine love for Holy Spirit compels the most seasoned seekers to rediscover the power found in the Book of Acts. Pastor Ken