Real People. Real Stories! Eric Liddell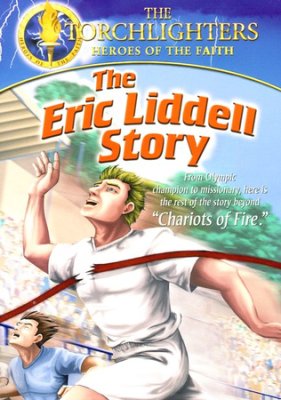 Eric Liddell is fast. In fact he is the fastest runner in all of Scotland, winning race after race. This national hero with an easy smile has captured the country's heart, and they can't wait to see him take on the world in the 1924 Paris Olympics. Eric's coach is training him hard for his very best event, the 100-meter sprint, in which he is expected to win a gold medal. Eric has got talent, fame, and a bright future as a star athlete. But Eric has something else that is even more important to him: Faith.
Eric's goals go beyond winning local or national races. They go beyond even the International Olympics. Eric's main goal is to serve and follow God, no matter what the cost. One day he hopes to become a missionary to China where he lived for his early years and where his parents still serve. Eric will not let anything or anyone come between him and God.
When Eric and his coach learn of his acceptance into the Olympics, a conflict is quickly noticed. The time trials for Eric's race are on a Sunday. Eric's desire to keep the Sabbath holy means he does not race on Sundays. He has always kept the Lord's Day for worship and rest, and he is not going to change just for the Olympics! The people of Scotland are outraged. The golden boy falls quickly out of favor, as their hopes for Olympic gold are dashed. No matter how the public pressure mounts, Eric will not compromise his principles.
Finally a solution is found. The Olympic committee agrees to allow Eric to compete in two other events, which do not take place on a Sunday: the 200-meter and the 400-meter races. Though he faces tough competition and is somewhat out of his league, Eric surprises the world with a gold medal win and new world record in the 400 and a Bronze in the 200. Eric returns as a national hero! Following the Olympics, Eric's fame spreads. He uses his many speaking engagements to share his faith, while living the life of a celebrity.
But, in 1925 Eric leaves all that behind to return to China as a missionary. Eric and his wife serve for the better part of 20 years. When the horrors of World War II reach them, they continue to follow God. While his wife cares for their children, Eric faces danger to rescue and help the wounded, sharing his faith all the while. Eric continues to bear a strong witness even as he is marched off to a concentration camp for "enemy nationals." Eric Liddell is known around the world as a man of conviction. His athletic achievements gained him recognition for his day, but his choice to put God first has made him a hero for all time.

The Eric Liddell Story Features
English and Spanish languages with optional English subtitles.
Full-length documentary, featuring interviews with Liddell's daughters.
Reproducible study material.