We had a gorgeous snow time in Michigan. Kayden was born on a snowy afternoon and it is still snowing. They closed schools for two days to celebrate Kayden's birth. No, actually we celebrated and the school board protected kids from dangerous, icy roads. It was so cold, that the salt wouldn't melt the ice on the roads. We had a -10 degrees with chill factor. I just quit looking at the weather after that and decided this Southerner would hibernate instead.
Life is very different in snow country! Tiny women in heavy snow suits blowing their driveways…for all my Southern friends, just erase that picture of red faced women with puffy cheeks, trying to blow off the snow. These girls know how to get the work done in a hurry. They have self propelled snow blowers. As a matter of fact, there is a snow blower for wet snow and one for dry or powder snow. And for Southern folks that are new to the whole snow culture…there's the snow shovel. One more reason to hibernate. I don't think that is a skill set I want to develop.
While Wayne was getting the hang of the snow shovel thing…Keri and I were making magic in the kitchen.
The lake was covered, not amusement park covered, but way too cold to be outside–covered, with fisherman. This whole deal of knowing where to cut the hole and dropping the hook where cold, sluggish fish will find it, is amazing to me! But not amazing enough to get me onto the ice with or without skates.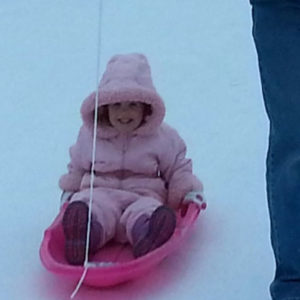 There is snow sledding. It looks like so much fun. Brrrh! It's too cold to risk getting dumped into the soft powdery fluff!
And ski? You've got to be kidding me! People get killed doing that! I know there are gentle slopes and cross country trails that are safe, but what if I hit a tree? No thank you! You see I'm frozen in place–inside.
A few minutes in the snow is awesome, but cold weather? I'm shivering just thinking about it. Ten below! I can handle the heat, (of course you might hear a different story this summer when it's a hundred plus degrees outside.) but not the cold weather. It totally immobilizes me! No honestly, 60 degrees is cold enough for this Southerner! Yes, Sir re! I'm frozen in place–right beside the fireplace.
Maybe you've allowed fear to do to you what cold weather does to me–stop you from living life to the fullest. Fear will immobilize you. Fear can make you dance around with indecision until you miss an important date with opportunity. Fear intimates and isolates. Fear will locks you in the prison of regret and un-fulfillment. In its climate you will recoil, hoard your giftings and your resources, instead of investing them in a life that is well spent.
Fear questions sound something like this:
What if I make a mistake?
What if I fail?
What if this is the wrong decision?
What if I look stupid?
What will people think?
They are all questions that leave you frozen in place. But I want to ask you, what if you are right? What if you succeed? What if this choice IS a step in the right decision? What if this step makes you look really, really wise, instead of stupid?
You'll never know until you try.
You'll never know until you take a step out of your comfort zone and toward your dream.
Hold everything!
I'm not encouraging you to go ice fishing on a lake if you don't know whether or not the thing is frozen solid enough to walk on. And I'm certainly not encouraging you to violate common sense or healthy fear that keeps you from doing stupid things. But I am encouraging you to stop, think and decide. "Is this a good fear or a bad fear", should be your first consideration.
Good fear.
Fear of God.
Proverbs 14:27 NIV "The fear of the LORD is a fountain of life, turning a man from the snares of death."
Fear that prevents me from sinning.
Exodus 20:20 NIV "Moses said to the people, "Do not be afraid. God has come to test you, so that the fear of God will be with you to keep you from sinning."
Fear that keeps me safe.
Proverbs 14:16 NLT "The wise are cautious and avoid danger; fools plunge ahead with great confidence."
Bad Fear

Fear of people.
Proverbs 29:25 NIV "Fear of man will prove to be a snare, but whoever trusts in the LORD is kept safe."
Any Fear that:
debilitates
torments
robs you of joy
makes you cower
accuses
intimidates
freezes you in place.
God's Answer
Isaiah 41:13 NIV "For I am the LORD, your God, who takes hold of your right hand and says to you, Do not fear; I will help you"
When frozen by fear:
Pray
Ask for wisdom. "Father, is this a good fear or a bad fear?" If it is a good fear, then be sure to shut the door on torment or guilt. Neither are from God.
Repent of wrong fear.
Choose to trust God.
Change what you think about.
Think about Scriptures that fit your situation. Say them aloud. Pray them. Write them on pieces of paper and put them in strategic places. Put them in the your favorite note app on your phone. Read them OFTEN!
OK, so I should have tried ice fishing! Maybe next year, but this year I'll just enjoy Keira and baby Kayden! They call them "grand" babies for a reason you know!
Get the latest blog posts sent directly to your e-mail or RSS Feed!
©Copyright Patricia Holland