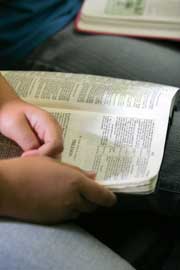 I needed to make a decision. Every time I thought about the situation I prayed.
For weeks I prayed.
Fear and dread began to grip me and still I prayed.
One day I listened to what I was saying. I heard myself praying, "Oh, Lord. I don't know what to do. Please help me, Lord, I don't know what to do."
I realized I needed to change my prayer.
I found James 1:5, "If any of you lack wisdom let him ask of God and He will give it to you liberally." I changed my prayer. "God forgive me," I've been praying wrong. "Your word tells me that if I need wisdom to ask you for it. You promised that you would give it to me." What a difference that made. I was praying in faith.
I power pack my prayer time by praying the Scriptures.
I do it for two reasons.
My mind wanders when I pray. All kinds of things come to mind when I start praying. I want to stay focused and spend time with my dear friend. Scripture helps me focus on the answer beyond the problem.
The Bible is God's will. I want to pray in faith. Not just whine about my problems. 1 John 5:15 "And this is the confidence that we have in him, that, if we ask anything according to his will, he hearth us: The scriptures are His will, so I pray the scriptures." My faith is stronger when my prayer is based on scripture.
Ephesians 5:1 "Be ye therefore followers of God, as dear children. And walk in love, as Christ also hath loved us, and hath given himself for us an offering and a sacrifice to God." My prayer from this scripture might be something like this. "Father, help me (or I might put my children's name or my husband's name) to be a follower of God as a dear child. Help me/us to walk in love, like Jesus loved me/us, and gave himself for me/us as an offering and sacrifice to God" I put myself or the person I am praying for in the verse and use it as a guide for my prayer.
Below are some portions of verses that I pray regularly.
1 Tim 4:12 I pray… Father, help me to be an example of the believers, in word, in conversation, in charity and in truth.
As a Leader:
From Ephesians 4:1 I pray… Father, help me to walk worthy of the vocation wherein I have been called.
From 2 Corinthians 9:8 I pray…
Father, I ask you to make all grace abound toward you, so that I and the people in this ministry will have all sufficiency so that we may abound unto every good work. Psalms 5:12 For thou, O Lord wilt bless the righteous; with favor wilt thou compass him as with a shield. Father as I walk in your righteousness will you encompass, will you cover me with favor like a shield. If you've ever heard me speak you have heard me pray 1 Peter 4:11 If any man speak, let him speak as the oracles of God; if any man minister, let him do it as of the ability which God giveth: that God in all things may be glorified through Jesus Christ… This verse is one of my prayer goals for 2012. Ephesians 6:19 …that utterance may be given unto me, that I may open my mouth boldly, to make known the mystery of the gospel, 20b…that therein I may speak boldly, as I ought to speak. Proverbs 28:20 A faithful man shall abound with blessings…
I pray this prayer for grandchildren,
but I also pray it for unsaved people. Jeremiah 24:7 And I will give them an heart to know me, that I am the Lord; and they shall be my people and I will be their God; for they shall return unto me with their whole heart. Ephesians 1:6b Father, in the name of Jesus I reject rejections because you have made me accepted in the beloved. Ephesians 1:18 The eyes of your understanding being enlightened that ye may know what is the hope of his calling, and what the riches of the glory of his inheritance in the saints. And what is the exceeding greatness of his power to us-ward who believe, according to the working of his mighty power.
As a wife:
Father help me to submit myself to my husband, as my head. Ephesians 5:22 If you are a husband, Father help me to love my wife as Christ love the church, and gave himself for it. Ephesians 5:25
Children in my class:
Father help them to be obedient to their parents. Numbers 6:25 The Lord bless you and keep you. The lord make his face to shine upon you and give you peace. So they will put my name on the Israelites, and I will bless them.
I began praying this way when my children were babies.
It has made such a difference in my prayer life.