Spirit Filled Living is living all of life empowered by God's Spirit. It is a life empowered by Precious Holy Spirit. It's more than trying harder or gaining the right information. It means we allow God's power to flow through us giving us the desire and the power to do what pleases Him. (Philippians 2:13)
There is a long, long list of benefits to Spirit filled living. I want to share seven benefits with you in this post.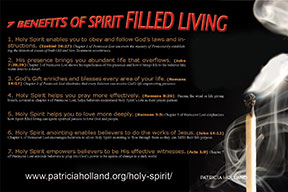 1. Holy Spirit enables you to obey and follow God's laws and instructions.
The first Pentecost took place at Mt. Sinai 50 days after Passover. Moses and the Israelites heard God speak the commandments. He was establishing worship guidelines. God's boundaries protect us. We need Holy Spirit power to surrender and obey God in every area of our life. But God had more in mind than robot obedience. He changes our hearts, so we have a tender, responsive heart towards God. And I will give you a new heart, and I will put a new spirit in you. I will take out your stony, stubborn heart and give you a tender, responsive heart. And I will put my Spirit in you so that you will follow my decrees and be careful to obey my regulations. Ezekiel 36:26,27 NLT
In chapter 1 of my book "Precious Holy Spirit" uncovers the mystery of Pentecost by establishing the historical events of both Old and New Testament occurrences.
I am convinced that Precious Holy Spirit wants to help you accomplish what God has for you to do. Let me use the Bonsai tree to explain what I mean.
(Taken from 7 Sermons on Precious Holy Spirit)
2. His presence brings new life and joy.
38Whoever believes in me, as Scripture has said, rivers of living water will flow from within them." 39By this he meant the Spirit, whom those who believed in him were later to receive. Up to that time the Spirit had not been given, since Jesus had not yet been glorified. John 7:38, 39 NIV
Where the Scripture Goes Life Grows
"Precious Holy Spirit's presence in our lives brings life to the believer like water does to a desert. If you've never seen the desert bloom, it's amazing. 
3. The Gift of the Holy Spirit is God's good gift for every believer that asks.
God's Good Gift enriches and blesses every area of your life. 
If you then, though you are evil, know how to give good gifts to your children, how much more will your Father in heaven give the Holy Spirit to those who ask him!" Luke 11:13 NIV
Holy Spirit came to fill believers, but we must receive Him. I can't begin to describe how wonderful God's Gift really is. God's Good Gift enriches and blesses every area of your life.
4. Holy Spirit helps you pray more effectively.
In the same way, the Spirit helps us in our weakness. We do not know what we ought to pray for, but the Spirit himself intercedes for us through wordless groans. Romans 8:26 NIV
Prayer is such an important part of every believer's life, but  as we live in the Spirit He helps us pray God's will. What a wonderful prayer partner Precious Holy Spirit is in a believer's life. He always knows the will of God, He never tires, He's never afraid and He's ready to help you pray anytime and anywhere!
Pnema, the wind or life giving breath, covered in chapter 4 of the book "Precious Holy Spirit", helps believers understand Holy Spirit's role as their prayer partner.
5. Holy Spirit fills us with His love for everyday living.
I don't know about you, but sometimes I run out of my love for some folks, but Holy Spirit fills us with His love. Love is one of the benefits and evidence of Spirit filled living.
"And hope does not put us to shame, because God's love has been poured out into our hearts through the Holy Spirit, who has been given to us." Romans 5:5
Jesus said that our trademark would be love. Loving, the real God kind of love can't be produced out of carnal will. It only flows into our hearts by the Holy Spirit.
Chapter 5 of the book "Precious Holy Spirit" emphasizes how Spirit filled living can ignite spiritual passion to love God and people.
6. Holy Spirit anointing enables believers to do the works of Jesus.
Very truly I tell you, whoever believes in me will do the works I have been doing, and they will do even greater things than these, because I am going to the Father. John 14:12 NIV
"Greater things that these!" Deeds under the influence can only come as we dwell under the influence. Oh, how people need to experience the life changing, healing, delivering power of God! 
In this chapter of "Precious Holy Spirit" I encourages believers to allow Holy Spirit anointing to flow through them so they can fulfill their life purpose.
7. Spirit filled living is Spirit empowered living. Holy Spirit empowers believers to be His effective witnesses.
But you will receive power when the Holy Spirit comes on you; and you will be my witnesses in Jerusalem, and in all Judea and Samaria, and to the ends of the earth. Acts 1:8NIV
 "You will receive power!" Power to tell, but also power to demonstrate God's love through His gifts and fruits.
 "Precious Holy Spirit" power can be accessed. It is so important for believers to plug into God's power to be agents of change in a dark world. 
I want to give you a free download of a condensed version of these 7 Benefits of  Spirit Filled Living so you can print them and go back to them for future reference.
More on Spirit Filled Living
What the Olympic Torch taught me About Holy Spirit Anointing
Holy Spirit Helps Us Glorify God