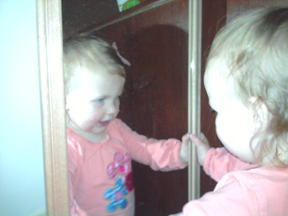 I wonder what she sees when she looks in that mirror. I can almost hear her mom standing nearby questioning, "Who's that? Who do you see? Is that Keira?" Perhaps she realizes that she's looking at herself. You can tell by her smile that she likes what she sees. All babies seem to enjoy seeing their reflection in the mirror. They start smiling and cooing at their reflection at a very young age. But somewhere along the way to maturity, people seem to stop smiling at their reflection. When was the last time you smiled, not laughed or balked in disappointment, but smiled at your reflection?
Most of us, if we look at ourselves at all, glare into the mirror with the exact opposite emotion of the glee seen in the face of babies. Most of the time, we're looking for wrinkles, straightening or curling or fussing over our hair or checking our nose for…I won't go there. We are looking for defects and believe me the older you get the more you'll find.
The lyrics of "Mirror" sung by Barlow Girls declares "you won't define me." I agree. A mirror shouldn't define us, but what should define us? In a culture that is searching for purpose and meaning, where do we find value and self-worth? Beauty fades with the ticking clock of passing years, so it can't measure us. Success is too illusive and popularity is too fragile to define anyone.
Love, not our fluctuating culture, must define you. Definitively, God's love must define us; not the fickle, frail love that flows from human containers, but the strong, unending, unconditional love that flows from the source of life. You are valuable to God. So valuable that Jesus paid the penalty for your sins. I hope you've experienced God's gift of salvation through faith in Christ. But don't stop with His gift; purposefully establish and plant yourself in the core value that God loves you. Ephesians 3:16-19 "that He would grant you, according to the riches of His glory, to be strengthened with might through His Spirit in the inner man, 17 that Christ may dwell in your hearts through faith; that you, being rooted and grounded in love, 18 may be able to comprehend with all the saints what is the width and length and depth and height– 19 to know the love of Christ which passes knowledge; that you may be filled with all the fullness of God."
This deliberate process of changing what you think and changing what you believe is a vital part of Christian maturity. Plant, anchor and moor yourself in the core value that you are loved by God;  a love that nourishes and matures you. Then that life giving love produces the stability and grace in you to love, give and serve others with the same love you've received-God's love. Your self-worth is transformed, making you whole and complete so you can trust– and hope– and connect with others.
I'm intrigued by the picture of Jesus with a towel wrapped around His waist, carrying a basin of water to wash His disciple's feet. I'm humbled that Jesus would love His disciples…and humanity, enough to humble Himself to take on a servant's role. But if you look at that picture more closely, you discover an underlying core value that enabled Him to move into a servant role confidently and lovingly. John 13:3 "Jesus, knowing that the Father had given all things into His hands, and that He had come from God and was going to God,"
Do you see it? Jesus knew who He was. When we have experienced and begin to understand God's multi-dimensional love, serving changes. Being loved becomes a response, like the response of a guitar when the strings are plucked. His love becomes a melody that is played out in attitudes, in activities and actions; instead of notes and chords. This kind of orchestration can only come from believers rooted, established, growing and flowing in a love that is beyond description.
I can't help but want to be like Keira, smiling at herself in the mirror. Maybe you have that same desire. It's healthy to look in the mirror with neither narcissism nor criticism. Looking and seeing your reflection in the mirror, but more than seeing, hearing Daddy God whisper, "Who's that? Who do you see? Do you see my child that I love so much?" And when we're rooted and grounded in love we can answer back with confidence and a glowing smile, "I see. I see the one you love and I love you back!" When we can do that, we're in the rooting process.