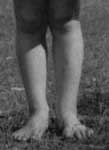 She only lived three blocks away. We lived at house number 308 and she lived at 415, straight down the dirt road, beside the church I had attended my whole life.  I thought I was grown, but I was  probably 7 years old. You can imagine how long ago that was. I bring that up to explain it was pretty safe back then. But, my mom was SO protective. It was one of those rare days that my mom let me walk to my grandma's house and I would never forget that day.
As I walked down the dry, dusty road barefooted, I prayed. I'm not sure where I got the idea to pray while I walked; it was  just such a part of my everyday life. My prayers were unscripted, heartfelt and sincere.   My dad wasn't a believer and I was concerned- so I prayed. That's what you do when you're concerned- pray. I would later discover worry, but in those days I prayed instead.
My dad was my hero. He was such a good man. A kind man. He didn't express his feelings with words or hugs; generally the only expression was a pat on the back. But oh the love I felt from those hardy, rough pats! And I wanted him to know Jesus.
The words of my prayer that day were simple. Nothing more than,  "Jesus, save my daddy." I know some people will argue that's not the right way to pray it, but God filtered my prayer through His lens of love and understanding to comprehend exactly what I intended. He still does that because my prayers continue to be unpretentious and driven by relationship and concern.
Back to my story. I hadn't walked far that day. I was at the first corner on my walk, about a half a block away from my house, when I saw a rock lying in the ditch. I pointed to the rock and explained to God "Jesus,  my daddy's heart is as hard as that rock!" (As if God actually needed a visual aid.) As good as my daddy was, he wanted no part of religion. And now that I'm older, I understand his feelings. Sometimes we can mistake the carnality of Christian people with the reality of God's gift of redemption. Religion doesn't bring redemption. Jesus does.
What happened next made that day unforgettable for me because God spoke to my heart, my spirit clearly. He said "Yes, but my rain can melt the heart of stone". I didn't understand the meaning behind the words, but I understood the peace that filled my heart. I understood the faith and the confidence that oozed into my very being. I really believed that God would soften my dad's heart to the point that he would receive Christ as his Savior. And he did!
While I didn't then, now I understand  that water can break up rocks. And God used the Saturday night broadcasts of Charles Stanley to soften my dad's heart to the gospel.
At that young  age, I already realized prayer is not a position. Prayer is not a place. Prayer is talking to God.
The understanding of three truths changed me that day.
I discovered God can talk.
I should listen.
He can fill me with faith that keeps me focused until the answer comes. I had been on the receiving end of God's peace and faith. And I liked it.
May the God of hope fill you with all joy and peace as you trust in him, so that you may overflow with hope by the power of the Holy Spirit. 
Romans 15:13
While I would never put myself in the same category with Elijah, I am convinced God spoke to me  just like he did to 
Elijah in the Bible
. He spoke to my spirit in a still small voice. And while I have never heard God speak aloud, I've heard Him speak clearly through that still, loving voice. I have trained myself to recognize and listen for and to His voice.
More on Prayer
Did you miss these links?
I'd love to hear from you.
What have you discovered about prayer?