Amazing Feet I am absolutely intrigued by nature, but the photograph in the gift shop stopped me in my tracks. My mind flooded with questions as I pondered the phenomenon of this photograph. It was a picture of mountain goats on the side of a cliff at Goat Lick, MT.

I was skeptical.
Was this photograph for real? It looked like way too many goats in one place to me. Why were they all hanging out on the side of the mountain? How did they get there? And why did they have their babies with them?
It was hot when we arrived at Goat Lick.
There were no goats on the salt licks. They were probably relaxing in a cool shade, chewing the cud, while we were standing in the glaring sun hunting for them. Something's wrong with that picture.  
The cliffs were even steeper than they looked in the picture.
It was hard to imagine that anything could hang out on an incline that steep. In comparison, we climbed a steep, but much shorter, more gradual incline to the roadway where two nannies were grazing quietly in the shade of the bridge.  
It was a hard climb for inexperienced people.
And I repeat, it wasn't a mountain climb, but it was tough. But, goats climb ridiculously steep, almost vertical cliffs effortlessly. And they don't just climb, they jump and stop to enjoy their favorite treat- the salt licks.
Climbing is what they do!
Mountain goats are powerful climbers. They climb up and across; smooth slippery rocks, gravel that would roll and slip under our feet, steep grades and straight up climbs and even the babies do it too!  
Not only do they climb, they jump too!
They can jump as far as 12 feet in a single bound. And those amazing feet helps them do it!  
Special Feet is part of God's divine design.
These anatomical masterpieces have two toes with hooves on each foot. The hooves are composed of a heavy-duty toenail that wraps the end of each toe and a leathery inner pad. This rigid edge of their thick toenail and the soft, textured cushion like pad forms the sole of the hoof that supports the weight of the goat and provides stability.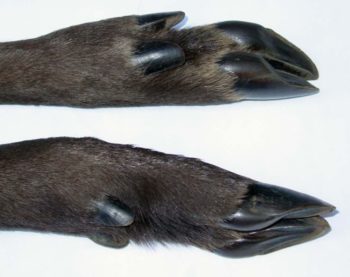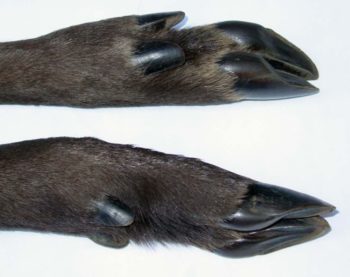 The hoof can help them…
grip rocky ledges, cracks and rocks to stabilize them across difficult terrain. balance on uneven ground.  
The soft pad gives them…
additional traction to keep them from slipping, even on ice and slick rocks.  
Two more hooves or dewclaws
are located farther up the back leg and provide additional traction for those times when they descend steep slopes or need extra traction on gravel and loose rocks.  
With a divine design like that, no wonder they are such powerful climbers!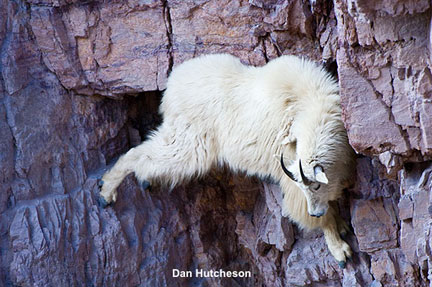 Maybe you're ahead of me.
Maybe you are quoting Habakkuk's famous, "He will make my feet like hind's feet."
But I have to be honest with you, his book didn't begin faith filled.
His book is little, but his message is huge.  
Habakkuk and Jeremiah
were prophets during the same tumultuous era marked with:
Turmoil.
Oppression.
Collapse of the legal system.
Political upheaval.
Threat of invasion.
Jeremiah was known as the weeping prophet.
But Habakkuk seemed to deal with his anguish very differently. He asked God LOTS of "why questions" in Habakkuk 1. Lots of them!!  
I love this guy;
He was just real with God. His sense of justice wouldn't allow him to look the other way. And he was tenacious.  
He thought changing his altitude would change his attitude
You know…higher up… closer to God. Sounds silly when you think about it, but I have to applaud his effort.
Habakkuk 2:1 "I will climb up to my watchtower and stand at my guardpost. There I will wait to see what the LORD says and how he will answer my complaint."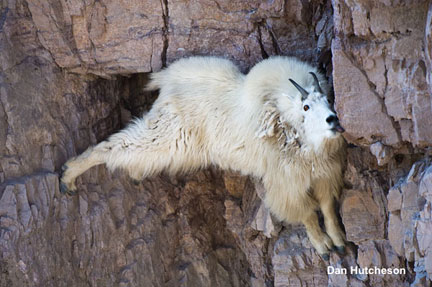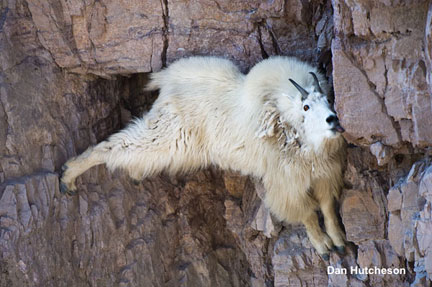 Oh, the silly things we do sometimes!
But knowing God like I know Him, I don't believe for one second that God ignored Habakkuk's climb. He saw a man in the midst of heartache and pain reaching for God.
And God answered Him…
just not the "why" questions.
God had something more important on His mind.
Not more important than Habakkuk, just more important than his questions. God wanted to show him "The Answer." Habakkuk was interested in information, God wanted to give him transformation. Tweet this!  
Something happened in Habakkuk 3.
He doesn't even sound like the same person. The attitudes that plagued chapter 1 are missing here;
Frustration,
Fear,
Anger,
Resentment,
and even his multitude of whys
have all tiptoed out of sight in Habakkuk 3.
I believed God kissed him with his presence.
Altitude can't change your attitude, but His presence brings light and light changes how we see everything. Habakkuk's viewpoint changed. What he believed changed. His shifted from the problem to The Answer. In Habakkuk's short book, we watch him move from worry to worship, from fear to faith, from complaining to confidence. Tweet this!    
Listen to his bold declaration of faith…
Habakkuk 3:17NIV

Though the fig tree does not bud

and there are no grapes on the vines,

though the olive crop fails

and the fields produce no food,

though there are no sheep in the pen

and no cattle in the stalls,
  I have to interrupt here. Habakkuk lived in an agrarian culture, so he lists every source of revenue and provision as if to declare these resources are not my primary source.  
Habakkuk 3:18-19 NIV

yet I will rejoice in the Lord,

I will be joyful in God my Savior.

The Sovereign Lord is my strength;

he makes my feet like the feet of a deer,

he enables me to tread on the heights.
He knew about hard times…
And struggles
And frustrations
And hopelessness
But what he knew about God changed everything.
He knew that the same God that gives deer and mountain goats the ability to skip and hop and leap on high places could do the same for him. In the midst of trouble Habakkuk made a choice, "I will rejoice!" Tweet this!  
And what about you?
Are you struggling?
Frustrated… because life just isn't fair?
Run to Jesus.
Get in His presence. Listen. Wait in His presence. Let Him fill your heart with hope.