What do YOU do with broken things?
It depends on whether you are a perfectionist or a re-purposer. Can I explain what I mean with a story?
Do you know that everything taste better in a pretty dish?
(I can hear my male readers groan, but please stay with me. I'm headed somewhere. I'm going to tell you about my "Souper Bowl.")  Paper plates just don't cut it at my house. I figure my cooking needs all the help it can get, so instead of wasting money on paper products, I indulge in pretty dishes.
We live near three awesome resale shops, so if they are open when we walk we stop to check out the new treasures. It was on one of those afternoon walks that I found a gorgeous Lenox Riverwood bowl designed by Catherine McClung.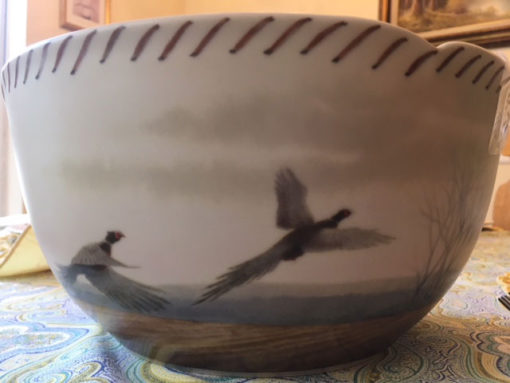 Now take a look at the other side.
Isn't it beautiful!
It's a large bowl with little pinches or notches along the edge that is painted to look like it was sewn. The pheasants, stark naked trees behind fence rails and the mountainous sky line makes it perfect for the cabin. It was a  large bowl that could hold my family's favorite chicken and sausage gumbo.
Perfect?
But when I turned the bowl, I discovered the bowl wasn't perfect. A thumb sized chip was missing from one of the notches on the edge of the bowl. I decided I didn't want it. (Who wants a broken bowl? Right?)
I checked the price online. A "perfect" version of this bowl sold online for $50.00. When I went in a few days later, the broken bowl was marked down to $2.50. Since I am always a sucker for a bargain, I bought it. I planned to put the bowl on a shelf, where I could turn the broken chip to the back side so no one would see the flaw.
As I thought about the beautiful bowl, I was surprised that no one wanted it. It was a Lenox bowl! But one chip, one solitary broken place flawed it's perfection and the person that originally bought it didn't want it any longer. They got rid of it. Too valuable to trash; but not valuable enough to keep! Even at such a cheap price no one wanted it…until I came along.
It's tragic that sometimes people are treated like that broken bowl.
Strangers, friends and relatives, sometimes close ones, are judged by their circumstances, choices, sins and labeled flawed–BROKEN.
Broken
Because they are broken, they are;
Rejected.
Unusable.
Unloveable.
Inadequate.
Unfit.
Ineligible.
Unworthy.
Would you set a chipped bowl on your table?
Would you turn the chip to the backside so no one could see the flaw or would you throw it away? It is broken after all.
God is a re-purposer.
The perfectionist would be mortified at the thought of using something broken…but God loves to use broken people.
The Davids that murdered, the Sarahs that lied, the Peters that denied-all re-purposed-redeemed by God's grace. God doesn't use flawed people because of their mistakes, but in spite of them. He uses them, He uses us, because He loves us…flaws and all! He uses us because the power of the cross transforms us, redeems us, re-purposes us and makes us brand new.
Even more tragic than what someone else thinks of our brokenness , is the results that come in a person's life when we believe the whispered lies of the enemy that tell us that because we are broken we are worthless.
Listen close.
I want to tell you, no matter how big you have failed, God has never, ever, not even for a single second, stopped loving you!
God loves you.
If you've failed in business, failed in your marriage or in parenting…or in life in general–God wants to redeem what you've lost and use you in His big plan. It might look different than you envisioned. Believe me when I tell you that God re-purposes and redeems our brokenness!
He has a good plan for your life.
He loves you too much to leave you in your sin. Sin robs us. Surrender to God, turning from our ways to embrace Truth sets us free to experience what God has for us!
I realize that some mistakes we make leaves scars!
Sin has consequences! But, don't under estimate the power of the cross! Don't under value the transforming power of redemption in a person's life! When we surrender our broken places, broken hearts and broken dreams to Jesus, He re-purposes them. And He loves, LOVES to use broken people.
We are all flawed human beings that need Jesus.
We need Him not just to save us from Hell, but to enable us to fulfill our God ordained purpose.
There are some things that I know for certain about you.
God wants to partner with you to pour His love into people around you.
You can't give what you won't receive.
So simply receive His forgiveness, grace and love; then give it away.
Believe God wants to and will use you.
And by the way, that chipped plate or bowl in your cabinet, (A perfectionist might need to borrow one.) set it on your table. Let it be a reminder that God redeems and repurposes the bad things in your life.  When you bow your head to pray over your food, thank God for redeeming you from your sins and mistakes.
Or, you may want to use it as a visual aid to share your story of redemption with someone at the table!
Father, thank you for my beautiful chipped bowl. Thank you for my readers. I believe there are readers today that need to surrender some broken things in their life to you, dear God. Father, give them peace. Help them to receive your grace, your love and your purpose for their lives and to hope with new clarity because their hope is in you. Help them to receive your joy and to guard their thoughts and believe Truth instead of the lies of the enemy! Amen.
Thank you for reading my posts. Thank you for joining me at my table as I share treasures that God is sharing with me. If you were blessed then please share it with your friends. It helps me be a good steward and helps your friends too. God bless you! I love you.