Our time in Denali National Park was limited.
The Alaska Pipeline was actually number one on my "Had to See List." And we wanted to see the North Pole. We wanted to see Fairbanks and eat in at least one of  Guy Fieri's suggested places on Diners,  Drive–Ins and Dives . We wanted to see Seward and Haines. I just had to see the Mendenhall Glacier in Juneau. Oh, and I absolutely loved the Anchorage Museum.
There was so much I wanted to see. Another mountain would be nice, but then I had no idea how grand this mountain would be or that I would fall in love with it like I did.
The tour bus in Denali National Park, took us deeper into the park, but by the time we reached the next view point a cloud had covered Mt. McKinley. I was so disappointed.
We saw Ptarmigans, Alaska's state bird, still wearing white stocking; it's left over winter plumage.
We hiked. We saw unbelievable beauty everywhere we looked, but honestly, the only thing I wanted to see was hidden by a cloud.
We saw mountains. We saw mountain goats. We laughed. We talked. It was awesome, but I wanted to see Denali again.
Is it Denali or Mt. McKinley?
As a tourist I was confused. I had learned in school that Mt. McKinley was the tallest mountain in North America, but the people kept calling it Denali. My dilemma was solved at one of the museums. Honestly, we saw so many that "where I learned what" is all jumbled up. The native Koyukon Athabaskan people call the towering giant "Denali", which means "the great one." They named it first. They named it from the breathless wonder of experiencing its splendor.
In 1896, a gold miner showed his political support of his favorite presidential candidate, William McKinley, by naming Denali "Mt. McKinley". Mt. McKinley stuck. On every occasion that the Alaska state board has tried to get the name officially changed to Denali, it was blocked by political leaders from Ohio. These Ohioans have successfully protected the name sake of their native born son, the 25th president, William McKinley.
The Alaskans, for the most part, still call it Denali because they've been there. They knew about the mountain and with hearts filled with awe they named it appropriately…THE GREAT ONE!
Hold everything…
The gold miner found an opportunity to advance his political agenda, while the native residents experienced the glory of  a splendid mountain. I understand what they felt, as mentioned in my previous post…I was breathless.
And Believers do that as well!
We can get so focused on the benefits, our agenda, our wants, our needs, that we don't even see the Giver. Actually, it's very easy to fall in love with the benefits that come with knowing God and miss the greatness of His love and presence.
Never clutch the gifts and forget the Giver.
The Giver is more precious than His gifts.
Why is Denali So Hard to See?
It's hard for me to imagine that a mountain over 20,000 feet tall could be hard to see!
You can blame it on the weather.
Because Denali, the mountain, is so tall he seems to have a mind of his own and makes his own weather. Even with today's accurate weather forecasts, you are never really sure if you'll see Denali or not. Clear days are most frequent in the winter and spring seasons. There's a slim 33 percent chance of a completely clear day in the good ole summer time, when most visitors arrive.
Still over 400,000 people a year arrive with one goal; seeing the crown of Denali's magnificent head. Even a quick glimpse or a cloud draped partial view is absolutely breathtaking. When we returned to the visitors center, we passed the spot where we had previously seen Denali inside the park, but we were unable to see it at all then.
I learned that the really spectacular, close up views are deeper into park. There were other tour buses that would take visitors four hours and even eight hours into Denali Park where you could hike and explore the beauty of the high one at a deeper, closer viewpoint!
Of the  1,200+ people that tried to summit Mt. McKinley in 2012, only 498 people made it to the top. Wow! I can't even imagine what that must feel like! To experience that moment. To experience that elevation! Wow! Talking about extreme. That would have to be exhilarating.
But we didn't have time.
We didn't have time to get closer. We had other places to be. If I had realized I would love it so much, we would have planned differently.
Just Another Mountain?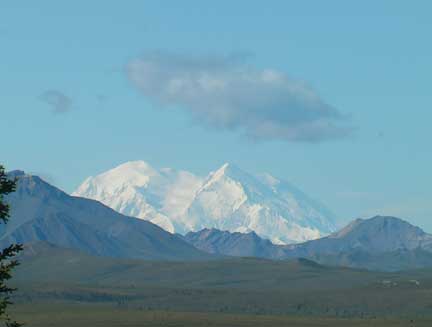 When we got off our plane and drove into Anchorage, the  mountains were fabulous. The drive to Seward had breath-taking mountains. Haines had fabulous mountains. We thought Mt. McKinley would be just another beautiful mountain. We didn't realize that Denali would take our breath away! But it did!
I'm sure people tried to tell me, but it didn't sink in.
Maybe you are like me, it just hasn't sunk in yet.
But now I'm not talking about a mountain.
I'm talking about Jesus. I'm trying to tell you to take the time, don't miss His glory.
Don't miss His presence.
Don't miss His love.
He's better than Denali.
He's better than anything this world has to offer.
He's better than success.
It's not an "either or" choice. You can have both. Him and His gifts.
It's just a choice to choose Him first and allow all His blessings to flow into your life through the door of His great love.
Standing there at the foot of awe-inspiring beauty,  I lifted my eyes to absorb it.
And as I looked at that incredible beauty, that absolutely majestic beauty, my heart was filled with gratitude to God for creating everything that I saw!
How great is our God! But the thing that inspires me beyond the beauty is  that the GOD that created all this beauty cares about you and I.
The God that made the mountains is alive.
He made it all and He see me.
He see you. He loves us.
He didn't stop with a single creative act. He continues to save, heal and reveal Himself to us.
You can have as much of God as you want.
You'll never really know Him until you seek Him with all your heart.