Every child understands Christmas is about the gift.
It is about giving gifts.
Getting gifts. YEAH!
Whoops, did I get a little too carried away there? Sorry!
Gifts…
But not just any gift.
The perfect gift.
A gift that won't get broken.
That won't get stolen.
A gift that is just perfect for the recipient.
A gift that they will enjoy again and again and again.
No, not just enjoy it, but a gift they will love.
The "perfect gift".
I know the perfect gift seems to be an elusive fantasy.
Especially to someone like me that isn't a detailed person. All the ins and outs of figuring, and finding and funding the perfect gift drives me absolutely bananas. What does that expression mean? Bananas? Why not apples? I know another rabbit trail!
But before you give up on the dream of finding a perfect gift realize it will never be found under a tree. That's right, it's just not gonna happen.
God gave the perfect gift.
He could have given gold.
He could have scraped some gold off the golden streets and sent enough gold to provide great wealth for everyone, but that would not be God's best gift.
He could have sent manna like He sent for the children of Israel to satisfy man's hunger, but man had a deeper hunger. A deeper hunger that sweet manna could not satisfy.
Mankind, God's unique creation, needed His very best gift-living bread.
That's right, God's perfect gift was Living Bread.
It was delivered to Bethlehem- the house of bread. It was only a little larger than a large loaf of bread. It was carefully wrapped and laid in an animal's feeding trough. (The place where they eat their grain or bread so to speak.)
Bread? Really?
I love bread! And if you've ever eaten my famous cheese bread, you know what real bread taste like!
Or maybe you're laughing at the ridiculous thought of a gift in a trough. Not a wrapping choice for anyone I know, well, except God.
Why would He call Himself "Living Bread"?
Jesus replied, "I am the bread of life. Whoever comes to me will never be hungry again. Whoever believes in me will never be thirsty. John 6:35
Because bread was the primary food of the people. It was their primary sustenance of life. It nourished them. It gave them life.
Jesus gives us life- real life-spiritual life.
When you have Jesus you have life.
He is the giver of life.
Abundant life.
Life to it's fullest.
Life at its best.
Really?  Just Bread?
The problem with this story is that because bread seems so ordinary we leave Him in the manger.
Cute story.
Cute baby.
But plain ole stable.
Plain ole bread.
Still we talk about Him at Christmas.
We read great verses like: Jesus said, John 1:14 "And the Word was made flesh, and dwelt among us, (and we beheld his glory, the glory as of the only begotten of the Father,) full of grace and truth.
We sing some great songs about the manger and the wise men, then go home to live ordinary lives in ordinary ways.
Hold everything!
God's gift is just too perfect for you to miss. Jesus came to redeem us from our sins, to give us life. Salvation can only be realized through Jesus Christ.
But God's perfect gift is far more comprehensive than a get out of hell free card. That's important. Don't miss understand me, that's really important.
But His gift includes the benefits  of His life.
God wants you to live your life well and that comes from receiving all God has for you.
It including knowing God.
Enjoying a relationship with Him.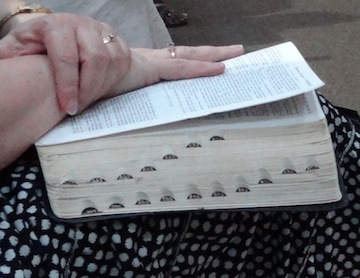 That life is realized as we consume the nutrients of  the living Word, God's truth, the Bible as our daily bread.
It gives us sustenance.
We are transformed as we renew our minds with God's Word. We must change what we think, by changing what we feed our minds.
You gotta eat it!
It is only as we eat the living bread, which is the Holy Scriptures, that we will experience the life of God following into us to help us become like and live like Jesus.
Some suggestions to help you do that:
Download YouVersion (or your favorite app) of the Bible onto your phone and listen to it.
When you are:
waiting in the car
cooking
getting ready for work or bed
in the bed (even if you need to plug in the earphones)
doing any menial task
Learn to seize the minutes.
You don't have to concentrate on every word, but pay attention as you listen.
Jot down a phrase that grabs your attention.
Pray over those words.
What do they mean to you?
How can you apply them?
Don't have a way to listen to an audio of the Bible or looking for more ways?
Establish a daily habit of reading and thinking about scripture.
Read it while you eat breakfast.
Read a verse or two before you turn off the light to go to sleep.