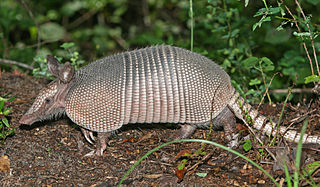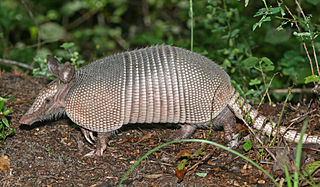 I must have sounded like a crazy woman. And if my neighbors had rubbed the sleep from their eyes and peered out the window, I'm sure they would be convinced their neighbor was a crazy woman. There I stood towering over  the flowerbed with a bucket in one hand and a stick in the other banging loud enough to wake the dead.
It was way too early for such an irritating racket. Usually I'm a very considerate neighbor. I don't cut grass before 8:00 on Saturdays. No honking my horn after 9:00 at night. But I was caught up in the moment. It was 5:30 in the morning, but I had one concern, the armadillo in my flowerbed.
I was walking Wayne to the truck carrying his lunch. The armadillo saw me before I saw it and scooted into my flowerbed. I panicked. I know the damage an armadillo can make in a lawn or flowerbed, so there I grabbed the first thing I saw and started banging on it wildly to run it out of the flowerbed.
I know it was a crazy thing to do. It just burrowed deeper. There was no way that armadillo was coming out anytime soon.
My take away from the experience was "Armadillos don't belong in pretty flowerbeds."  I'm sure the neighbors take away was entirely different that morning. Maybe something like, "Shhh! Crazy woman!"
It's sad when you got armadillos in your flower garden, but it's tragic when you have armadillos in your church.
Listen to a 5 minute clip from Pat's teaching Ministry Isn't for Armadillos
Now I'm probably sounding like a crazy woman to you too. So let me explain.
When threatened by predators, armadillos can flee or roll into a tight little ball to protect themselves. And after many years of watching people in the church, I see people acting like armadillos. When offenses come, often they will either run off and leave the church or they will roll into a tight little ball with the mindset, "No one will ever hurt me again!"
Both mentalities make a believer ineffective in ministry, so for that reason I say Ministry Isn't for Armadillos. They are too busy running or trying to protect themselves to be vulnerable enough to be involved in the ministry that will enrich them and bring great joy to their lives. They look like armadillos to me!
But that's not God's plan.
It's God's plan for believers to be whole. It's God's plan for us to be "trees of righteousness, the planting of the Lord that He might be glorified." Offenses are going to come to all of us. Everybody has been done wrong. Everyone has been misunderstood, but its what we do with the situation that makes all the difference.
 Got the Armadillo Syndrome?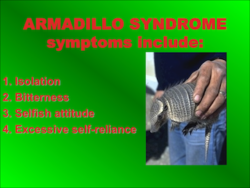 Rick Warren says "You've  got 3 choices when bad things happen to you:
You can let it destroy you,

define you,

or develop you."
Don't let the pain of offense destroy you.
Instead of allowing it to make you bitter, use it to make you better.
Listen to a 5 minute clip from Pat's teaching Ministry Isn't for Armadillos
Got the armadillo syndrome? God's got the cure!
Here are some verses I want to share with you on dealing with offenses. The verses I selected start out pretty tough. I've lived through this process. It wasn't always easy, but the last two verses are worth the process.
Now don't do what I do and skip to the bottom two verses. It's like baking a cake; each step is important.
Forgive
Forgiveness is not in your old nature, but it is in your NEW nature. As a believer in Christ it is our new nature to forgive. Because we are like Him, we can forgive.
For thou, Lord, art good, and ready to forgive, And abundant in loving kindness unto all them that call upon thee. Psalms 86:5 ESV
It's Mandatory.
But if you refuse to forgive others, your Father will not forgive your sins. Matthew 6:15 NLT
He will help you.
This is one tall order to fulfill. Wow! It's gonna require God's help, but then it was never designed to be done alone.Christianity is much more than a self-help program. He wants to help you forgive. He wants to help you love. Ask Him to help you. Ask Him to give you the strength and the courage to forgive.
How often do I need to forgive the same person?
Then Peter came to him and asked, "Lord, how often should I forgive someone who sins against me? Seven times?" Matthew 18: 21 NLT
From you heart, not your emotions.
Not a shallow, glib mouth service parroted to get you off the hook, but a deep forgiveness from the heart. It's a choice, not an emotional gooey feeling. Choose to forgive. Line your actions up with that choice and ask God for help to live out that choice.
"That's what my heavenly Father will do to you if you refuse to forgive your brothers and sisters from your heart." Matthew 18:35 nlt
Don't expose someone's weakness or fault by discussing it with people.
Whoever would foster love covers over an offense, but whoever repeats the matter separates close friends. Proverbs 17:9 niv
Jesus gives us some specific instructions for dealing with offenses.
43 "You have heard that it was said, 'Love your neighbor[a] and hate your enemy.' 44 But I tell you, love your enemies and pray for those who persecute you, 45 that you may be children of your Father in heaven. He causes his sun to rise on the evil and the good, and sends rain on the righteous and the unrighteous. 46 If you love those who love you, what reward will you get? Are not even the tax collectors doing that? 47 And if you greet only your own people, what are you doing more than others? Do not even pagans do that? Matthew 5: 42-47
Love them?
But I tell you, love your enemies and pray for those who persecute you, Matthew 5:44 
I know what you're thinking, but that what it says. Remember love goes beyond a feeling. It doesn't start with a feeling. It starts with a decision that must be acted on and lived out.
Bless them with your mouth.
That requires that you focus on the good and not the bad.
They are composed of more than the bad choices they have made.
Deliberately look for the good. Choose to look for the good, their talents, their giftings.
Bless them by speaking the promises of God over them.
Treat them with kindness.
How can you serve them?
What deeds of kindness can you show them?
Put some action behind your choice to take the high road of walking out your love.
Pray for them.
They have a blind spot.
They need your prayers.
God wants to bring spiritual health and restoration to them and prayer is the gateway for that to take place.
Prayers might include:
Open their eyes to see this area of weakness.
Heal their hurt so they don't continue to perpetrate anger and pain to others.
Fill them with your love.
Help them realize the pride they have so they don't take the bad fall your word says follows pride.
Bring wholeness in their life.
Make them a vessel of honor. Give them the courage to follow you instead of their carnal desires.
Fill them with wisdom. Help them to see evil and avoid it. Give them the courage to stand for what is right.
Help them to choose the right relationships instead of evil companions.
Bless them. Strengthen them. Use them. Fill them to overflowing with your love and your grace and your strength.
Let us then approach God's throne of grace with confidence, so that we may receive mercy and find grace to help us in our time of need. Hebrews 4:16
He heals the broken hearted.
You don't have to live with a broken heart. He wants to heal you in the area that you have been done wrong. Just like the Good Samaritan in the Bible took the wounded man and pour oil and wine into the wounds to bring healing. God wants to heal you where you hurt! The oil is a picture of Holy Spirit. He wants to come along side you and partner with you. He is your comforter. He wants to give you the power to overcome. Lean into His love. The wine is a picture of the redemptive nature of Jesus the living Word. Begin to rehearse the promises of God's Word. Begin to declare His promises over your life. It really works. I've been there and I don't even smell like smoke.
The Spirit of the Sovereign LORD is on me, because the LORD has anointed me to proclaim good news to the poor. He has sent me to bind up the brokenhearted, to proclaim freedom for the captives and release from darkness for the prisoners, Isaiah 61:1 NIV
The LORD is close to the brokenhearted and saves those who are crushed in spirit. Psalms 34:18 NIV
One of my most popular teachings is Ministry Isn't for Armadillos  If you haven't heard this teaching, I encourage you to download it right now. You can purchase the download and save the shipping cost. You'll learn practical ways to deal with the offense and the opportunity that comes with the offense.
I'm using this page for my workshop outline. I wanted to give the people attending my workshop or purchasing the workshop more information than a simple outline could hold.
Ministry Isn't For Armadillos
Don't be surprised! The ______ will come.   1 Peter 4:12
You will be _________, __________ and ________. Jesus was. John 15: 20
Don't try to ____ ____ the fire.  Don't be afraid of the fire.
No weapon will _______.
Your faith will be _______, 1 Peter 1:7
Don't feed your _______; it will reduce you to an armadillo.
Offense will
Robs your  __________
Poisons your ________
Robs your __________
Destroy you ________. Offense is like hexaflumuron.
The armadillo syndrome symptoms include:
God has a better protection for you than an armadillo shell; _____________.
Put it on through _______ and __________. Ephesians 6:13
God will use the fire to produce ______  ______ or precious gold in your life.
Isaiah 43:2 He promises that you will not be _______.
3. Crack the Armadillo Shell
a.                                      b.                                           c.
d.                                       e.                                          f.