Is Your Porch Facing the Right Direction?
I'm preaching a revival in Lake Wales. (And wow has God been awesome!) We didn't really want to get on the treadmill at the hotel, so Wayne found this great park downtown.
Southern Hospitality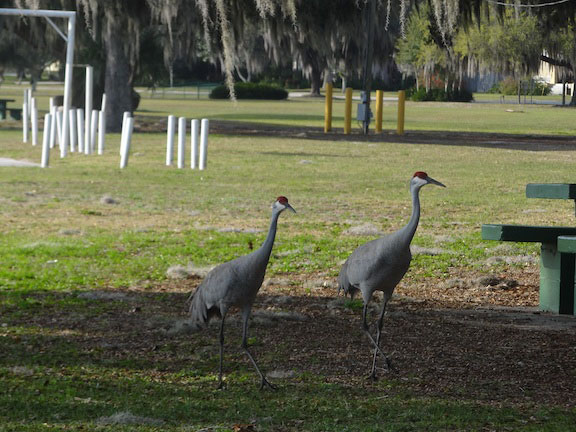 We were greeted by a pair of trumpeting red-headed Florida Sand Cranes. That's right, even the birds practice Southern Hospitality.
The sky was overcast, but the temperature was perfect for an energetic walk to get our morning started right. Moss dangled like tinsel from majestic Live oaks. Strong limbs like muscled arms stretched and reached in every direction.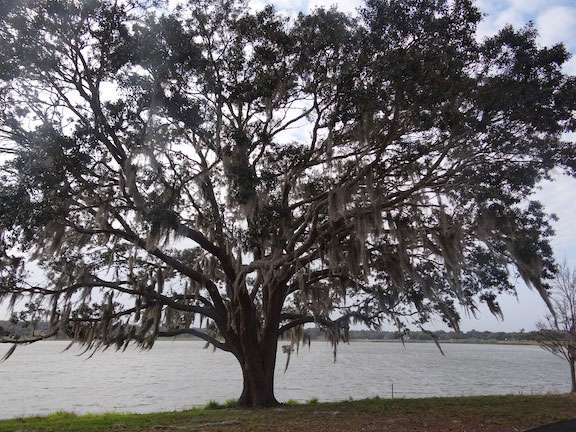 A few trees were decorated with Trumpet Vines with bright orange flowers that had climbed up the trunk and out onto the branches to bask in the sunlight. At first glance, you would think the tree was growing the profusion of orange blooms. A flock of black birds gathered in trees.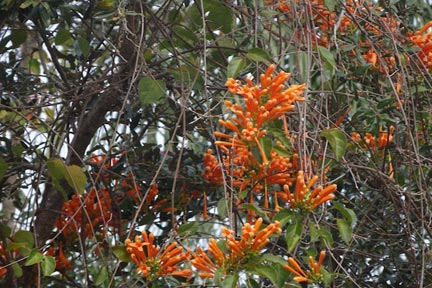 As we walked, the music of hammering joined the symphony that nature was playing. Yes, it was music because Wayne and I love construction. The smell of fresh cut wood…seeing a project go up…the feeling of satisfaction that comes with building something. Oh! I love it. Two men were framing a porch. They were nailing 2 X 6s to frame the porch roof as we passed.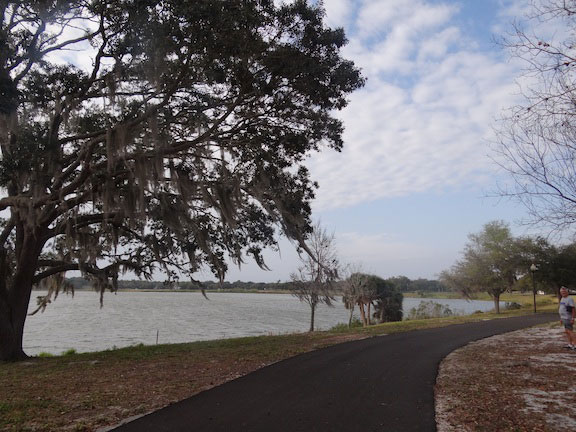 We thought we had started at the beginning of the trail, but it was probably the middle. When we finished our walk, we drove around the park to the end. The walking path is 4.5 miles from beginning to end. It doesn't circle the lake. So I guess you would have to walk 9 miles to go from one end to the other and back to your car. Some folks seem to be walking the whole distance…crazy…I mean healthy people!!!
As we drove along  the lake,
I noticed broad front porches stretching across the front of each house with huge pots of flowering plants and chairs…always chairs…rocking chairs…ornate chairs…cushioned chairs for lingering…enjoying…relaxing.
Like I mentioned, they ALL had porches…yes…it is a Southern thing… but on this street there was another purpose behind the porch…they was there so the owner could enjoy the lake, sunsets, birds, people, plants, trees, breezes, rest, peace, beauty. Absolute beauty and tranquility!
The front porches reminded me of a verse of Scripture in Genesis 13:12,13
"Abram dwelled in the land of Canaan, and Lot dwelled in the cities of the plain, and pitched his tent toward Sodom. But the men of Sodom were wicked and sinners before the LORD exceedingly."
Lot pitched his tent facing Sodom,
just like lake houses face the lake. But the people of Sodom were wicked. And Lot's choice…it was his choice…remember…his choice cost him everything.
It matters where you direct your focus.
If you don't believe it matters what you look at or with whom you spend the majority of your time…look at Lot's life. Look what it cost Lot. He lost his wife. His story is tragic, even involving incest. It cost Lot everything!!!! EVERYTHING!
God doesn't hate sinners,
but He hates sin. It is more destructive than the most venomous snake or the most ravenous cancer. Jesus came to break sin's hold over our lives. That freedom does not mean we can see how close we can live to sin. He came to set us free from sin and the penalty of sin. And we need to move our eyes and our hearts away from it.
You won't stay free if your porch is facing the world!!!
You will sit on the front porch and long for the alluring pleasures that will destroy your life…just like Lot's sons…just like Lot's daughters…just like Lot's wife.
Is your porch facing God!!!
Enjoy His beauty!
His peace.
His joy!
His victory!
His new beginnings!!!
Enjoy Him!
Lusting for the world depletes your strength. It erodes your resolve to walk with God.