This Alabama girl, (Yes, that's where I got this accent that makes me hard to understand. People will shake their head at me and say, "You're not from Florida.") was surprised to find Alabama Hills at the eastern slope of the Sierrra Nevada Mountains. Alabama Hills in California? In case you were wondering like I wondered, the Alabama Hills were named for the
CSS Alabama
Warship used in the Civil War. I fell in love with the smooth rocks of the Alabama Hills. Maybe it was because they were so familiar to me because they were where shows like the
Lone Ranger
and
Hopalong Cassity
were filmed. Shows I grew up watching. Or maybe it was the quiet time I squandered on top of a pile of smooth rounded rocks that seemed to be piled high just so I would have a place to view the scenery, while I scribbled notes in my notebook and Wayne explored the trails. Or maybe it was holding hands with the love of my life as we puffed and plodded uphill to enjoy new vistas. But my favorite spot in the Alabama Hills was a large crevice under an enormous boulder. It was big enough to climb under. And of course I did. There was evidence that an animal had eaten a meal there. The thought that it might be his home made me uncomfortable enough to leave.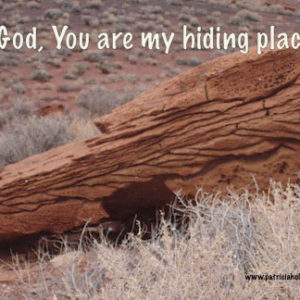 I couldn't help but wonder if this was the kind of place that David the Shepherd King in the Bible, used as a shelter from the elements as he wrote his song to God.
"You
are
My
hiding place.
You
will protect me
from trouble
and surround me
with songs of deliverance. Psalms 32:7
Peace isn't a place…it's a person.
The shepherd king, David treasured that knowledge
and experienced peace in the middle of the storm,
in the middle of trouble.
And we can too!
For that I am deeply thankful.