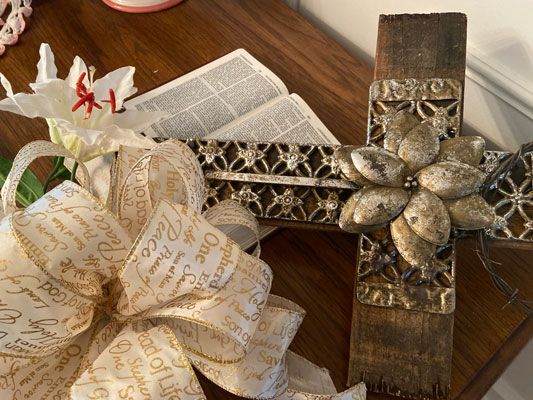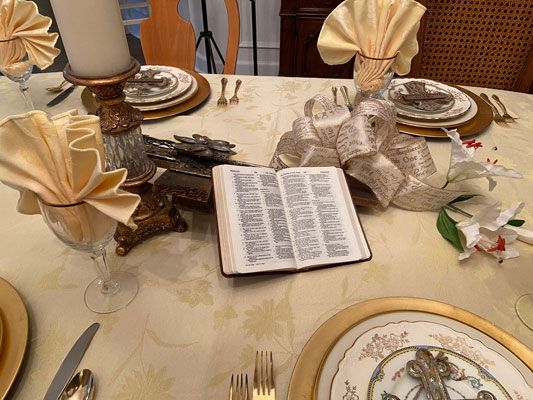 I used my Lenox plates on my Easter table. I've used these Lenox plates for years; ever since my kids were little. I've used them for most holidays and honestly, anytime I could find an excuse. It's an elegant pattern; just a gold trim on solid bone china called eternity. I think it's so cool that my china is named eternity.
I've lived my whole life with eternity in view. This season has reminded me that life is fragile and eternity is a long, long time to live with the wrong choice. As a little girl, I made the choice to accept Jesus as my Lord and Savior. That choice has brought me tremendous joy and peace. I'm older and wiser now and I am so thankful I made that choice.
My Easter table feels so empty.
It will just be me and my sweet husband Wayne. No, practical jokes from my son and no sweet hugs from my daughter and all those grandbabies. We'll be together again soon. My son is moving back to Jacksonville, so I'll have lots of opportunities to laugh with his family, but today my focus is very different. I'm not boiling eggs; the smell of a big ham isn't filling my house and somehow potato salad feels like too much work. (My daughter has scheduled a Facetime call for us to chat together! It will be a good day, just a very different good.)
More than good food.
My focus is not on the food that would normally fill my Easter table; but the person that has filled my life and what He means to me. While that focus is not new; it has taken on a deeper meaning as I've spent time at home. I talk about what this time has meant to me in my post "Divine Reset."
I layer the Lenox dinner plate with a Homer Laughlin Golden Rose luncheon plate and then the Salad plate is a variation of the Noritake Minerva pattern.
Instead of name cards indicating seating placements, I've put a special name in each plate.  Before I show you what's inside each plate, I want to tell you about the significance of names.
When my son was just a little fellow, before his first birthday, I gave him a nickname. I used it affectionately, lovingly. I whispered it with a smile on my face and in my voice as I looked down into his grinning face, thinking it was sweet until Rhoda, a lady from the church, came to baby sit for me one evening. As I was kissing him goodbye to leave, I called him by my special nickname for him "Bye little booger. I love you".
Rhoda was aghast.
She was totally shocked by the horrible nickname for my sweet little baby. She thought it was just plain nasty! And she was right. (Maybe too nasty for my Easter table talk, so just erase the thought from your mind.) I had to find a more appropriate nickname.
Names are important to us.
They distinguish us as a unique person. Names identify us.
We often replace names with titles to identify relationships: Dad. Mom. Brother. Friend.
Names identify the occupation of people…I need to call the: Doctor. Pastor. Electrician. Plumber.
Names identify the character of a person…Liar. Loser. Stupid. Winner.
When accurate, names help us know a person better.
When Precious Holy Spirit inspired writers to tell us about Jesus so we would know Him better they gave us names. Names that unfold His nature like a rose bud opens it pedals so you can enjoy it's fragrance and beauty.
Please let me show you my Easter table.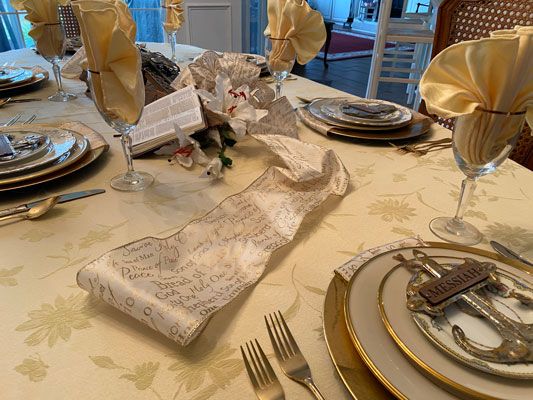 It's really special to me, because it describes my dearest friend in the whole wide world.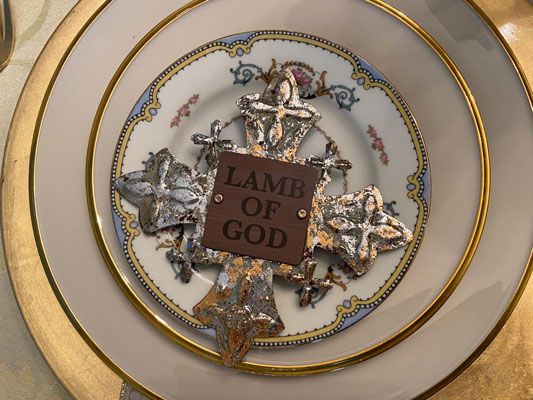 Jesus is the lamb of God.
Jesus was God's sacrificial lamb,; the Passover Lamb. He came to pay the penalty for all the sins of the world. He could do that because He never sinned.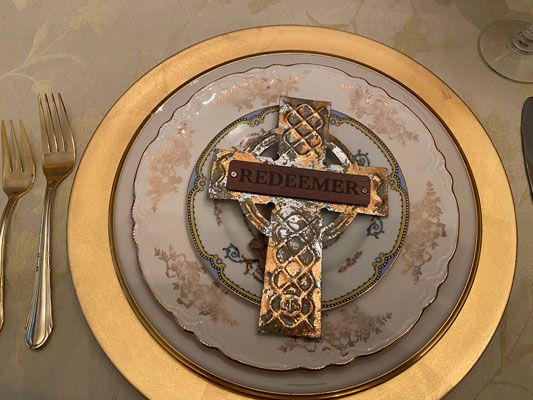 Redeemer
If you've ever exchanged a gift card for something you need or want, you have an idea of the meaning of redemption. Jesus offered His life so you could exchange your sins for His New Life.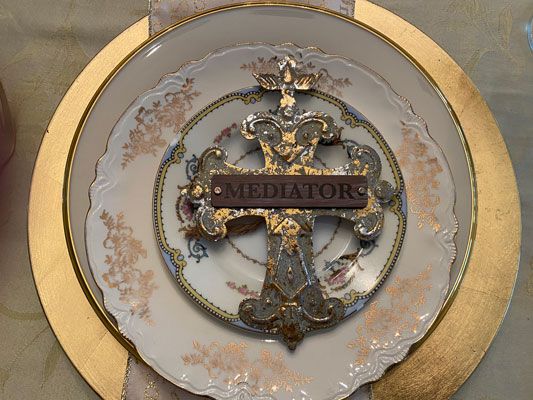 Mediator
We didn't make ourselves and we can't fix ourselves. We need the gift of God's forgiveness and grace; so we can be whole.
Hebrews 12:24 NLT "You have come to Jesus, the one who mediates the new covenant between God and people, and to the sprinkled blood, which speaks of forgiveness instead of crying out for vengeance like the blood of Abel."
Anointed One
Acts 10:38 NLT "And you know that God anointed Jesus of Nazareth with the Holy Spirit and with power. Then Jesus went around doing good and healing all who were oppressed by the devil, for God was with him."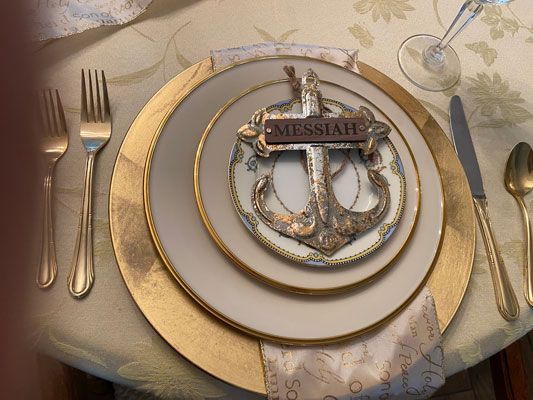 Messiah
John 20:21 NIV "
But these are written that you may believe that Jesus is the Messiah, the Son of God, and that by believing you may have life in his name." He is the Messiah, the Savior of the world.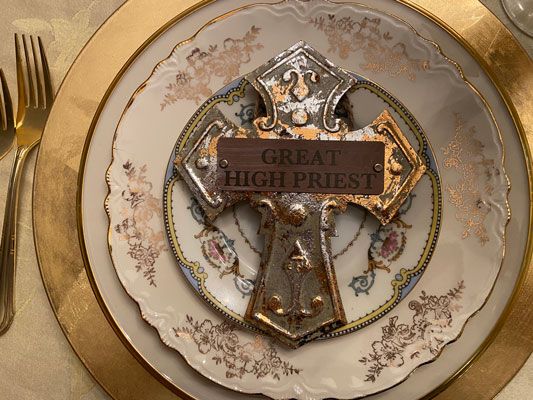 Great High Priest
Hebrews 4:14 NLT "So then, since we have a great High Priest who has entered heaven, Jesus the Son of God, let us hold firmly to what we believe."
Declaration of Faith
Jesus, I thank you that you are the Messiah. The Promised one from God .
You are the Perfect Lamb of God and paid my debt of sin; A debt I could not pay so that I can have eternal life. You are my Redeemer. Because I believed on you, you have translated me from the kingdom of darkness into the kingdom of your dear Son. You are the One and only Mediator and through your name I can come boldly into the Presence of God. You were Anointed by the Holy Spirit to demolish the works of satan. I thank you for being my great High Priest and you are ever making intercession for me. Thank you. Thank you.