Let me use a story to explain why the number 1 trademark is important to you.
While I am a  very frugal person, I have a huge weakness
–dishes.
When my kids were young, I used lots of paper and styrofoam plates. I always stocked up on my supply when they were on sale. Standing in the check out line one day I realized how much money I was spending on paper plates. So right then and there I quit.
No more paper plates. Occasionally, maybe… but for the most part I just don't stock paper plates. I have a picnic basket with plastic plates, so I don't
even

use paper plates
for picnics.
Instead….I buy dishes.
I catch them on sale–bargain basement prices; often 75% or even 90% off.
I find them in yard sales and thrift shops. And I use them! I love, love, love to set a beautiful table.
It's a way that I have of showing my husband, children, grandchildren, family and friends that they are special to me. My
love language
is "Acts of Service, so setting a beautiful table is part of serving those I love. (And actually serving a meal that isn't burned is a nice thing too! LOL)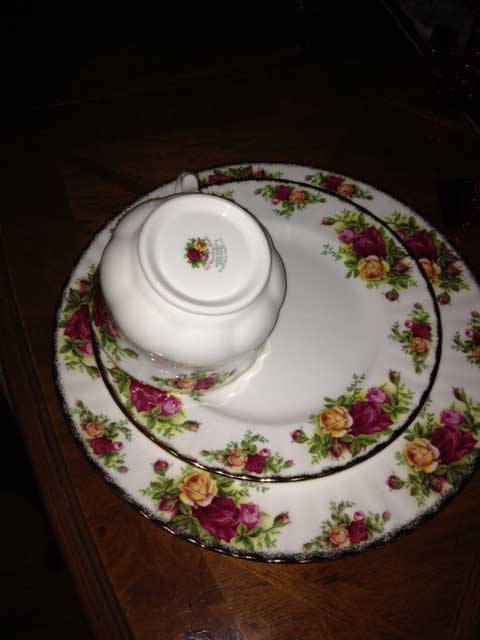 Most of my dishes are marked on the back with a trademark. Some are recognizable and some are small unknown manufacturers.
The trademark tells us some important things:
The significance of a trademark is important whether it is a dish, a car or a painting.
If you've ever watched Antiques Roadshow you know the first thing an appraiser looks for is a manufacturers trademark or  the signature on a painting or work of art. Sometimes the trademark is in a inconspicuous place. Sometimes it is marred or painted over.
Finding a trademark or a signature that identifies a renown painter or famous manufacturer causes even the most dignified appraisers to glow with delight. Owners often gasp and shake their heads in total amazement to discover the value they possess.
The Number 1 Trademark is Love.
God's Trademark is Love
God is love.
He doesn't have love. He is love.
And if we want to know what His love is really like, we must discover who God is. That is a never ending process.
Our best portrait of love falls painfully short of describing what love really is like.
It  is not the twisted self-seeking love displayed in the movies.
Real love is pure…
self-less…
enduring.
It is beyond human capacity.
Real love is not plastic or fragile.
It doesn't snap or wear out.
God is the source of love.
Love brings life.
It is the catalyst that releases talents and causes them to blossom gloriously.
Love births hope.
It is a magnet that brings the best out of people.
The power of love is breath-taking to behold.

A decadent truth to savor.
God made you in His very image…that makes you very valuable.
Genesis 5:1 ESV This is the book of the generations of Adam. When God created man, he made him in the likeness of God.
Regardless of what you may have been told or even believed,
you are not an accident or a mistake.
Psalm 139:15 You watched me as I was being formed in utter seclusion, as I was woven together in the dark of the womb.
God wanted you to be born.
He made you to connect with His love.
God loves you.
I know. I know.!
You've heard it a million times, but there is a huge difference in hearing it and knowing it… really knowing that fact makes all the difference.
"so that Christ may dwell in your hearts through faith; and that you, being rooted and grounded in love,"

 
16I pray that out of his glorious riches he may strengthen you with power through his Spirit in your inner being,
17so that Christ may dwell in your hearts through faith. And I pray that you, being rooted and established in love,
18may have power, together with all the Lord's holy people, to grasp how wide and long and high and deep is the love of Christ,
19and to know this love that surpasses knowledge—that you may be filled to the measure of all the fullness of God.
Deuteronomy 5:10 ESV
But I lavish unfailing love for a thousand generations on those who love me and obey my commands.
Being rooted in the understanding of that reality nourishes our emotions, our faith, our hopes.
You are loved…
chosen
priceless
highly favored.
Receive His love.
God will not force His love on you. He will not violate your will.

Yet to all who did receive him, to those who believed in his name, he gave the right to become children of God– John 1:12 NIV

Receiving His love is an ongoing process.
You will NEVER stop needing to know who you are in Christ.
You will NEVER stop needing to know who God is in you.
These truths are life giving.
His perfect love is demonstrated right where you are…in ways that fit you perfectly. He knows how to soothe you, refresh you and encourage you.
God's love marks you.
His love marks you like the trademark on the back of my dishes.
His trademark says you belong to Him. 
This love marks you like lips, shiny with lipstick, mark a baby's face.
His love identifies us as His…
servant…
friend…
family…
child. That's it, His child!

They'll see His trademark on your life!
It give us worth.
It labels us as valuable…priceless…works of art…treasures.
Jesus said in John 15:35 "By this shall all men know that ye are my disciples, if ye have love one to another."
Worship
That's why worship, deep heartfelt worship, is so important.
Worship takes us into the presence of God where we can feel His love and
experience that love at a new level.
Confident
Being rooted in His love means that His love nourishes who we are; building in us what people call self-confidence.
I say "what people call  self-confidence" because it is much deeper than self-awareness.
Knowing, really knowing, God's love produces a confidence that enables us to live loved, being who we were really meant by God to be. We can become who God meant us to be.
Confident.
Hopeful.
Humble. That's right. It's only when you know who you are that you can be truly humble. 
Loving. Giving. 
His love marks our attitudes…
our choices…
actions…
our lives.
Romans 15
9"As the Father has loved me, so have I loved you. Now remain in my love.
10If you keep my commands, you will remain in my love, just as I have kept my Father's commands and remain in his love.
11I have told you this so that my joy may be in you and that your joy may be complete.
12My command is this: Love each other as I have loved you.
13Greater love has no one than this: to lay down one's life for one's friends.
14You are my friends if you do what I command.
15I no longer call you servants, because a servant does not know his master's business. Instead, I have called you friends, for everything that I learned from my Father I have made known to you.
16You did not choose me, but I chose you and appointed you so that you might go and bear fruit—fruit that will last—and so that whatever you ask in my name the Father will give you.
17This is my command: Love each other.
You cannot give away something that you don't have.
Let's review trademark facts.
Identifies its maker. God is your maker. He designed and crafted you.
It distinguishes their product from other manufacturers. You are not a mistake or junk. You were made in His image.
Identifies its value. You are priceless.
It's time for you to feel the love. Here's some hints.
Feel the Love!
Talk to yourself. The most important person in the universe loves you…God. That makes you loved. Remind yourself right out loud how special that makes you.
Do not feed the monster that whispers, "Nobody loves you." 
Smile. Laugh. That right…you don't need a joke to laugh. 
 Be friendly. Speak to people at your church. Don't wait for them to speak to you. Speak to your neighbor or the cashier in the grocery store. Share your warm smile with them.
 Become a more loving person. Express your love or kindness to others.
Don't save your worship for church. Make worship a part of everyday. Think about God's goodness. Tell God some reasons you love Him. Then listen.
Play worship music in your home. When it touches your heart, lift your hands and worship openly right then and there.
Open your heart to receive God's love and people's love.
 Recognize love in the little things…they can be the biggest things.
 Don't put unrealistic expectations on people.
Click here to download the free "Feel the Love" cheat sheet.
Don't miss a single podcast/blog! When you sign up on the form to the left I'll let you know when a new one comes out. 
Please share the love by rating my podcast on your favorite podcast app.