I had a blast!
It was an amazing conference on so many levels. Even though I taught 4 workshops, I left energized and wishing it could last a little longer. I've got a list of  "I Had A Blast" things that have happened to me lately. I think you'll be hearing about them in upcoming post, so look for them. This conferences is definely on that list.
One of my favorite things to do is meet people.
One of my favorite things about traveling is meeting people. My life has been enriched not only by great speakers, but even more so, by the commitment of janitors and nursery workers and team volunteers all over the country. But recently a dear lady blessed me without even speaking to me and before I even got inside the church door.
Heavy rain and traffic had delayed us, so we pulled under the portico and hurried inside to set up our table. There were two other cars parked there as well. I assumed they were  there to unload. But instead of getting out of their car, I noticed one lady wearing an official looking green T-Shirt leaning into the open window of one of the parked cars. I couldn't understand many words, but it was obvious she was praying.
As I returned to gather more products, she was at the second car, again leaning at the window talking. It wasn't long until I heard her praying again.
While only a few words sprinkled here and there were  audible, the prayer with was noticeably confident. Honestly, what I heard went beyond confidence all the way to authority. I believe I recognized that same special something as she prayed, that people heard and commented about when Jesus prayed.
Amazed, the people exclaimed, "What authority and power this man's words possess! Even evil spirits obey him, and they flee at his command!"  Luke 4:36 
I heard this woman pray with authority and power. She wasn't praying loud, but it was obvious, her prayer was plugged in to heaven!
She prayed with authority, because she knew to Whom she was speaking. Tweet this!
Don't you find good conversation flows out of relationship. The better you know someone, the more comfortable you feel chatting or even asking them for something? You know whether they have the ability and/or the interest in helping you.
She prayed with authority, because she believed what Jesus said. Tweet this!
Her prayer was based on the solid foundation of faith and trust in God's reliability. Faith that went beyond hopefulness. She had a solid foundation of Scripture. I heard her rehearsing and proclaiming His promises as she prayed. (OK, so maybe I was sorta listening more closely than I should've. But there was just something about hearing that woman pray that was magnetic.)
She prayed with compassion. Tweet this!
I have deliberately not, sidetracked this conversation to tell you yet, why she was leaning into those cars, I will, but right now I want to establish, she didn't know the people inside the cars that day. They were there for prayer. She didn't know them, but the compassion of Christ flowed into her prayer, because she loved them and their Creator.
I think we miss it, when we fail to understand the power of compassion. When we see only faceless crowds.
Yet  compassion sees individuals.
with kids,
personality flaws,
empty bank accounts,
demanding jobs or no jobs
and frail bodies.
She connected with a face.
She listened.
Then she prayed.
It wasn't long.
Her prayer was empowered by God's Spirit.
I am convinced her wisdom went beyond her human intellect.
When we begin to pray what we know to pray, then Holy Spirit gets involved in the prayer. He helps us where we are weak. He gives us insight that is beyond what we know. I love it when that happens. (Romans 8:26, 27)
I was blessed by this powerful woman of God, but the truth is…this kinda praying is not reserved for a select few. Yes, she had prepared herself. She knew some verses on healing, and hope and encouragement.
Still, the power of this woman's prayer was in obedience.
She did what she could do. She was available. She took a risk.
She prayed.
She believed and when she did, He showed up.
Don't misunderstand me, there was nothing spectacular about what I observed.
But it was powerfully supernatural. She did the natural. God added the super. Tweet this!
Now to tell you, why the cars were there and why she leaned in to pray.
I was anxious to meet this precious lady with the warm, big grin and even bigger heart.
I wasn't disappointed. She ministers in Kid's Church! Yeah!
She is a public school counselor. And she serves on the Drive By Prayer Team!
That's right… DRIVE BY PRAYER! Tweet this!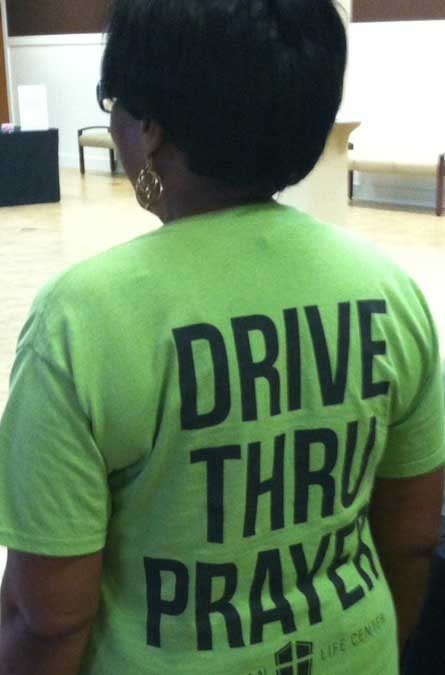 The church is on a main highway. They put out signs that encourage anyone that needs prayer to stop. The prayer team had actually been canceled because of the heavy rains, but she didn't see the email.
She arrived and so did some folks that had seen the signs in previous weeks. She explained to me that it was a way for her church to touch the community on a regular basis.
I love creative people!
And the God ideas that come when we really want to change the world around us with the love of God.
Don't forget!
The earnest prayer of a righteous person has great power and produces wonderful results. James 5:16b NLT  Tweet this!