Labor Day weekend is Apple Festival time in North Carolina. We wanted to beat the crowds so we headed to Hendersonville before the weekend. Our first stop took us to Lake Lure, no apples, just lots of beauty to enjoy. I love  to walk along the lake flanked by gorgeous mountains. The Knock-out Roses and Brown-eyed Susans, still glorious were the last of the summer flowers.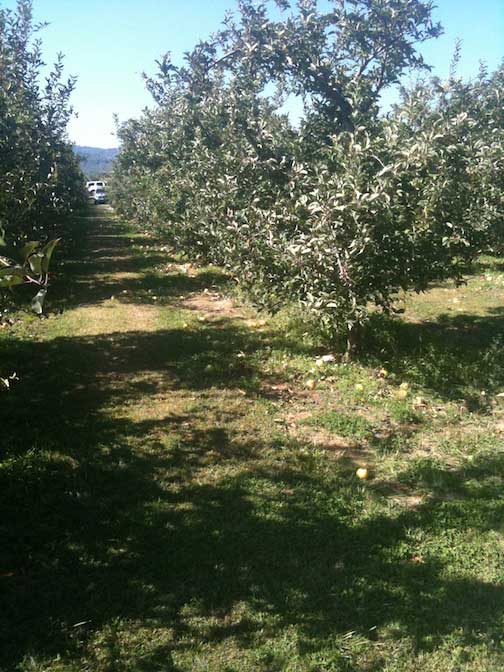 Our next stop took us to our favorite apple grower in Hendersonville. A wrinkle faced man, in green work clothes greeted us when we got our of our car. There's no sign beside the rickety shed where he lines the cardboard boxes and baskets filled to the brim with green and red blushed apples. We stop there ever year, first to taste and then to buy apples. He has the best prices I've found on apples in Hendersonville.
He named each apple variety and then encouraged us to taste each one. As we rubbed the apple in our hands and then bit into the crunchy fruit, the grower explained, "the rains have delayed the crop. They aren't sweet yet."
We still bought a peck of apples. Half Gala. Half Honey Crisp. We'll get more from a later picking, when they have finished ripening.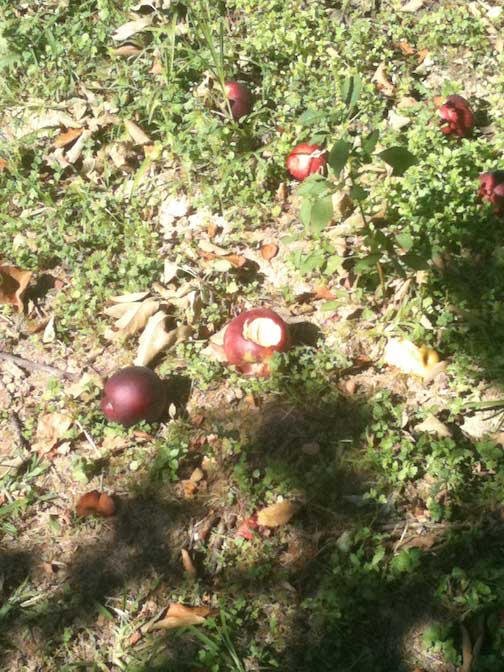 Then we're off to Granddad's Apples. It is the exact opposite of the shed. It is beautiful shop, flanked by beautiful orchards loaded with a variety of apples and peaches. The white fleshed peaches are Wayne's favorite. And it just doesn't get much better than selecting and plucking the sweet fruit from the branches. Still Granddad's Apples is much more than just an orchard where you can pick your own fruit. There's something for everyone. Kiddie rides. A corn maze. A bakery with apple turnovers, apple pies, even apple bread. Hot Coffee and ice cream complete the dietary food group necessary for a great bakery.And of course there's apple cider. The  smell alone is worth a trip to Granddad's Apples.
We heard the same words at Granddad's, "Not quite ripe yet." Even the Honeycrisp, my favorite eating apples were tart. We wanted peaches and hoped to pick our own. The peaches weren't ready yet either. They planned to pick by Saturday. We would be gone, so if had to get them today.
The owner walked with us to the orchard. He spotted one beautiful red peach and touched it gently to test its ripeness. "Almost", he replied as he moved to another tree. "They need a few more days."
His wife explained, "They need the tree to sweeten the fruit. The nourishment they get from the tree sweetens the fruit as it ripens. The peaches will get soft off the tree, but not sweet." I want sweet peaches, so I will wait.
Stay Connected
The fruit must remain on the tree to ripen and sweeten. I know you see it coming. the world is looking for fruit in a Christian's life, just like we were when we went to Hendersonville. We can get apples and peaches in the grocery store, but we were looking for more than just fruit. We wanted sweet, juicy, mouth watering fruit. The world and Jesus is looking for fruit in a believer's life, but not knobby, shriveled tasteless fruit. They are looking for sweet, crisp fruit.
John 15:4-5 NIV
"Remain in me, as I also remain in you. No branch can bear fruit by itself; it must remain in the vine. Neither can you bear fruit unless you remain in me. I am the vine; you are the branches. If you remain in me and I in you, you will bear much fruit; apart from me you can do nothing."
Sweet Fruit
While I realize this doesn't say anything about being sweet, the very purpose of fruit is its sweetness. Each variety of fruit has its own unique distinctive, but their common characteristic is sweetness. If the fruit  doesn't stay on the tree long enough it won't be sweet- period.
If we abide in Him, if we stay connected through relationship, conversation, worship, listening, obeying,then we will produce fruit. If we let it ripen or mature, allowing patience that comes from a strong confidence or faith to  produce her perfect work, it will be sweet fruit.
James 1:4
But let patience have her perfect work, that ye may be perfect and entire, wanting nothing.
Galatians 5:22, 23
gives us the names of some of the varieties of fruit Jesus is looking for in the life of a fruitful believer: Love. Joy. Peace.  Patience. Gentleness. Kindness. Humility. Self Control.
Fruit. Lots of it. Edible and delectable. Satisfying and refreshing! His goal for every believer. But it will only happen when we partner with Him and make it our active goal. Connected. Believing. Obeying.
Sweet fruit anyone?
Another thought!
Is there a tall, foreboding fence around your fruit that prevents it from being freely enjoyed by the people that really need it?
Is your fruit falling to the ground, rotting and wasting instead of being given away to hungry, needy people?
Your fruit needs to be shared. It is life giving and refreshing. You have something to give. Give it liberally and freely! It's the best way to give and live.