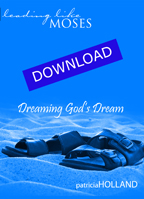 Dreaming God's Dream
Do you dream?
I mean the day-time dreams that you dream when you're wide awake! Are they wild dreams that are fragile and lofty?
But what about Moses? Do you think being raised in the affluence of royalty effected his dream?
Do you think he ever dreamed of caring for sheep on the backside of a desert?
What do you think God's dream…weak word, plan for Moses was?
Do you think Moses ever dreamed he would be the kind of leader he became?
And what about you? Are you dreaming a God dream or your own? How do you discover God's plan for your life?
In this workshop Pat uses the life of Moses to illustrate principles to help you find God's plan for your life. We'll look at how Moses discovered God's divine destiny for his life and how he fulfilled that destiny.
You can purchase it and listen to it right now.