1-Wild Turkey Decanter Floral Arrangement
This floral arrangement is made from beautiful floral and seed pods from Hobby Lobby. The arrangement is 21 tall from the base of the turkey to the top flower.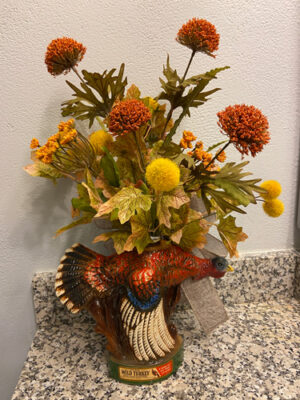 The container is a Wild Turkey Decanter. The base of the Wild Turkey Decanter measures 5″ across. It is 11 inches wide from the tip of the tail to the end of the nose of the turkey.
The arrangement is made and attached into a bundle that will fit in this hole in the decanter. You will insert the arrangement with the ready made bow in the back of the decanter. The arrangement is ready to sit in the center of your table.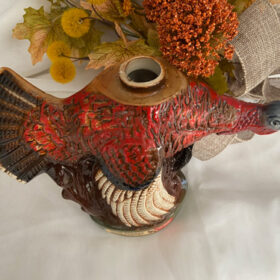 I do not accept returns. But if there are any problems with your order, please contact me immediately.
One of these arrangements is in the Complete Heritage Hall Johnson Bros Table Setting for 6
$75.00Add to cart