That's right! I am thrilled, absolutely thrilled that Pentecost is a thing of the past.
I could give you tons of reasons why I feel that way, but my post would be way too long, so I'll just give you five reasons. Every time I think about the fact that Pentecost is a thing of the past I want to do the happy dance.
Here's my top five reasons.
1. Because that means the Father has fulfilled His Promise to send precious Holy Spirit.
But I tell you the truth, it is to your advantage that I go away; for if I do not go away, the Helper will not come to you; but if I go, I will send Him to you. John 16:7
Jesus promised to send precious Holy Spirit when He returned to His Father. Pentecost is the fulfillment of that promise! He sent precious Holy Spirit like He said He would! I am so thankful He did!
2. Because Holy Spirit arrived to fill believers on the day of Pentecost, I can personally experience the fullness of Pentecost. You can too!
For the promise is for you and your children and for all who are far off, as many as the Lord our God will call to Himself." Acts 2:39

3. Holy Spirit is so precious to me!
Because He came to dwell in me, I can enjoy an ongoing relationship with Him. He will never leave me alone.
"I will ask the Father, and He will give you another Helper, that He may be with you forever; 17that is the Spirit of truth, whom the world cannot receive, because it does not see Him or know Him, but you know Him because He abides with you and will be in you.… John 14:16,17
4. As a believer and receiver, I can enjoy all the benefits of Pentecost.
But the Advocate, the Holy Spirit, whom the Father will send in my name, will teach you all things and will remind you of everything I have said to you. John 14:26

"But I will send you the Advocate–the Spirit of truth. He will come to you from the Father and will testify all about me. John 15:26
These are only two of the many benefits of Spirit filled, Spirit influenced living. Here's another blog post on 7 Benefits of Spirit Filled Living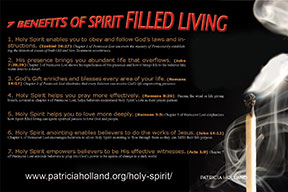 Download your copy of  7 Benefits of being filled with Holy Spirit Card
5. The same Holy Spirit that enabled Jesus to do the works of the Father enables me to do the works of the Father
Very truly I tell you, whoever believes in me will do the works I have been doing, and they will do even greater things than these, because I am going to the Father. John 14:12
Yes, it's true, Pentecost took place a long time ago. 10 days after Jesus went back to heaven. 50 days after Jesus died on the cross. Pentecost is a real event that birthed the church.
Joel prophesied it would happen. Peter talked about Joel's prophecy it in his famous Pentecost Day sermon (Acts 2:17). He said, "In the last days, God says, I will pour out my Spirit on all people"…it's still in the last days. And I am absolutely thrilled that precious Holy Spirit is alive and working in His church today.
Yes, Pentecost is a thing of the past, but Pentecost is still happening today. Precious Holy Spirit is still active in believer's lives today and for that I am truly thankful! I am committed to being one of those people that live under the influence of His presence.
I love to talk about precious Holy Spirit
and help people experience the benefits of Spirit filled living. So I wrote a book called  "Precious Holy Spirit".
Here's lots of resources on precious Holy Spirit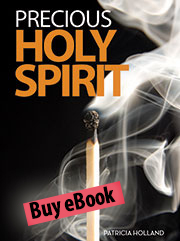 Audio Teaching on Holy Spirit
Buy the book "Precious Holy Spirit"
Buy the book "Precious Holy Spirit"