None of us want to admit it, but when life seems to dump a million problems on us, we can get overwhelmed, anxious, fearful and even depressed. It's hard to see through, get through or survive mentally and physically when hopelessness knocks on every door of our house. But God. Yes, you knew that was coming, But God has a door of hope for you. Let's look for it in Scripture and a historical wonder.
Would you prefer to listen to this teaching?

The mighty Colorado river,
known historically for its disastrous Spring time floods, zigzags from the gleaming snowcapped mountains of Colorado southward all the way to Mexico. There, it finally empties into the Gulf of California.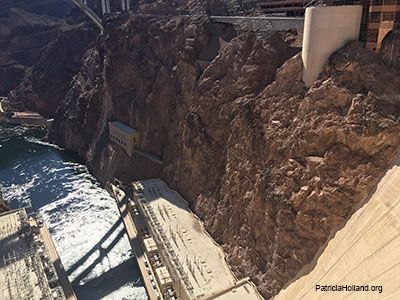 The lofty dreams of actually wrangling and harvesting the flood waters that would produce power and reclaim the bleak wastelands of the dessert began with the construction of a railroad that would carry essential supplies to the site of what would later be called the Hoover Dam.
The angry claws of the Great Depression left people jobless and desperate. Unemployed Americans rushed to the bleak wilderness to claim jobs that would employ 21,000 people to build the "world's largest dam".
It was a whopping 60 stories tall and at the time it was finished the highest dam in the world! The base of the dam was as thick as two football fields. Can you imagine that? But the dam had to be huge in order to withstand the pressure of all that water.
Amazing feat of engineering!
It was an unbelievable feat of engineering!! It stretched the minds and skills of the brilliant team of engineers and workmen. Construction began in 1931 and ended in 1935. 96 men lost their lives in the construction of this arduous task.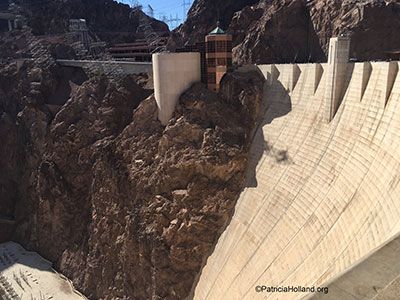 Yet they accomplished their goal…
they harnessed the power of the mighty Colorado River which protected Arizona from the disastrous floods.
The water was reclaimed to irrigate fields, provide drinking water and power… incredible POWER to whole cities. The Hoover Dam is capable of producing 4.5 billion kilowatt hours yearly.
The Hoover Dam accomplished something else- it was a door of hope
Even before it was completed people began to travel long, difficult miles through a bleak dessert to see the dam. This technological wonder during a terrible depression seemed to be a door of hope.
Which reminds me of Ziglag…
David's place of overwhelming despair that became a door of hope.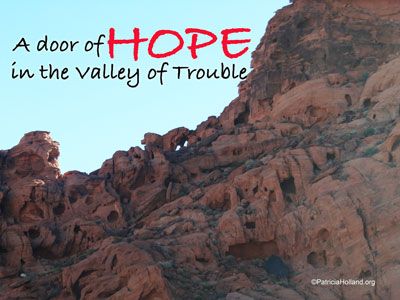 But let me back up…
running from King Saul had taken its toll on David.
1 Samuel 27:1
And David said in his heart, I shall now perish one day by the hand of Saul: there is nothing better for me than that I should speedily escape into the land of the Philistines; and Saul shall despair of me, to seek me any more in any coast of Israel: so shall I escape out of his hand.
2So David and the six hundred men with him left and went over to Achish son of Maok king of Gath.
3David and his men settled in Gath with Achish. Each man had his family with him, and David had his two wives: Ahinoam of Jezreel and Abigail of Carmel, the widow of Nabal.
4When Saul was told that David had fled to Gath, he no longer searched for him.
5Then David said to Achish, "If I have found favor in your eyes, let a place be assigned to me in one of the country towns, that I may live there. Why should your servant live in the royal city with you?"
6So on that day Achish gave him Ziklag, and it has belonged to the kings of Judah ever since.
7David lived in Philistine territory a year and four months.
He had to be super discouraged to move to Philistines' territory.
Have you ever been that discouraged? Well, it's about to get worse.
In chapter 29 we observe a challenging confrontation between David and the Philistines. Although, Achish trusts David the Philistine do NOT. Achish sent David and his men home. What a divine intervention this event was for David, but I'm not sure whether he saw it that way or not. He had managed to manhandle the situation successfully.
1 Samuel 30 paints broad, dark strokes with only a few details to describe what has happened.
After 3 days of travel, the men arrive in Ziglag. I can imagine that before their eyes saw anything, they smelled smoke. It wasn't the welcoming smell of meat roasting, you know the kind makes you salivate. Instead, it was the stench of destruction.
When they got closer they could see Ziklag was burned and everyone…their wives, their children…everyone was gone. No one was killed…but they were all gone. They were devastated.
They began to weep and sobbed…
the ugly kind,
right out loud.
the gut wrenching kind.
They wept until they were exhausted.
Then they were angry—
at David.
They blamed him and talked about stoning him.
Here's David, hurting just as bad as everyone else in the group and they want to blame him for the situation. What a nightmare!!!
I don't know what you see…but I see a man folded in half near the smoldering remains of what had been his home…
crying…
pain so deep…
he can't even speak.
But what he did next would change his valley of disaster
into a door of hope—
for him his wives and their children
the men that followed him…
his men
their families
and even a sick slave boy
that the enemy army, the Amalekites, had thrown away.
What did He do that changed this horrible valley of disaster into their door of hope?
"David found strength in the Lord his God."
Out of 601 men…
one man…
one man…
found strength in God.
Can we pause here…this is important…
this band of men were
strong,
valiant warriors,
unafraid,
bold,
risk takers,
skilled,
brave,
that had come to the end of their strength.
Yet David found strength in God.
Look back with me at the Colorado River.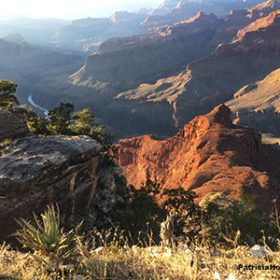 Every member of the Reclamation Bureau understood the latent potential within the raging waters of the Colorado River. Seeing the potential wasn't enough.
They needed
a plan,
tools,
workers,
money,
railroad,
tunnels,
a dam,
spillways
a power plant
and more stuff that neither of us want to list.
They used their God given brains and found a way…a plan and then worked the plan. A plan that included moving the river! That's insane! When they worked the plan they accessed the power.
How did David access God's strength?
If we look at events from previous victories we see both a relationship and a pattern or process. (God is using the word "process" in my life everywhere I turn.)
David's relationship with God led him into worship.
David was a worshipper.
Look at what God says about David.
Acts 13:22 ESV
And when he had removed him, he raised up David to be their king, of whom he testified and said, 'I have found in David the son of Jesse a man after my heart, who will do all my will.'
He rehearsed His victories.
I think it's safe to say that he probably repeated that same pattern in this situation. Both of these things will redirect your eyes off the problem to see a solution.
If you keep your eyes on your problem it will stay "your" problem.
When you get your eyes on THE answer, you'll find your answer.
1 Samuel 30:8 shows another way David accessed God's strength.
and David inquired of the Lord, "Shall I pursue this raiding party? Will I overtake them?" "Pursue them," he answered. "You will certainly overtake them and succeed in the rescue."
He needed to know what to do!
So he asked God.
He had an idea that seemed logical, but logical wasn't enough.
Do you need to ask God what to do?
After you ask…listen…
not just for the few seconds that your impatience dictates…but lean in to really listen.
Keep reminding God that you are listening and then listen.
Look for solutions.
Sort your thoughts in God's presence.
God had a divine setup waiting for them,
which probably didn't feel divine at all to the sick, slave boy that got left to die in the middle of nowhere without any food or water.
After giving the boy something to drink and eat, David discovered the boy was an Egyptian who had been the slave of an Amalekite. When the boy got sick, his master left him to die. The boy named the cities and places where the Amalekite Army had been plundering; Ziglag was on that list.
David asked the boy if he knew where the Amalekites were going.
In exchange for his guaranteed safety, the boy was willing to take them right to the men David was looking for…now only God could do that! Only God!!!
1 Samuel 30:16
He led David down, and there they were, scattered over the countryside, eating, drinking and reveling because of the great amount of plunder they had taken from the land of the Philistines and from Judah.

17David fought them from dusk until the evening of the next day, and none of them got away, except four hundred young men who rode off on camels and fled.

18David recovered everything the Amalekites had taken, including his two wives.

19Nothing was missing: young or old, boy or girl, plunder or anything else they had taken. David brought everything back.

20He took all the flocks and herds, and his men drove them ahead of the other livestock, saying, "This is David's plunder."
Hosea 2: 15 ESV And there I will give her her vineyards and make the Valley of Achor a door of hope. And there she shall answer as in the days of her youth, as at the time when she came out of the land of Egypt.
Tucked in that verse is a phrase you need to believe…
"and make the Valley of Achor a door of hope."
Achor means trouble. God's Word Translation uses the word "disaster." I believe God can make your valley of trouble…even your valley of disaster a door of hope.
What really matters to you is what you believe…
Do you believe that God will make your valley of trouble a door of hope?
Let's pray.
Father, I pray for my dear friend. I thank you that you are with them. That you love them and you have a good plan for their life. Father, help them to be rooted and grounded in your love. Help them to know the truth, because truth brings freedom. Guide them to know what their next right step is and then have the courage to obey you. Guide them. Father, turn their valley of trouble into a door of hope. Thank you, Father. Amen.
Hey, have you joined my tribe yet?
I want to send you special outlines, downloads and bargains. I hate Spam. I'll never do that to you. Look in the right sidebar and subscribe right now.
Want to see more encouraging posts?