When you sin…you ARE guilty!
Don't get the idea that because you've done something wrong  that you have you carry guilt. God has a much better plan for you. He came to take your sin and your guilt. But, you have a very important role in getting rid of guilt too!
Your role!
Don't make excuses. (It's so tempting to blame someone else or excuse what we did with "That's how my family deals with anger". It's easy, but don't.
Embrace God's higher Truth! Truth, real truth that uses  Scripture and Precious Holy Spirit inspiration for True North, is a valuable moral compass. Without a moral compass we get lost and stay lost.
Truth isn't always congruent with your desires or those of the culture we live in.
If the Bible says it's wrong, then it is.
Because  we've all sinned, God knew you would need forgiveness. So, Jesus came to eradicate your sin!
Admit that you are guilty.
Don't pretend you are innocent when you're not.
There are dozens and dozens of reasons that people can offer "why" they don't want to admit what they did was wrong. (Like the kids caught red-handed on AFV.)
I want to give you one answer that trumps all those excuses, excuse me, did I actually say excuses instead of reasons?
I did, didn't I!
I want to give you one reason that trumps every excuse for hiding your sin. This is the bad news you CANNOT afford to be ignorant of…
James 1:15  NLT These desires give birth to sinful actions. And when sin is allowed to grow, it gives birth to death.
Sin is poisonous. It kills.
Proverbs 28:13 NLT shares a clear picture of the results of trying to hide it.
People who conceal their sins will not prosper, but if they confess and turn from them, they will receive mercy.
Maybe it's hard to recognize the intrinsic value of repentance because seeing and admitting our guilt makes us feel bad; so, we naturally try to avoid that! In order to escape any guilty feeling, we hide from or deny the truth…sometimes defiantly! And, every time guilt surfaces we continue to ruthlessly defend our unflinching position against the truth.
Not realizing that when we deny truth, shove it out of our consciousness, we inadvertently bury the guilt instead of liberating ourselves from it. Buried guilt grows…sometimes into shame… and you don't EVER want that to get started. It's like Johnson Grass in a Day Lily bed. That stuff will take over and your lilies won't have room to grow.
Paul nailed it in 2 Corinthians 7:8-10 The Passion Translation (TPT)
8 Even if my letter made you sorrowful, I don't regret sending it (even though I felt awful for a moment when I heard how it grieved you). 9 Now I'm over-joyed—not because I made you sad, but because your grief led you to a deep repentance. You experienced godly sorrow, and as God intended, it brought about gain for you, not loss, so that no harm has been done by us. 10 God designed us to feel remorse over sin in order to produce repentance that leads to victory.[a] This leaves us with no regrets. But the sorrow of the world works death.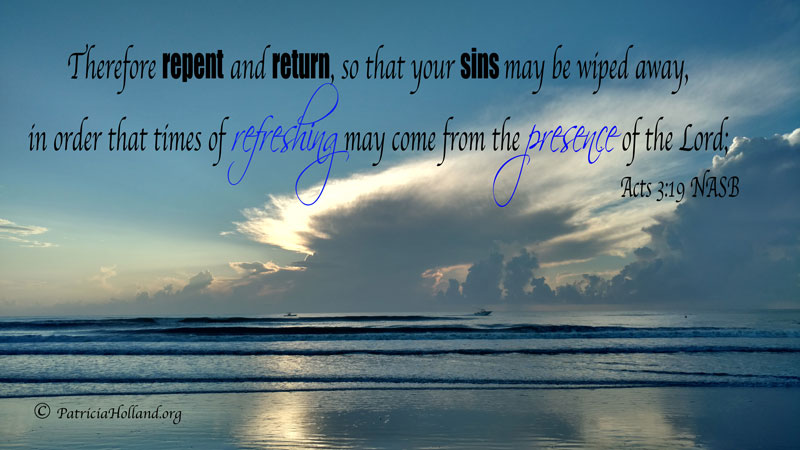 Repent!

There it is. So simple and yet so powerful!
I LOVE REPENTANCE!!! I don't like feeling guilty any better than you do, but truth precedes growth. Truth helps us to live congruent to God's plan. And when we miss the mark, repentance helps us get back on track.
I know you know what repentance is, but sometimes it is confused with the frustrated or embarrassed whine of "sorry" when someone gets caught. (Don't you hate it when someone reacts that way!) It's almost as if their sorry is saying, "I don't really care about what I just did! But, to get you off my back, I'll toss you this bone. Sorry!" That's not repentance!
I love how the Passion Translation emphasis "deep repentance."
I can't fix what I did wrong! I can't undo it. I can't make it better. So, repentance  is the recognition that comes when you know you did wrong and that you don't have the power to fix it yourself. So, you humble yourself, surrender yourself and open your heart to receive God's mercy.
Surrender it! Repentance humbly surrenders the sin and the accompanying guilt at the cross where God redeems it with His Grace and Truth. Grace that cleanse us from all sin and Truth that breaks the power of sin and guilt so we can live free.
Repentance really is the key to guilt-free living!
Repentance…
is a priceless gift.
provides forgiveness.
recognizes and acknowledges that there is a higher truth that you CAN live out.
turns you away from death and toward life.
releases God's antidote for the poison of sin.
unlocks the vault of God's mercy. Without repentance we don't have the capacity to receive God's mercy.
releases God's power to break the stronghold of guilt.
The Good News is: God has the antidote for guilt!
"Therefore repent and return, so that your sins may be wiped away, in order that times of refreshing may come from the presence of the Lord; Acts 3:19 NASB
The Cross is God's antidote for sin.
But, the antidote can only be activated by repentance.
The bad news is:
when we don't deal with our sin, when we fight to be right at any cost or we believe what "we think" above what God's Word says; that sin enslaves us, robs us…destroys us.
It's like a toothache: you gotta deal with it! Go to the dentist!
When you sin, you gotta deal with it! Repent!
2 Corinthians 7:10 TPT is worth repeating…
God designed us to feel remorse over sin in order to produce repentance that leads to victory.
One more time we see the Divine Exchange at work in our lives. Our defeat redeemed or exchanged for God's victory!
You weren't made to carry guilt. It will cause you all kinds of problems, so deal with it! Get free and stay free! God has too many wonderful things for you; so don't get sidelined with guilt!
This is part 2 in the "Guilt Series." If you haven't read it, there's some important information in it.
Sometimes we feel guilty, but we're not guilty! How do you deal with that kind of guilt?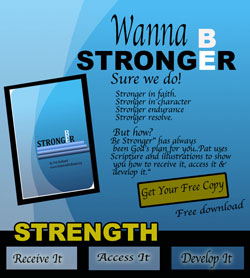 While we are on the subject I have one more link for you! When You Sin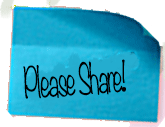 If you were blessed by this post, please share it! It helps me and your friends!
Wanna be stronger?  You can be! Let me help!