My neighborhood is beginning to take on the beauty of Christmas.
The lady on the corner is our "All Star" best decoration winner every year! She has a special gift of creating dazzling vignettes all over her yard. My eyes skip from one delightful scene to the other as I linger over the beauty when we drive past!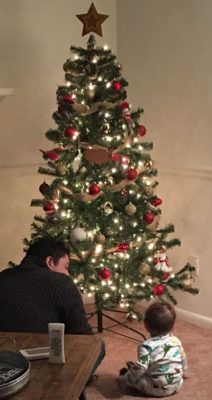 As much as I enjoy the beauty of Christmas
seeing it through the eyes of a toddler is the best.
I love to watch their face light up as they devour the colors, the shapes…the beauty so wonderful that the child has to grasp it—seeing it isn't enough. You've watched them too. You can see it on their face, they want to play with the magnificent ornaments. But again and again the wobbling toddler is given a firm…"No. No! Don't touch!" We would agree with the tired parents, the gorgeous ornaments are fragile…too fragile for tiny hands.
It's a precious sight!
But as I think about that little guy standing so close…wanting so badly to touch…yet hearing the stern warning…my heart aches, because I've seen that same look in adult's eyes too.
Believers
…born again believers standing at His tree…
where He gave His life.
Elated at the beauty…
the beauty of love so…
amazing,
powerful,
massive
that it is literally beyond our ability to understand.
Humbled by it's cost
…how could God love like that; enough to pay the penalty for our sins?
How could He love like He does when we
reject Him,
explain Him away,
ignore Him?
But He does!
How does His faithful love continue…
when mine is unfaithful…
fragile…
broken?
It just simply does…because He is love.
As we come close to His tree,
where He paid for our sins, we see more than beautiful shiny tinsel and delicate baubles. We see more than fragile ornaments, instead we see His gifts…
Wonderful gifts…
Glorious gifts…
Life changing gifts…
Lavish…
Valuable, staggeringly valuable
Expensive, so expensive that only His life could purchase them.
Extravagant Gifts.
Yet, instead of tearing into our gifts,
we hold back…
timid…
reserved…
fearful.
As if a window of privilege separated us, like glass panes,
from the treasures in front of our eyes.
Desire…curbed by fear.
Anticipation stifled by insecurity.
As if someone were about to slap our hand or scream at us that we are un-deserving. Or the proud glare that tells us we don't belong there and that we're at the wrong tree.
Unworthy?
Rejected?
Unwanted?
But do you realize they are all lies…
strategies from hell to keep you and me from accessing,
tearing into,
possessing
and enjoying
the treasures purchased especially for you,
because remember (from last weeks post) you are on God's Gift list!!!
So we hold back…
hungry for His gifts…
and God eager for you to enjoy them.
God will not force His will on you, so He waits patiently.
Experience has told us gifts this valuable are fragile…
clumsy fingers should never touch.
One more lie to make us tremble instead of experience His life changing gifts…
one more lie!
But your heavenly Father urges…
"As each has received a gift, use it to serve one another, as good stewards of God's varied grace:" 1 Peter 4:10 (ESV)
So go ahead, plop down, reach under His tree and receive His gifts
Grace
Forgiveness
Love
Peace
Joy
Precious Holy Spirit
Access new depths of what they can bring in your life through faith.
Enjoy them!
Let them enrich your life…but don't stop there.
All His gifts are for sharing.
Who do you need to share His peace with? You can't share something you don't have…open His peace or any of His abundant gifts that you need or want to enjoy. Access them by faith. Experience them more deeply. …so you can share…
People are desperate this Christmas
…and you've got good stuff to share!
Looking for Christmas Inspiration. Here's so more articles. Cause It's His Birthday Christmas is all about the Gift Christmas Joy God bless you dear friend! Thank you for reading. I pray that you won't miss a single gift that God has for you! Merry Christmas!
If you were pleased by what you read PLEASE Share!