I'm not an animal lover, but please don't stop reading this blog if you are one. I have had my share of pets. We had the usual family dog as the children were growing up, that the kids promised to feed, but always forgot- so I had to care for it. We even had a tarantula, which Kimberly finally agreed to give away. The dog died when the kids were teenagers. So my resolve was firm, no more pets. Wayne and I both agreed- no pets. There was no further conversation, everyone understood- NO PETS.
We would not be having any more pets at the Holland House, but the stray cat that arrived on our porch didn't know the rule. She meowed at my son, Jason, and rubbed her soft calico fur against his legs. It was such a friendly cat. When Jason went inside, the cat tried to follow. It was obvious it was somebodies beloved house cat. My son felt sorry for the cat, searched the cabinets until he found a can of tuna and fed it to her. That finalized the matter- it didn't matter what the rules were, that stray cat had found a home. She stayed and my son was forced to leave, no just teasing.
That stray cat taught me some very important lessons: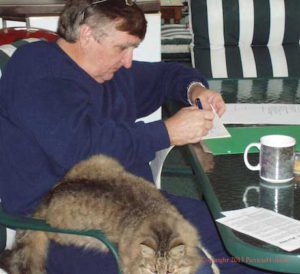 First, what you feed stays and grows.
When you feed your mind negative and destructive self-talk it becomes yours- it stays. It eats at your confidence and robs your hope.
When you feed low self-esteem it becomes yours. I love the old saying, "You can't keep birds from flying over, but you can keep them from building a nest in your hair." You can't let self defeating thoughts stay.
Change your self-talk.
Your self-talk is very important. Throw rocks at those bad thoughts by declaring what God says about you.
The story of the man and his barn in the Bible was self-talk, not a conversation he had aloud. (Luke 12:17-20) Think on God's Word. You are not dumb or stupid. You can do all things through Christ which strengthens you. Think on that instead of defeating thoughts.
My son named the cat "Baby". Baby moved in like she owned the place. Every time we drove up, she ran to meet us in the driveway. She was so confident of her place as queen in the Holland House that she refused to move out of the way when we tried to park our car. We had to wait for her or get out of the car and get her outta the way. She was definitely a lap cat and demanded lots of rubs and scratches.
Then I was Baby's next project.
Jason was in school and Wayne was at work, but I was home, and she wanted my attention. Every time I walked into the yard, she scampered to my side, she meowed at me and rubbed her soft fur against my legs.  But I didn't want a pet. When I worked in my office, she sat on the ledge outside my office window and peeked below the window blind at me. She meowed at me through the window, peeped inside the house through the sidelights at the door and walked with me to the mailbox, but I ignored her. Yet, she didn't stop. Day after day, she continued her pursuit to win me over.
Finally, I could resist her persistence no longer. One day I bent down and rubbed her soft fur. She persisted, meowing at me and I continued rubbing her soft fur day after day. One day I gathered her in my arms and petted her for a long time. I hate to admit it, but this cat hater, had fallen in love.
I learned:
persistence wins.
That cat taught me love never fails.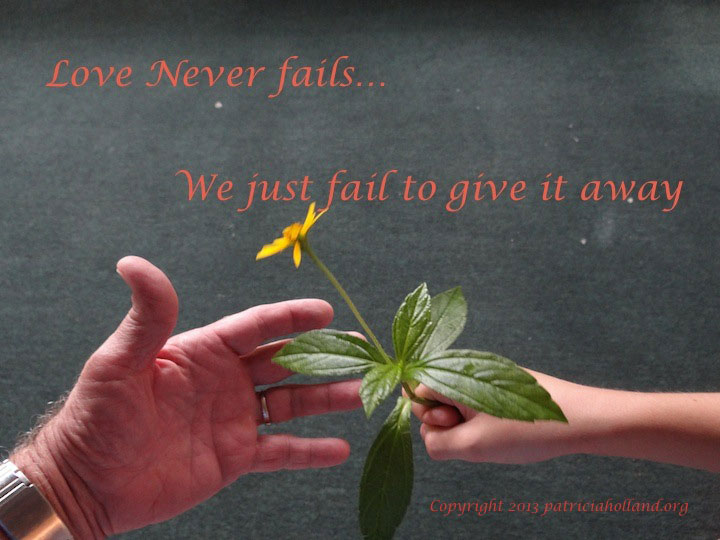 Just don't quit loving too soon.
Be persistent.
Who in your life is making your life difficult or giving you problems? Love them.
Is there a difficult relationship on your staff? Love them.
Is there a child in your class or a person in your ministry that is giving you fits? Love them.
Don't quit. Jesus said, "Love never fails." We just fail to love.
All cats are NOT the same.
There is five acres of unoccupied land behind our house. It has a house, several sheds, a barn and large open fields on it. The storage sheds have been the home and birthing room for several wild cats since we moved here. I noticed a wild cat in my yard after Baby arrived. The wild, back lot cat cautiously approached the food on my porch. If we got close or if the door opened suddenly she would disappear into the shrubs or through the fence. She was always afraid of us and never took the food we offered. She stood her distance. Three words described this back lot cat- skinny, afraid and hungry.
What was different about this Feral cat? Why wouldn't she eat what we offered when she was so undernourished? The difference between Baby and the back lot cat was attitude-plain and simple.
One cat was afraid; the other trusted.
One cat was confident; the other self-conscious.
One cat was bold; the other shy.
One was aggressive; the other backward.
"Attitude determines altitude," is more than a clever saying. It's true!
All these words describe the importance of attitude. I am convinced attitude is the key that unlocks so many doors in life.
So give yourself an attitude check.
Are your attitudes pleasing to God?
Do they reflect what God says about you?
Are they faith or fear filled?
You're not stuck with your attitude.
You can change your attitude by changing what you believe.
God's Word Says:
Romans 12: 2 NIV Do not conform to the pattern of this world, but be transformed by the renewing of your mind. Then you will be able to test and approve what God's will is–his good, pleasing and perfect will.
Did you get that? Change your attitude with God's Word. Attitude is something that can be shaped and honed by renewing your mind with God's word.
Your attitude determines how you approach God.
Do you approach Him fearfully, expecting to be hit over the head with a stick?
Or do I approach him like Baby, lovingly and expectantly?
One cat left hungry. The other cat, my cat, that I loved and fed and cared for, left the porch, full and satisfied, then curled into my lap to be petted.
God's Words says:
Hebrews 4:16 NIV "Let us then approach God's throne of grace with confidence, so that we may receive mercy and find grace to help us in our time of need."
I learned: my attitude may be keeping me skinny both spiritually and emotionally.
Do you have a belief or attitude that contradicts what God's Word says? Surrender it to God. Change the way you think by reading, meditating and declaring scripture that fits your situation.
Talk to me. How did you win over a bad attitude? What is God saying to you about your attitude?
More posts about self-talk.
Is Your Mirror Talking To You? Do You Self-Talk?

Do You See What I See?- Mirror

Zig Ziglar Recommends Positive Self Talk- Mirror