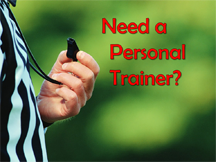 Have you ever thought of hiring a personal trainer?
One hour of watching "The Biggest Loser" leaves me with mixed feeling on the subject. If you remember from the shows, they really push those people! All that screaming and pushing them to keep going would overwhelm me or is that just TV??? Yet, the trainers really have a handle on what they need to do to reach their goals. Most of the trainers are great teachers. Trainers address the root problem behind why they eat poorly. That understanding transforms the way they think about food. I absolutely love the way some of them encourage and inspire the contestants to greater achievement. A personal trainer can help you get physically fit.
.
Do you think having a personal spiritual trainer would benefit you?
He knew we would need a helper that would instruct, guide and inspire us to be like Christ.
That's why the Father sent Holy Spirit on the day of Pentecost.
The benefits of His role as a personal trainer doesn't stop with advice or inspiration; He empowers us to do His will. Far too many people in churches today don't even know who He is much less how to tap into the benefits that come with Spirit filled living.
Let me give you one example…
Patt came from a rough part of town with high crime and low income. He came to see a drama at our church and accepted Christ as His Savior. He was dramatically changed. He was passionate about the things of God and the church fell in love with Him.
Patt received the Holy Spirit at youth camp.
God told Patt to cut off his dreadlocks. Patt obeyed. I'd been away speaking for a few weeks and when I got back to church I didn't recognize him. He explained to me the change that had taken place in his life.
I didn't see Pat again for a few more weeks, traveling again, but when I returned I made a point to say hello. Patt is one of those young men that just lights up your heart, so I was excited to see how he was doing. After chatting briefly, I asked, "Patt, are you praying in tongues regularly?"
Patt looked puzzled. "No. Am I supposed to?"
I chatted with him briefly about the importance of praying in tongues. He promised to pray about whether he should do it or not; which I thought was a great answer.
No one should swallow everything they hear. However, everyone should know there is more to it than a one-time experience or only speaking in tongues.
Patt lacked the knowledge of who Holy Spirit really is and how to access the wisdom, guidance and power that is available to every believer to live a Spirit-filled life. But he was on a path to learning and listen to Holy Spirit.
Is it really important?
Does it matter if you are Spirit filled?
It was super important to Jesus and it should be important to every believer today!
The infilling takes believers into a deeper, fuller relationship with God.
The benefits of living a Spirit filled life is experiencing the partnership of Holy Spirit guiding, empowering and transforming every area of a believer's life. I am not talking about a one-time experience. I am referring to building on a relational experience that moves forward into everyday life; like a wedding should move a couple into a deeper, fuller lifelong relationship.
Being Spirit filled is so much more than an emotional experience…
When we are filled with Holy Spirit we are filled with joy, but we are also filled with love. That joy and love flows into all we do and who we are.  As we walk with Him, we  embrace the reality of His indwelling presence and allow Him to influence and empower our everyday life.
Being Spirit filled will touch your emotions, your values and the way you live all of your life.
Spirit empowerment isn't a badge of honor, it is God working through us to fulfill His purposes in our life.
Spirit filled living is a daily walk. It's a journey of cultivate the fruit  and gifts of Holy Spirit.
It is important to understand that the fruits are grown and  gifts are given. That's why the infilling, indwelling, ongoing partnership of precious Holy Spirit is so important.