Do you need to know about Holy Spirit?
Yes! you do!
Honestly, it makes a huge difference. Not knowing Holy Spirit is worse than having a smart phone and only knowing it can be used for making calls. The benefits that come with experiencing the fullness of Holy Spirit is life changing!
You can know more…you can experience more…
of what God has for you.
I love showing off their pictures and telling their stories–sharing with you the joy of being a grandma!
I am an official picture-carrying member of the grandma club. I love being a grandma and I have wonderful grandchildren.
Yet there is a joy that exceeds the joy of being a grandparent. It is the joy of knowing and experiencing Holy Spirit. I have no greater joy than my relationship with Him!
I wish I could share this amazing experience with you, like I pulling an orange apart and handing you half then watching you as the sweet juice drips off your chin. We'd laugh together like little kids.
Oh, I wish I could show you a picture of Holy Spirit.
But I can't share Him and I can't show you a picture because He is a spirit. That's not weird or spooky, just a reality that can keep us from getting to know Him.
Scripture gives us pictures of Holy Spirit so we can know Him better. But God wants you to know that aspect of His personality too! That's why God shows us His photo album in scripture, pictures not of what He looks like, but of His nature and personality so we will recognize Him and know what He is like.
Holy Spirit is like the Wind
It is no coincidence that a sound from heaven like a wind filled the room on the day of Pentecost, because Holy Spirit is like the wind
In Act 2:2. God was deliberate in using this picture. Wind or breathe brings life. If someone has an accident, the first thing we do is check to see if they are breathing. Holy Spirit gives life to Scripture that makes it come alive and productive in the heart of a believer.
Holy Spirit gives life to believers, energizing them to live victorious and fruitful lives. You can't see the wind, but you can see the effects of the wind. We can't explain God's ways.
John 3:8 NLT "The wind blows wherever it wants. Just as you can hear the wind but can't tell where it comes from or where it is going, so you can't explain how people are born of the Spirit."
Holy Spirit is Like a Fire
Fire is another picture that is strategically provided in Act 2:3.
Fire is used to purify as in smelting and refining gold. It's used as an adjective to describe love and commitment. Fiery passion. Fiery lover. Intense. Enthusiastic. One of the works of precious Holy Spirit is to help us love.
Rom 5:5 NLT  "And hope does not put us to shame, because God's love has been poured out into our hearts through the Holy Spirit, who has been given to us.
"
Holy Spirit is Like Water
Jesus used this picture on the last day of the feast of Tabernacles in John 7:38-39 NIV" Whoever believes in me, as Scripture has said, rivers of living water will flow from within them." 39 By this he meant the Spirit, whom those who believed in him were later to receive. Up to that time the Spirit had not been given, since Jesus had not yet been glorified." 
Thoughts of hot summer days and a refreshing plunge into a cool, mountain stream can only begin to connect us with the refreshing benefits of water.
Or, if you've visited the desert you would see the barrenness of water's absence or the abundant life that grows along the banks of a river that twists and turns through it's valley. Again, water is a picture of Holy Spirit.  He brings life. He nourishes. He refreshes.
God's Photo Album
All my fun pictures in my "Granny Picture Album" don't begin to tell you how funny Brayden is or how smart Keira is or how loving Ashlyn is. Even when I describe Brayden by telling you he is the family clown, you know about him, but you don't know him.
God loves sharing His pictures with us, not so we have some abstract knowledge to repeat or parrot back, but so we can experience the benefits that come with living Spirited filled, Spirit influenced lives. He wants to fill believers and like oil, permeate everything we touch! Don't miss what He has for you. Lean into His presence to hear His voice, to experience His love and His hope. Saturate your mind and attitudes with His Words to become the person He intended.
Consider the important benefits of Spirit-filled living:
Holy Spirit enables you to obey and follow God's laws and instructions.
Holy Spirit helps you pray more effectively.
Holy Spirit helps you to love more deeply. Holy Spirit anointing enables believers to do the works of Jesus.
Holy Spirit empowers believers to be His effective witnesses. (Acts 1:8)
He comes with the assignment to reveal Jesus and super-size your faith with a blazing passion that radiates the love of Christ to the lost.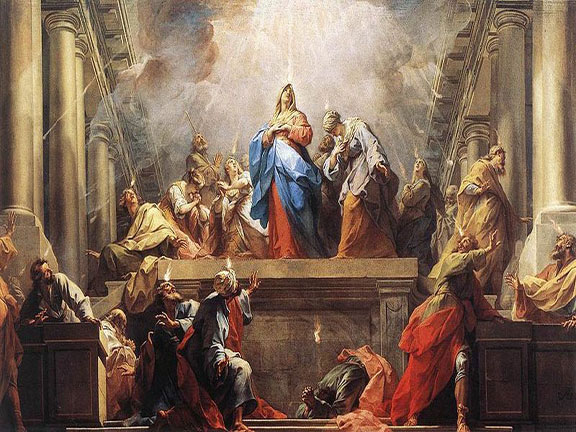 It's important to understand:
Pentecost is more than an event. It's about the Holy Spirit.
The power of Pentecost is the living presence of Holy Spirit in your life.
Pentecost is not an extinct, terrifying dinosaur to fear or ignore.
Pentecost is experiencing and receiving the Person of Holy Spirit.
Pentecost is designed to be a living dynamo – the power generator – inside each believer.
Pentecost is the fulfillment of God's promise to send precious Holy Spirit to become a resident inside believers.
Scott Berkey says…

In a day and age where kids are fascinated with the supernatural, Pat Holland presents a powerful study on the Holy Spirit in a very practical manner. The book "Precious Holy Spirit" is written for leaders, but full of incredible teaching ideas for learners of all ages. Pat takes readers step by step through the Bible and paints an incredible picture of who the Holy Spirit is in the life of the believer. Pat's book would make for a great study for Children's Pastors to take their key leadership team through as they endeavor to lead kids into the presence and power of the Holy Spirit.