Would you like to create some golden memories this Christmas? I want to share 4 pure gold ingredients that will help you reach that goal!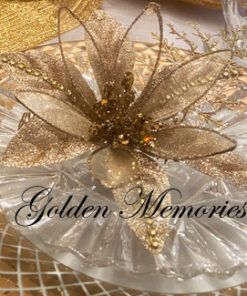 4 Pure Gold Ingredients
I've listed 4 important ingredients that can help you create some golden memories for your guests and family!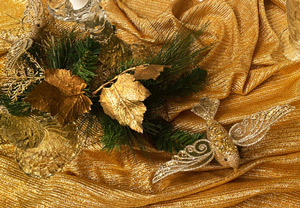 People you love.
Good food.
Great conversations.
And a beautiful table.
Getting everyone together gets harder as our children grow up and move away! I am so thankful that my son and his family have moved back to our hometown. It's so good have them nearby!!!! That statement doesn't even come close to communicating my absolute glee at having them nearby!!!
Let's talk about creating a beautiful table, it's so much easier than the other three items on my list.
This Golden Memories Tablescape uses lots of gold
I want lots of light in this Gold Christmas Tablescape
Thomas Kinkade is called "The Painter of Light". The light shining from the windows of cottages took his paintings to another level. I think light and the reflection of light on my table can take your table to the next level as well. Most folks call it "the bling."
And I say-Bring on the bling!
From the sparkling embossed gold metal chargers to the gold glittery poinsettias this table has got a whole lot of bling going on!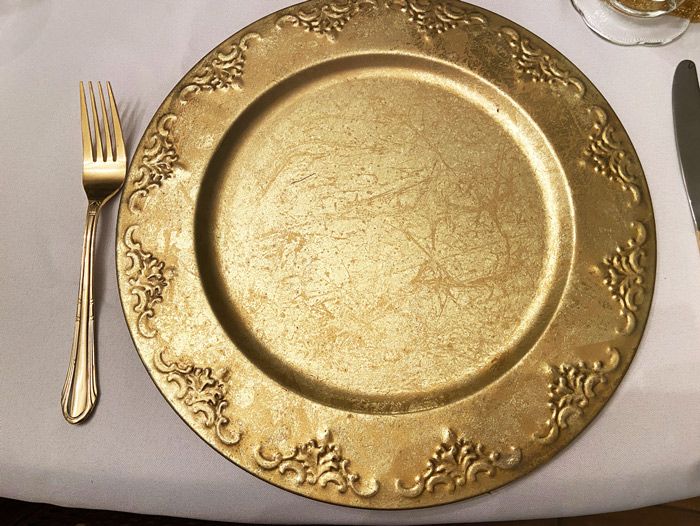 Lattis Platinum Dinner Plates.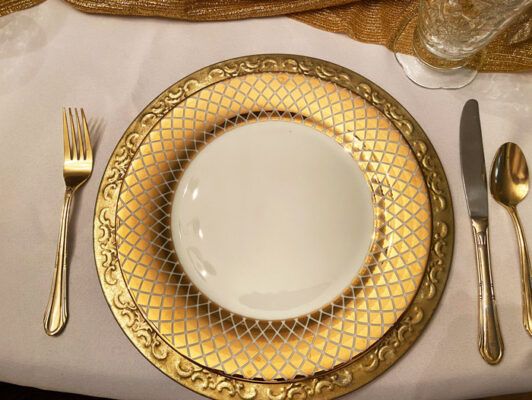 There are so many ways to adorn and dress a table, just like the variety in clothing fashions. In this Christmas tablescape I'm dressing my table with lots of gold! The inspiration for this table setting is the Lattis Platinum Dinner Plates. These plates are dazzling.
This Christmas tablescape had to have a gold table runner.
This one is made of beautiful, ribbed gold fabric…that I absolutely love by the way!!! Lots of bling without the glitter.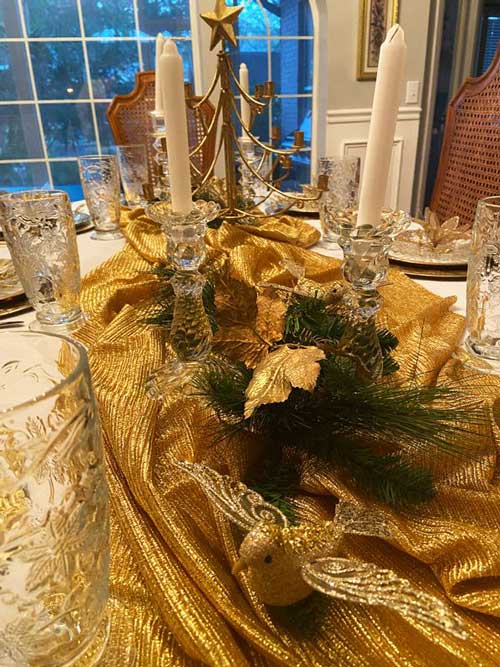 I love to mix glass salad plates that reflect the light with china plates. (Check out my Blue Lenox Christmas Tablescape.) For this Christmas table setting, I used Federal Pioneer Crystal salad plates and the tall Princess House footed tumbler!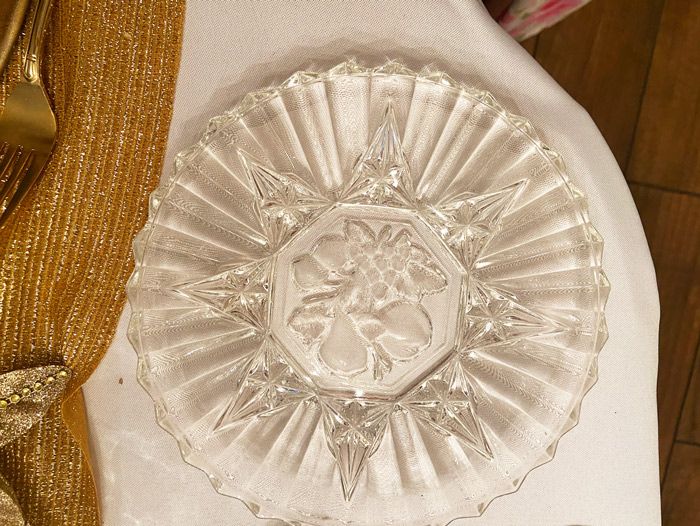 Princess House Tumblers are "show-offs!"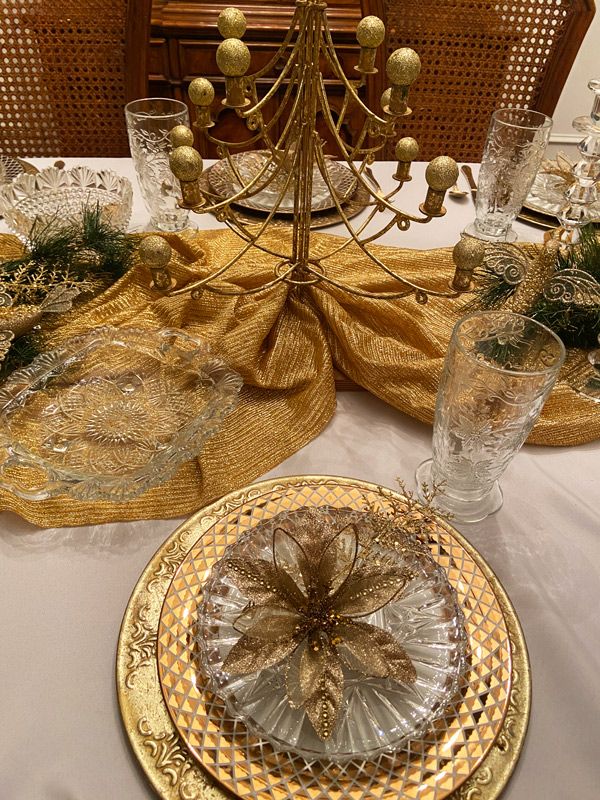 These glasses are 20oz. My family always complains when I put a little glass on the table for them to keep refilling! They can't say that with these babies.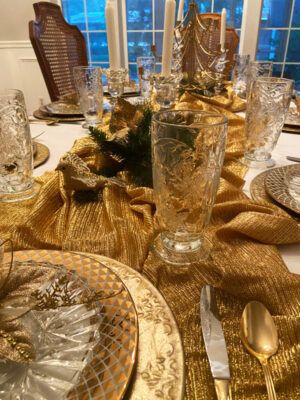 Those Princess House Tumblers are "showoffs" on this table. They don't compete, they stand tall like Christmas trees on this Gold Christmas tablescape.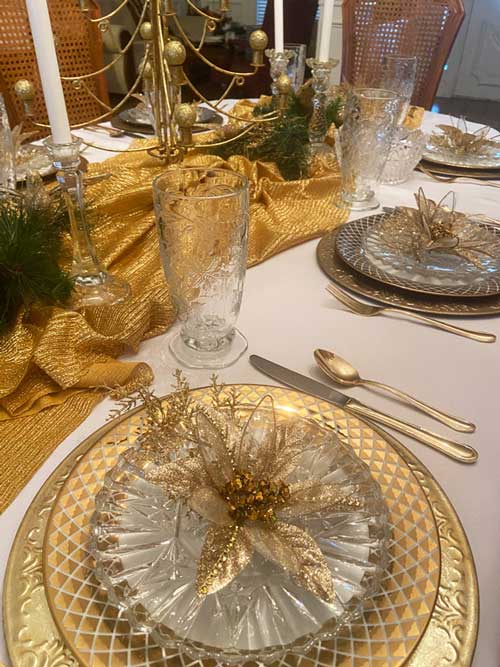 So, I put little glitter ornaments in each candle cup. My daughter in law liked it, and I can't argue with her!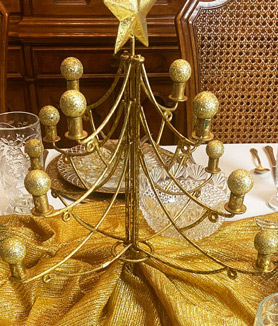 I found the birds and poinsettias at Hobby Lobby. Those ornaments REALLY bring on the bling!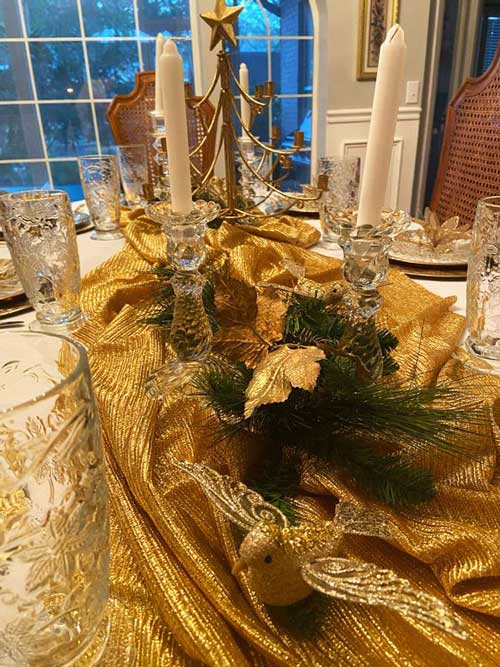 Not gold for the Candleholders in this tablescape!
Instead of gold I wanted something to reflect the light for my candle holders. I went through my candle holders to find some that would again…reflect the most light possible. These did the job beautifully.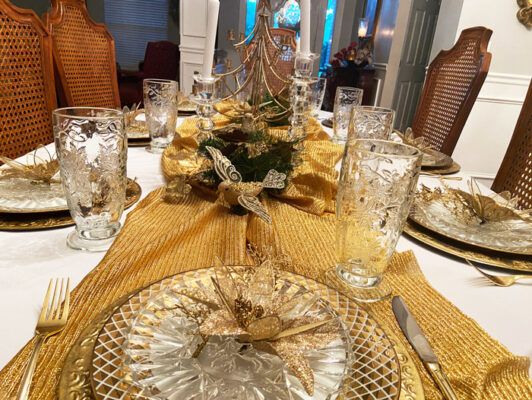 Are you looking for dining table decoration ideas for Christmas or are you looking for a complete dinnerware and décor, this complete table setting is available for sale.
Sorry, it sold very quickly to a beautiful lady.
Well, I'm not sorry. It was an absolute delight to place this Christmas table setting in a gorgeous home on the water. When I went to set it up in her home, we did some tweaking to fit her home and style. I was so blessed to get to spend some time with this very special woman that loves to entertain, especially at Christmas.
Good Food
It is so funny to me that everyone's good food list is different! My friend took Wayne and I to an authentic Chinese restaurant. His list of good food for that meal included "chicken feet." And while you want find it on my list, it wasn't bad!
I asked my kids and everyone coming to my table…what food says "It's Christmas" to you. For me it's Red Velvet Cake. I absolutely love it for Christmas, but for some reason I would never eat it any other time of the year! Tender moist, beautiful red layers, iced with pecan and cream cheese frosting! Oh, my! So delicious. My mouth is watering!
I'd love to hear what food says, "It's Christmas" to you? Please leave a comment below.
Good conversation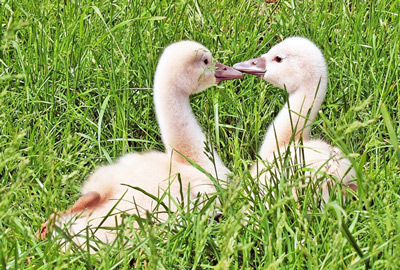 Here's some purposeful steps to help you be a better conversationist.
LISTEN! I am convinced, that if you want to have better conversations, learn to listen better. Look people in the eye and really listen. Ask clarifying questions without badgering them. (There is a difference.) Don't let your mind wander to what you want to say when they finish.
VALUE THEM AND WHAT THEY HAVE TO SAY. Good conversations are easier over food. People seem to relax and open up. Take advantage of the opportunity to learn more about the person sitting beside you at the table, even if you've known them a long time. Value them enough to listen without finishing their sentence or talking over them.
Forgive. Forgiveness doesn't mean they didn't make a mistake. It only means you will no longer carry the burden of what they did or said wrong.
Learn a new joke. Yes, you can tell a joke. Practice it if necessary. Everyone likes to laugh.
Learn something new about something that one of your guests is interested in and invite that person to tell you more.
Write down something specific about each guest that you appreciate about them. As you talk to them hear them through the lens of their positive traits, not their faults. You might want to share your appreciation of that trait with them if you get the opportunity.
A very wise man shares a powerful picture that helps us understand the power of wise and appropriate words. "A word fitly spoken is like apples of gold in settings of silver." Proverbs 25:11 BSB
Look at that picture for a minute.
He gives us a picture of opulence and beauty that is equal to the beauty of right words spoken in the right way. That is something to work towards…learning to guard our words so the right words are spoken in the right way.
Some of my best memories are ones spent around a table eating and laughing. There is something special about eating a meal with someone and a beautiful atmosphere makes it even better. Thank you, for letting me share my table with you.