Apples. Yellow. Green. Red. Pink. Purple. Nothing says Fall for me like apples. Apples not only take my mind to my favorite season of the year, but they also take me to one of my favorite idioms…"the apple of His eye."
I have so many sweet (crunchy and sweet) memories
of apple picking in Hendersonville, NC. We don't see beautiful Fall colored leaves in Florida, so for me nothing says Fall like apples. We go to North Carolina to experience both.
We always drive through Lake Lure and have lunch there before we go the Hendersonville.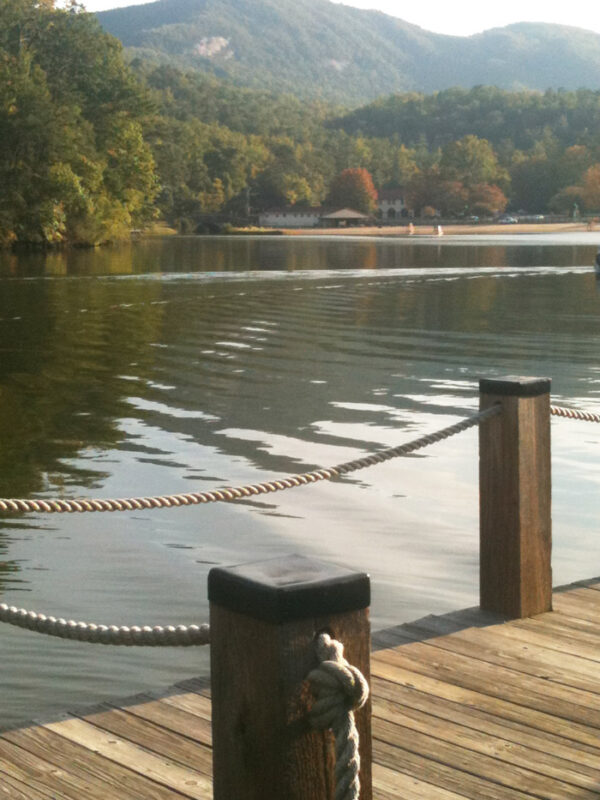 The roadside markets
have the biggest cabbages I've ever seen. Each place has its own local charm. Crates of orange pumpkins. Local honey. Apple donuts. Apple cider. Did I mention dozens of crates and baskets of every color of apple imaginable.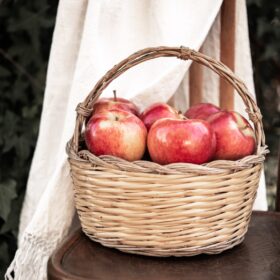 So many varieties of apples.
Every year we discover new varieties of apples to taste and almost always walk away with more apples than we could ever eat. Our kids and grands love the over-flow and we enjoy sharing them! One year we tasted a blackish, purplish apple. We didn't particularly care for it.
Apple Picking?
I don't know of anyone in Hendersonville that allows customers to pick their own apples or peaches now, but we used to pick at Granddad's. That place has so much family fun waiting for families. Beautiful apples. Corn Maze. Rides. Pumpkins of all sizes and colors. Check out their website. It's really beautiful. Great family fun with a majestic mountain view. It doesn't get any better than that! https://grandadsapples.com/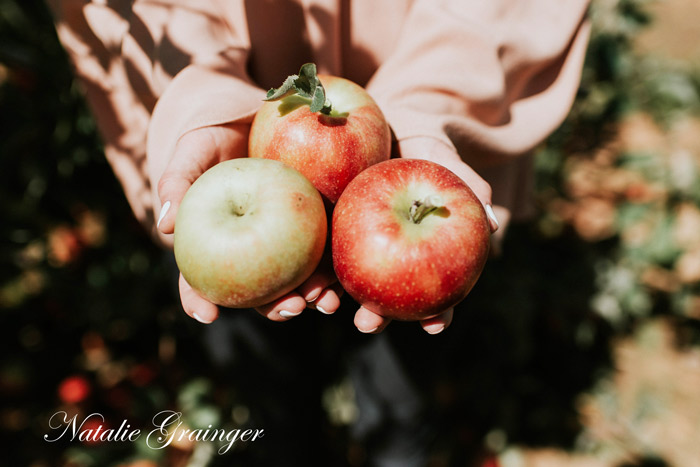 Hendersonville Apple Festival
The Labor Day Apple Festival is awesome. Food vendors with apple everything you can think to eat. Craft vendors. Entertainers. And apples…lots and lots of apples.
I never realized until we started going to Hendersonville regularly for apples that they are the 3rd largest apple producer in the United States. I just know the apples orchards twist through the mountain valleys like a painting.
Wonderful, sweet apples. Pies. Cobblers and plain ole sliced apples. I will admit, I smear a plain apple slice with peanut butter sometimes. Or better yet, my favorite apple dip is cream cheese and brown sugar. Just add brown sugar to suit your taste buds. Cream together until smooth. It doesn't last long at my house, because everybody loves it as well as I do!!!
Sonoma Villa Apple Plate
So, when I found these Sonoma Villa plates, they sang to me. I heard a tune sorta like the Hallelujah Chorus!!! Praise the Lord, for a plate as beautiful as an apple taste. These shiny, embossed plates are beautiful. I love the vibrant colors and the shine. I enjoy seeing light reflect off a shiny surface.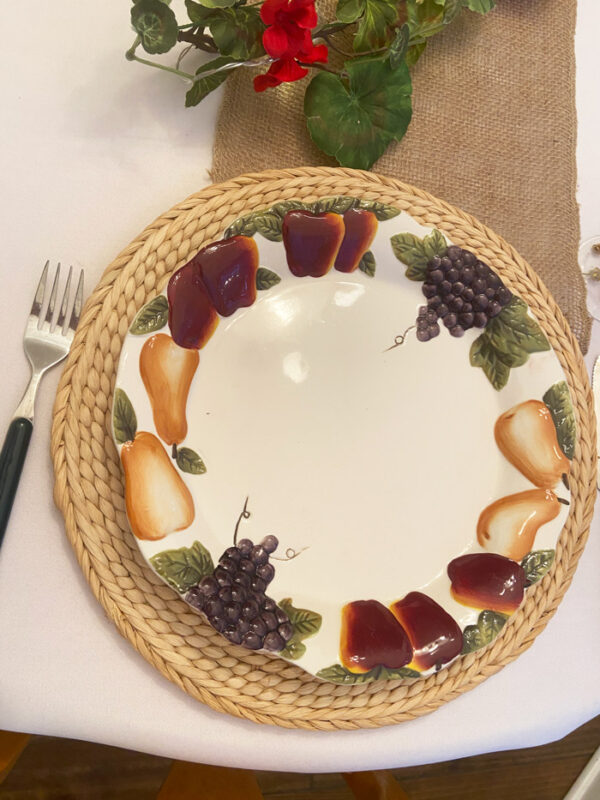 These Sonoma Villa plates bring all my favorite harvest time fruits on one plate to the table: apples, pears and grapes on a really white plate. Sometimes, you look at a plate and it's hard to tell if it's white or beige or eggshell or something else. Don't get me started there are so many colors of off white, but you don't have to guess with this plate, it is white. Bright. Shiny. Clearly white. (I know! There are as many white colors as there are beige or is that cream.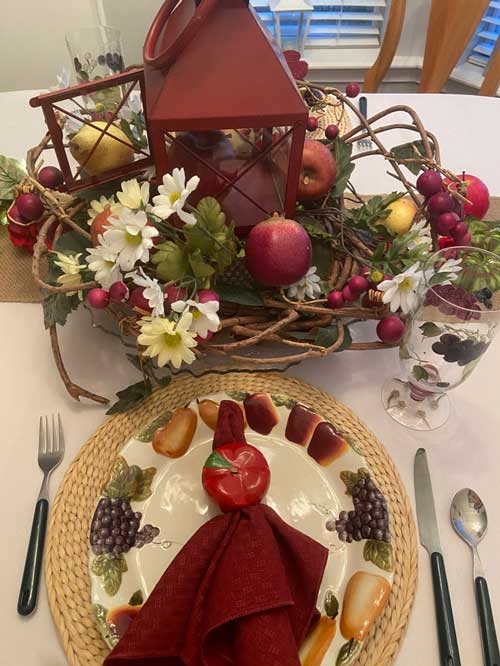 I have had these purple grape glasses for probably 30 years. Where have the years gone? They haven't gotten a lot of use because they feel thin and I'm always aware of how careful I need to be with them.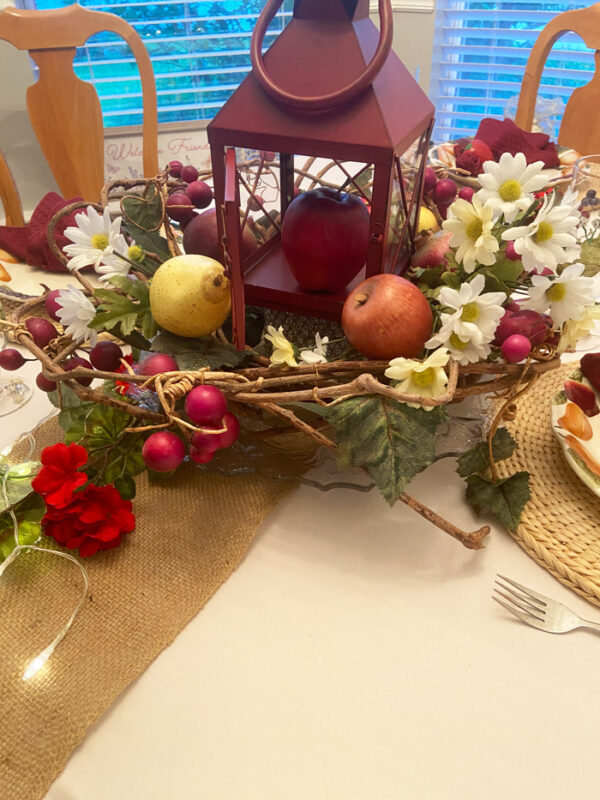 I love the cranberry color of this lantern. This grapevine wreath is much more open, or loosely woven than most wreaths.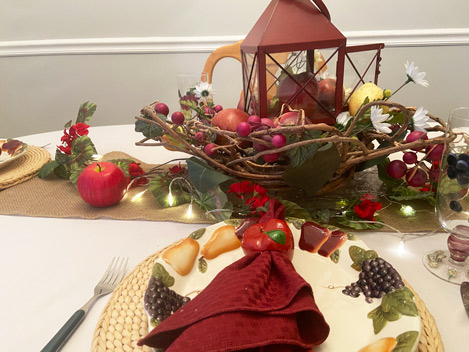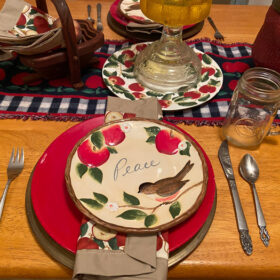 I believe "everything tastes better on a pretty plate." I tell my friends, "My cooking needs all the help it can get." (Honestly, I'm a pretty good cook, except the burned parts. LOL!")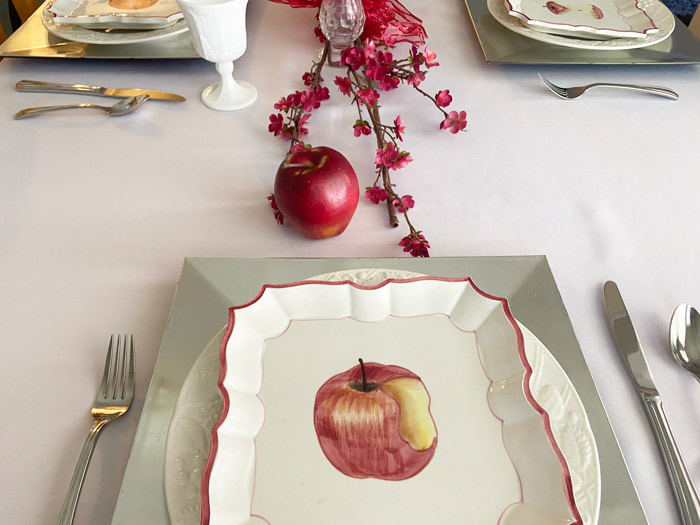 This pattern is so simple and elegant.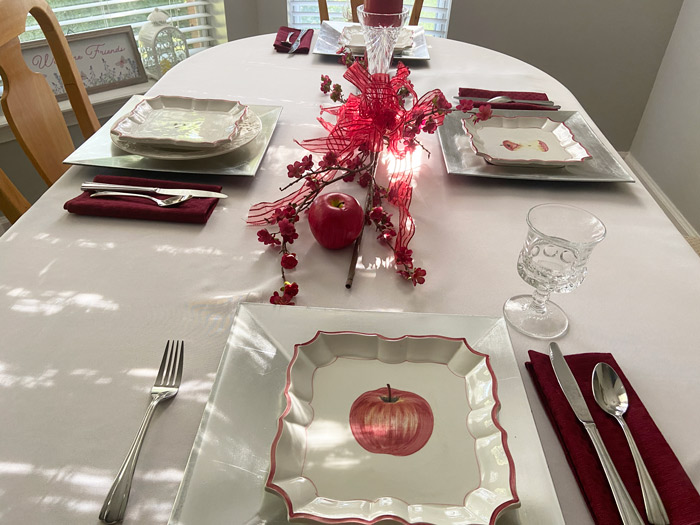 Where are the white plates in this picture? It must have been in the dishwasher. I didn't even notice when I took these pictures.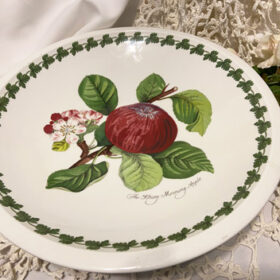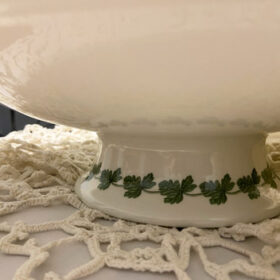 Beyond the crunchy deliciousness of an apple or its fragrant beauty, is an idiom tucked in the Old Testament. Moses is singing about the greatness and goodness of God to the nation of Israel. In the song, Moses says, "He, referring to God, found them, Moses is referring to the Israelites, in a desert land, barren, howling wilderness.
Apple of His Eye
He instructed them. He guarded them as "the apple of His eye."
Charles Spurgeon explains this idiom in his Treasury of David.
"No part of the body more precious, more tender, and more carefully guarded than the eye; and of the eye, no portion more peculiarly to be protected than the central apple, the pupil, or as the Hebrew calls it, "the daughter of the eye." The all-wise Creator has placed the eye in a well-protected position; it stands surrounded by projecting bones like Jerusalem encircled by mountains. Moreover, its great Author has surrounded it with many tunics of inward covering, besides the hedge of the eyebrows, the curtain of the eyelids, and the fence of the eyelashes; and, in addition to this, he has given to every man so high a value for his eyes, and so quick an apprehension of danger, that no member of the body is more faithfully cared for than the organ of sight.
Moses is saying God has protected you like a person protects their priceless eyes.
Personalize "The Apple of His eye"
Then David makes it personal in his prayer. "Keep me as the apple of your eye;
hide me in the shadow of your wings" Psalms 17:8 NIV
Have you ever felt that way?
Hide me! David had many occasions where he needed to hide to save His life.
The shadow of your wings is the picture of a mother bird with its baby. Nothing describes safety and protection better than a baby chick hiding under its mama's wings.
I am so thankful that because of His relentless love we can make David's prayer our prayer. In the midst of trouble, we can join David in our prayer "Keep me as the apple of your eye; hide me in the shadow of your wings". Here's the link to the full devotion. https://patriciaholland.org/home/the-apple-of-his-eye/
https://patriciaholland.org/home/gods-love-letter/
Want Change? Think God's Way:
NC Apple Festival : Labor Day Weekend, Hendersonville