Almost everything about this frog table scape is whimsical.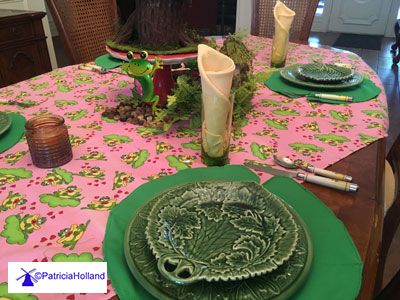 The fat table scarf with a love sick frog with bright red lips sitting hopefully on a pink background that is plopped diagonally over my table is the inspiration for this F.R.O.G. table scape.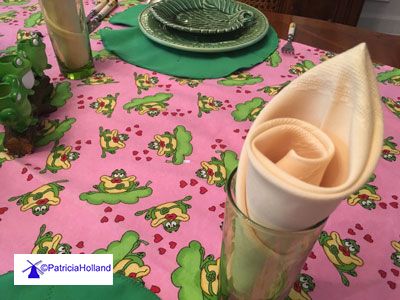 In the center of my table I placed a small square mat of stones that I found at Michaels, but I've seen small ones at Dollar Tree. I placed the tree stump on a rusty colored pink cake plate and then added a mushroom house, three frogs sitting on a log, a small silk fern and a happy metal frog that I removed from a wind chime beside the cake plate.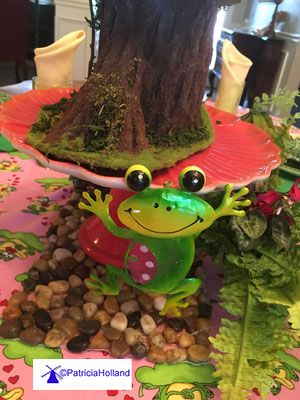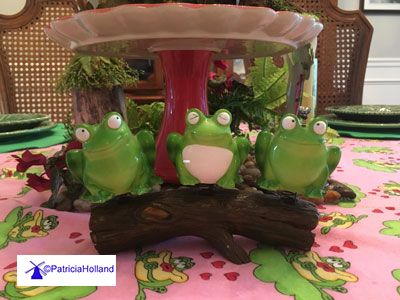 I made the lily pads from two pieces of polyester fabric and then zigzagged them together. I added the veins of the lily pad by zip zag top stitching.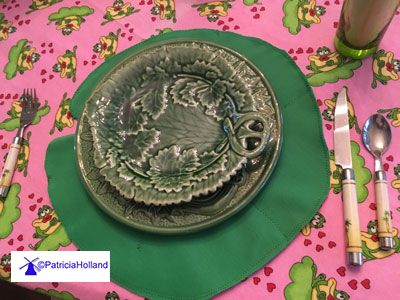 I stacked a leaf plate into a vine patterned plate. The plates aren't signed, so I have no idea where they came from. They are one of my favorite thrift store treasures. (I've used red plates for Valentine with this table setting too.)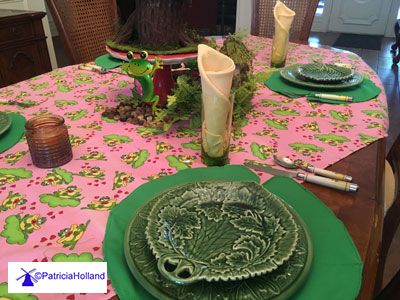 The glasses are tall, skinny lime green glasses that I used for a napkin holder by tucking a sunny yellow napkin which was rolled into a peace lily. I have the directions for making this easy, easy napkin flower saved on my board under Table Scapes. (Here's the link for the pin. (https://www.pinterest.com/pin/123286108540185405/) It is a great video. Whoever made it is amazing. I have used several of the folds in this video in my table scapes.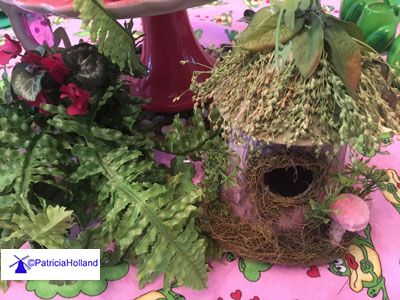 Because my tables talk I added a little acronym on a card leaned against the glass. I added them just before my guest arrived so I didn't get to take a picture of them. Here's the card.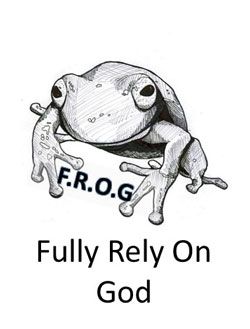 F.R.O.G.
The acronym that spells frog stands for "fully rely on God".
Fully rely on God…
It's more than a acronym; it's a way of life.
A way of life that brings peace.
Proverbs 3: 5 NIV
Trust in the Lord with all your heart
and lean not on your own understanding;
6in all your ways submit to him,
and he will make your paths straight.
Trust…rely, not casually or cautiously…
Fully? Completely, to the fullest extent.
http://traffic.libsyn.com/patriciaholland/frog-fully-rely-on-god-3.jpgWhy would we trust in human wisdom that can fail us, when we can rely on God, whose wisdom never fails?
He is trustworthy and infinitely wise.