While I love sunny colors, for Thanksgiving I want my tablescape to be sophisticated and elegant. I really, really believe that a beautiful table talks to our guests. It tells them that we care about them. It conveys that they are important to us, and we want to convey it in a practical way. This purple tablescape says it with elegance and sophistication.
I know that purple can be loud and garish, but it can also be sophisticated, remember it's the color of royalty. And that's what I want my family or guests to feel when they sit down at my table. I want to treat them like royalty.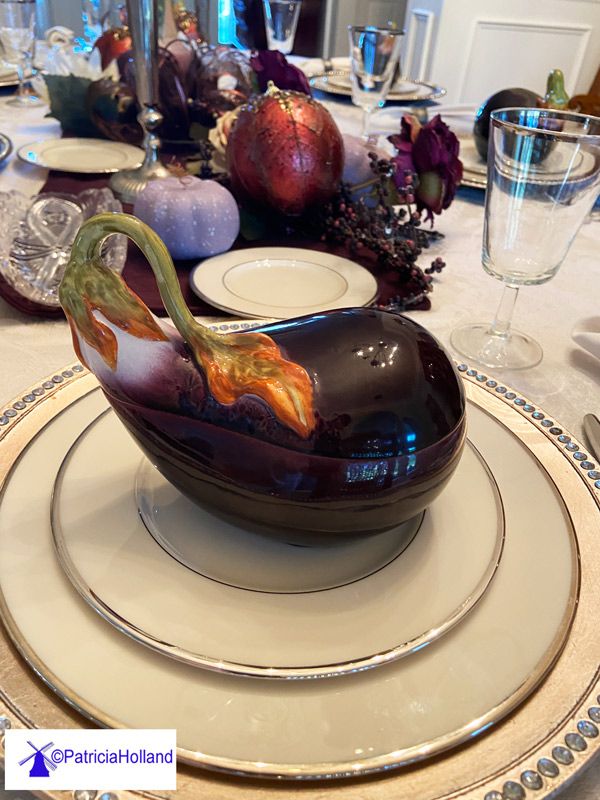 Let me interject here,
I don't save my best dishes for company. My family are the most important people that will ever sit down at my table, and I want them to feel that way. Some people are loved, but don't feel loved. I'm always looking for ways to make my husband, kids and grands feel loved. Some of my linens are stained and on a few (very few) occasions something has gotten broken when they were little, but it didn't stop me from sitting them down to the most beautiful table I could make. I want to treat them like royalty, because they are royalty to me!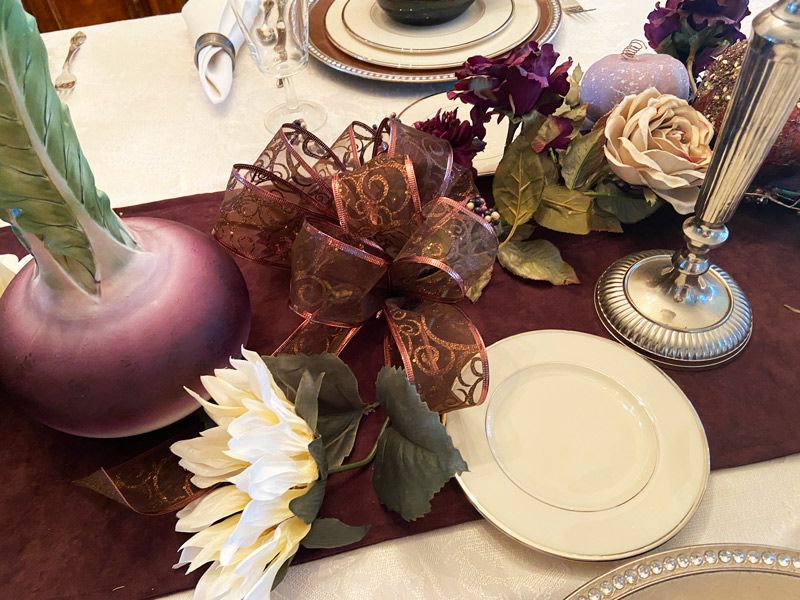 I used a cream or beige colored Damask tablecloth and a plain purple runner for this table. This fabric has been stored for a while, while I was waiting for just the right table. The texture of the suede is soft and luxurious. It is important for me to test how the dinnerware and chargers fit on the table first so I know how much room the decor can take without overcrowding the table.
These rhinestone trimmed chargers are from Michael's. I have used them for so many tablescapes. I love anything that reflects the light- cut and embossed glass, rhinestones, glossy surfaces and yes, even glitter.
This Elegant Thanksgiving tablescape begins with the Lenox Montclair dinnerware.
I've always loved Lenox!! This style of pattern is the "little-black dress" of dishware. Basic bone colored plate with platinum trim. It can be dressed up or down by changing the salad plates or the centerpiece. When I found these treasures, I scooped them up like a steam shovel. I stacked the salad plate in the dinner plate.
The purple eggplant tureens are the inspiration for this elegant Thanksgiving tablescape. They sit royally in the Lenox Montclair Salad plates. I am clumsy so I removed the tureen to work on the centerpiece.
Pumpkins say Thanksgiving in this tablescape
I knew I would use some purple and beige flowers for a garland or arrangement, but I still keep looking for a statement piece. When I found this purple turnip I almost shouted!!! I picked it up off the shelf and turned it around and around to be sure it was perfect. The height and colors of this turnip vase creates movement for my guest's eyes to flow from the top down onto and across the tablescape. Next, I crafted two sprays for either side of the turnip, using purple and beige blooms. In order to use the floral sprays beyond Thanksgiving, I didn't attach the Fall items into the sprays. Instead, I lay the sprays on the table, then tucked lavender pumpkins, beige sunflowers and purple leaf ornaments into the two sprays.
The tall taper candles seemed to compete with the turnip, so I used votive cups to place fat, shorter candles that would complement instead of competing.
The clear stemware, which were made in France, have a simple silver rim. They are wide at the rim and tapers to the bottom of the glass, creating more movement for the eyes.
To create a cohesive design…
I used matching napkins and simple metal napkin rings with a band of dots complete my tablescape.
This elegant Thanksgiving tablescape talks to me.
The rich purple color breathes royalty and all the things that surround royalty:
Wealth.
Extravagance.
Grandeur.
Beauty.
Dignity.
Passion.
Jesus.
Yes, especially Jesus.
If purple is symbolic of royalty, then of course I would think of Jesus because He is the King of Kings and Lord of Lords!
I'm not trying to say that Jesus dressed like royalty with royal robes of purple and gold trim.
Maybe the only time He ever wore anything made with of the expensive purple color was when the mocking soldier wrapped it around His naked, bloody shoulders at the crucifixion.
It doesn't remind me of Jesus because He possessed vast sums of money!
Even though I haven't forgotten that everything ultimately belongs to Him. For "the earth is the LORD's, and everything in it."1 Cor. 10:26 NLT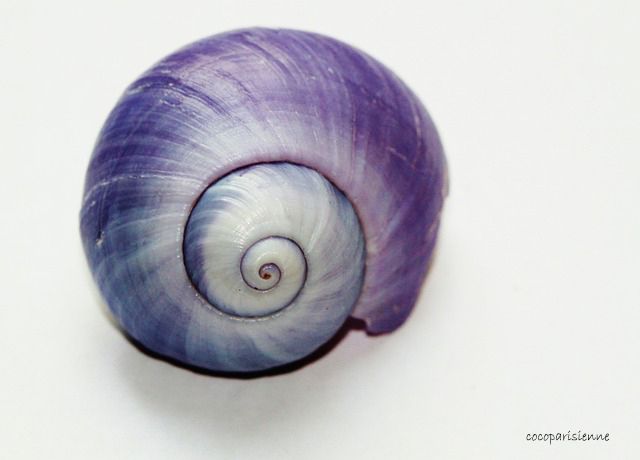 Purple reminds me of Jesus because purple in ancient times was an extravagant color. The pigments for dying cloth purple came from a small sea snail. The process of producing the purple pigments was long and difficult. It was rare and very expensive to purchase. The beautiful extravagant purple became associated with wealth and power.
His love is extravagant.
One life changing display of His extravagant love is found in John 3:16. Maybe you've heard it hundreds of times, but please look at it again.
For God so loved the world
that He gave
His one and only Son,
that everyone
who believes in Him
shall not perish but have eternal life.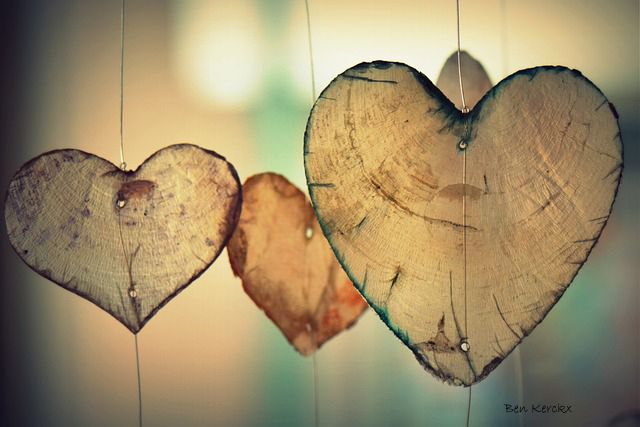 That is a glimpse of extravagant love.
Jesus came to Earth to pay the price for our sins so that we can be born into God's family.
I am so thankful! So thankful!!
If you've experienced it then you know how extravagant God's love really is. And the wonderful thing is, that we have just scratched the surface of discovering how amazing His love really is. He continues, on a daily basis. to reveal His love, His grace and His power as we walk in friendship with Him.
Some people are confused.
17For God did not send His Son into the world to condemn the world, but to save the world through Him.
18Whoever believes in Him is not condemned, but whoever does not believe has already been condemned, because he has not believed in the name of God's one and only Son.
19And this is the verdict: The Light has come into the world, but men loved the darkness rather than the Light because their deeds were evil.
20Everyone who does evil hates the Light and does not come into the Light for fear that his deeds will be exposed.
21But whoever practices the truth comes into the Light, so that it may be seen clearly that what he has done has been accomplished in God."
This beautiful and elegant Thanksgiving table setting is available for sale. Here is the details.
Elegant Thanksgiving Complete Table setting for 6 Purple Eggplant – Patricia Holland